Cool Shit
- StumbleUpon. - StumbleUpon. Marta Penter | EMPTY KINGDOM You are Here, We are Everywhere. The Colour Clock. - StumbleUpon. - StumbleUpon. Arts : Hamlet: Full Performance. LOST: The Animated Series on the Behance Network. - StumbleUpon. E l e v a t o r m o o d s. This will give you goose bumps. Sound Composition: Rainy_evening_1.
1.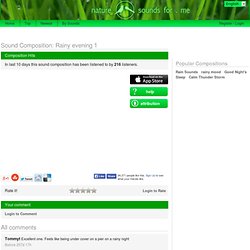 Choose a sound In order for nature sounds to start playing choose a sound from drop-down box for one channel and drag the volume slider up. 2. Add more sounds You can add more nature sounds to composition by choosing other sounds in other channels. 100 Time-Saving Search Engines for Serious Scholars.
While burying yourself in the stacks at the library is one way to get some serious research done, with today's technology you can do quite a bit of useful searching before you ever set foot inside a library.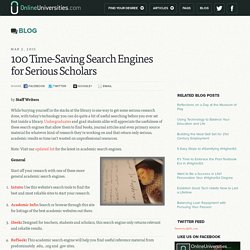 Undergraduates and grad students alike will appreciate the usefulness of these search engines that allow them to find books, journal articles and even primary source material for whatever kind of research they're working on and that return only serious, academic results so time isn't wasted on unprofessional resources. Note: Visit our updated list for the latest in academic search engines. General. PHILOSOPHY POSTERS by Max Temkin | News | Design | Arts | Tech | Entertainment | Latest News | The Skunk Pot.
Philosophy is the study of general and fundamental problems, such as those connected with existence, knowledge, values, reason, mind, and language.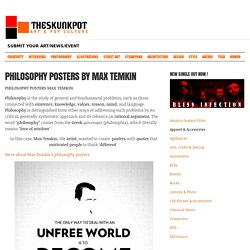 Philosophy is distinguished from other ways of addressing such problems by its critical, generally systematic approach and its reliance on rational argument. The word "philosophy" comes from the Greek φιλοσοφία (philosophia), which literally means "love of wisdom". In this case, Max Temkin, the artist, wanted to create posters with quotes that motivated people to think 'different'. More Lessons From Marilyn. The Four Noble Truths. Philosophy of Death | Yale Philosophy Lecture. Since 2008, Academic Earth has worked diligently to compile an ever-growing collection of online college courses, made available free of charge, from some of the most respected universities.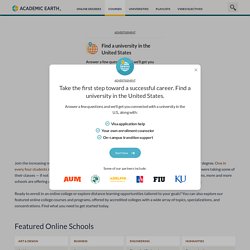 We proudly build on the precedent set forth by MIT OpenCourseware, believing that everyone deserves access to a world-class education. To facilitate this goal, we have curated links to over 750 online courses and 8,500 individual online lectures, giving students of all ages unparalleled access to college courses they may otherwise never experience. African Animals Getting Drunk From Ripe Marula Fruit. Stripes.
---