Body and Mind
Changing minds and persuasion -- How we change what others think, believe, feel and do. How to Hack Your Brain. @septentriones: Haha, what you're saying is actually quite indeed close to correct, though there is a bit more.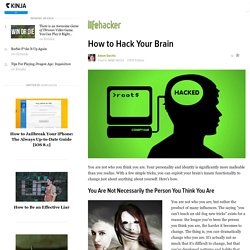 We are a culmination of our experiences, but that doesn't mean that our minds cannot advance further than that, for all that is required is the idea of an experience, for example, I have never been sledding down a mountain. However, I can imagine a sled, imagine a mountain, and myself in motion, so I can build the idea of the experience. If you can transcend your own personal experiences and create new ones idly, your potential for knowledge is increased 10fold. Science & Nature - Human Body and Mind - TV Programmes - Human Senses. The Smartphone Marketplace and Reason-Based Choice. Apple's new iPhone 4S came out this week.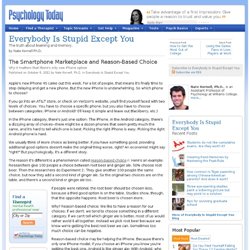 For a lot of people, that means it's finally time to stop delaying and get a new phone. But the new iPhone is underwhelming. So which phone to choose? If you go into an AT&T store, or check on Verizon's website, you'll find yourself faced with two levels of choices. You have to choose a specific phone, but you also have to choose between categories: iPhone or Android?
Technology
How To Treat Others: 5 Lessons From an Unknown Author. Five Lessons About How To Treat People -- Author Unknown 1.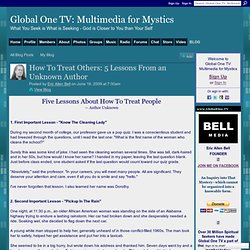 First Important Lesson - "Know The Cleaning Lady" During my second month of college, our professor gave us a pop quiz. I was a conscientious student and had breezed through the questions, until I read the last one: "What is the first name of the woman who cleans the school? " Surely this was some kind of joke. 10 Things To Stop Caring About Today.
Email Every day is a new beginning.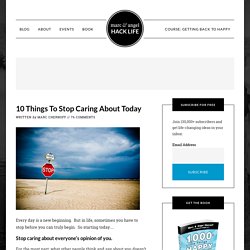 But in life, sometimes you have to stop before you can truly begin. So starting today… Stop caring about everyone's opinion of you. A Quick Course in Creativity. By Paul McNeese This quick course in creativity is designed to give you a platform to stand on as we look at the various ways you can handle home, social and workplace situations, job-search details and career-path decisions.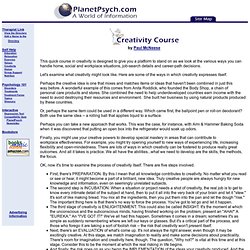 Let's examine what creativity might look like. Here are some of the ways in which creativity expresses itself. Perhaps the creative idea is one that mixes and matches items or ideas that haven't been combined in just this way before. A wonderful example of this comes from Anita Roddick, who founded the Body Shop, a chain of personal care products and stores. Color Psychology. By David Johnson Like death and taxes, there is no escaping color.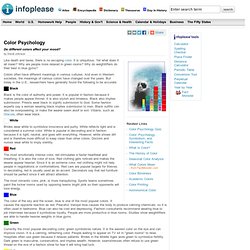 It is ubiquitous. Yet what does it all mean? The 20 Greatest Motivational Quotes Of All Time | A Daring Adventure. InShare9 5If you like the following post, you can get an expanded version with 50 quotes as an ebook by signing up for my newsletter in the box on the left.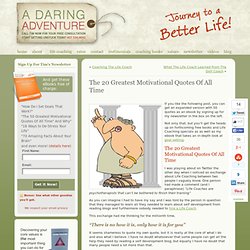 Not only that, but you'll get the heads up on forthcoming free books and Life Coaching specials as as well as my ebook that takes an in-depth look at goal setting. The 20 Greatest Motivational Quotes Of All Time. Little Words with Absolutely Huge Meaning - Use Them. As children many of us hyped the statement, "Sticks and stones may break my bones, but words will never hurt me."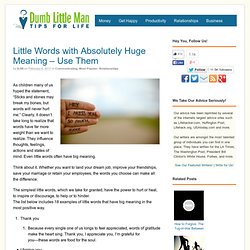 Clearly, it doesn't take long to realize that words have far more weight than we want to realize. They influence thoughts, feelings, actions and states of mind. The Top 10 Psychology Studies of 2010. The end of 2010 fast approaches, and I'm thrilled to have been asked by the editors of Psychology Today to write about the Top 10 psychology studies of the year.
I've focused on studies that I personally feel stand out, not only as examples of great science, but even more importantly, as examples of how the science of psychology can improve our lives. Each study has a clear "take home" message, offering the reader an insight or a simple strategy they can use to reach their goals , strengthen their relationships, make better decisions, or become happier. If you extract the wisdom from these ten studies and apply them in your own life, 2011 just might be a very good year. 1) How to Break Bad Habits.
How to Flourish: 17 Quotes On Living, Being, and Doing. I'll step out of the way and let the quotes speak for themselves: "Fall seven times; stand up eight." – Japanese proverb (click to tweet) "You must give up the life you planned in order to have the life that is waiting for you." – Joseph Campbell (click to tweet) "The best time to plant a tree is 20 years ago.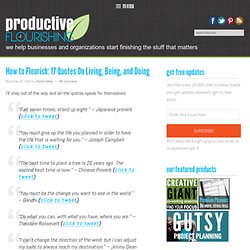 100 inspirational quotes to celebrate 100 blog posts « Always Well Within. 100 quotes - to inspire, challenge, encourage, remind, enlighten, reassure, soothe, and delight. In celebration of 100 blog posts at Always Well Within! Many thanks to my wonderful readers and subscribers. It's such a privilege and a joy to write for you. I am also deeply grateful to all those who have supported, encouraged, and taught me along the way since the inception of Always Well Within. Become Who You Want To Be. Do Lectures - Talks that inspire action. Start Your Day in 33 Different Ways.
Mornings are underrated. I consider them fundamental for the whole diurnal experience. What you do in the very first moments of your morning will fundamentally and inexorably shape your entire day. Most of the time you spend your mornings by routinely performing some habits, on auto pilot. Hence, your days will routinely unfold towards you, the same way day after day, on auto pilot. 70 Reminders to Help You Break Any Barrier. I am pleased to introduce this guest article by a new friend John, the creator of HiLife2B, where he hopes to inspire people and to help them achieve their dreams.
Follow him on Twitter: @janyasor 1. Believe that even the smallest compliment can save someone's life 2. 14 websites to make you a more intelligent person. 60 Ways To Make Life Simple Again. Email When we were young life was easier, right?
I know sometimes it seems that way. But the truth is life still is easy. What Does Your Body Language Say About You? How To Read Signs and Recognize Gestures - Jinxi Boo - Jinxi Boo. Art by LaetitziaAs we all know, communication is essential in society. Advancements in technology have transformed the way that we correspond with others in the modern world. Because of the constant buzz in our technological world, it's easy to forget how important communicating face-to-face is. When conversing old-school style, it's not only speech we verbalize that matters, but what our nonverbal gestures articulate as well.
Body language is truly a language of its own. We all have quirks and habits that are uniquely our own.
---