Writing-related
How To Create Deep & Compelling Magic Item Backgrounds In Just 60 Seconds. Image via Wikipedia Give your magic item a quick history.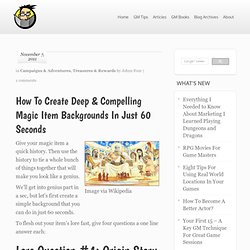 Then use the history to tie a whole bunch of things together that will make you look like a genius. We'll get into genius part in a sec, but let's first create a simple background that you can do in just 60 seconds. To flesh out your item's lore fast, give four questions a one line answer each: Lore Question #1: Origin Story. 60 Awesome Search Engines for Serious Writers. June 20th, 2010 Finding the information you need as a writer shouldn't be a chore.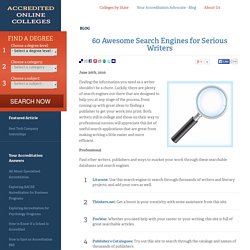 Luckily, there are plenty of search engines out there that are designed to help you at any stage of the process, from coming up with great ideas to finding a publisher to get your work into print. Both writers still in college and those on their way to professional success will appreciate this list of useful search applications that are great from making writing a little easier and more efficient. Professional. 20 Basic Plots For Story Generators - Software Secret Weapons. The 20 Basic Plots are collected by the Tennessee Screenwriting Association .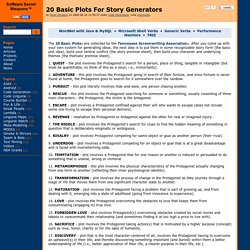 After you come up with your own system for generating ideas, the next step is to put them in some recognizable story form (the basic plot idea), build your central conflict (the story premise sheet), then build your character and underlying themes (the thematic premise sheet). 1. Kurt Vonnegut -- troubling.info. Eight rules for writing fiction: 1.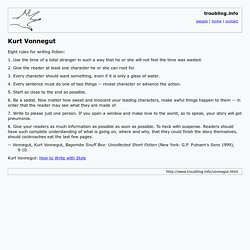 Use the time of a total stranger in such a way that he or she will not feel the time was wasted. 2. Project #20. Write some letters.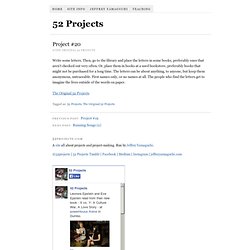 Then, go to the library and place the letters in some books, preferably ones that aren't checked out very often. Or, place them in books at a used bookstore, preferably books that might not be purchased for a long time. Story Starters & Idea Generators. One of the best ways to break through writer's block or stretch your writing skills is to pick a story starter and just start writing.
Suggestions on how to use each generator are included with the generator. Caveat: There's always a temptation to keep looking for the "perfect" idea, but then you need to ask yourself...are you really just trying to avoid writing? Problem: You can't get a story started Solution: Archetype's Plot Scenario Generator. Kurt Vonnegut's Tips for Writing Fiction.
Write a Novel This Summer with NaNoWriMo. Sponsored Post Career Expert, Lauren Berger, releases her second book, Welcome to the Real World:Finding Your Place, Perfecting Your Work, and Turning Your Job Into Your Dream Career(Harper Business), on April 22nd.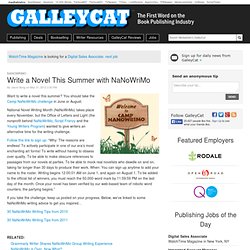 In this book, Berger shares everything she wishes someone told her after graduation. Her book is the essential guide to anyone starting their first, second, or third job. She encourages readers to be fearless, step outside of their comfort zones, and go after what they want. The Thirty-Six Dramatic Situations. The Thirty-Six Dramatic Situations is a descriptive list which was created by Georges Polti to categorize every dramatic situation that might occur in a story or performance.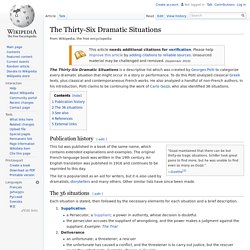 To do this Polti analyzed classical Greek texts, plus classical and contemporaneous French works. He also analyzed a handful of non-French authors. In his introduction, Polti claims to be continuing the work of Carlo Gozzi, who also identified 36 situations. Publication history[edit] Phrase Thesaurus - ideas generator for writers | online thesaurus. Synonyms for | Synonym-Finder.com - StumbleUpon. Ambiguous Words. Ambiguous Words Here's a bunch of words that, by themselves, have a handful of meanings.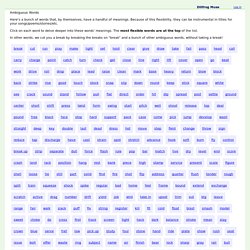 Because of this flexibility, they can be instrumental in titles for your songs/poems/stories/etc. Click on each word to delve deeper into these words' meanings. The most flexible words are at the top of the list. In other words, we cut you a break by breaking the breaks on "break" and a bunch of other ambiguous words, without taking a break! Section IV - Impressive Phrases. How To Steal Like An Artist by Austin Kleon. DarkCopy - Simple, full screen text editing. How to Develop a Photographic Memory.
My World and Welcome... Funny Pages: Handy Latin Phrases - StumbleUpon. Non calor sed umor est qui nobis incommodat.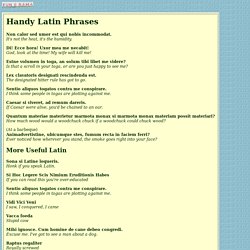 It's not the heat, it's the humidity. Di! Ecce hora! Uxor mea me necabit! God, look at the time! Prettiest Words: All of Them. 23 Pages. Could Always Use More, Though - StumbleUpon. Prettiest Words, Alphabetized (1,027) Abattoir: a slaughterhouse; massacre Absinthe: wormwood liquor of a bright-green color Acciaccatura: grace note, an embellishing note usually written in smaller size Acedia: ennui; state of torpor or listlessness; spiritual apathy. A Short History Of Tractors In Ukrainian. You really need to upgrade Internet Explorer to be here... Download it now... The Book Seer β — Another literary web project by Apt Labs // Updates on Twitter → Wonk Tools - StumbleUpon.
---