EURO TRIP
Apple. Transport in The Netherlands - Lonely Planet Travel Information. Travel documents Passport In principle all passengers with passports are allowed entry to the Netherlands, although those coming from 'suspected terrorist centres' may be detained for questioning.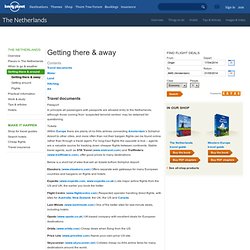 Tickets Within Europe there are plenty of no-frills airlines connecting Amsterdam's Schiphol Airport to other cities, and more often than not their bargain flights can be found online rather than through a travel agent. Eurosonic Noorderslag: Festivals. Budgetthostels.com. How to See the World: Art of Travel; European and World Backpacking; On$25 a Day or Less - StumbleUpon.
Select the destination for your trip - Plnnr.com - StumbleUpon. Sign in or | No account yet?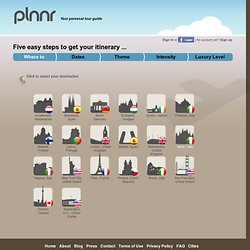 Sign up Where to Dates. 43 Places - StumbleUpon. How I Can Afford My Life Of Constant Travel | Wandering Earl - StumbleUpon. I'm confused.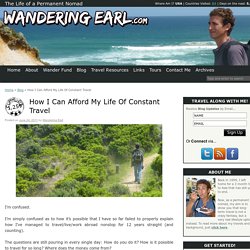 I'm simply confused as to how it's possible that I have so far failed to properly explain how I've managed to travel/live/work abroad nonstop for 12 years straight (and counting). The questions are still pouring in every single day: How do you do it? How is it possible to travel for so long? Backpack Europe on Budget--Backpacking and travel info for budget travelers. - StumbleUpon. Time Out Worldwide - Your Guide to the Best Things to do in the World's Greatest Cities including London and New York. Viajes en tren por Europa: Eurorail, Pases Eurail y boletos de tren - Rail Europe.
Hostels, Youth Hostels & Cheap Hotels at HostelBookers. Sample Western Europe Travel Itinerary - StumbleUpon. Dublin->Glasgow->Edinburgh->Manchester->London->Amsterdam->Rotterdam->Brussels->Paris->Bordeaux->Zaragoza-> Madrid->Lisbon->Lagos->Sevilla->Malaga->Valencia->Barcelona->Toulouse->Marseille->Lyon->Geneva->Bern->Milan-> Genoa->Florence->Rome->Naples->Venice->Munich->Stuttgart->Frankfurt->Berlin->Hamburg->Copenhagen See it all with this itinerary.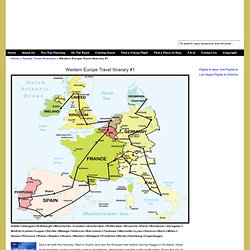 Start in Dublin and see the Emerald Isle before having Haggis in Scotland. Head down towards London and then over to Amsterdam. Budget Travel in France: Travel on the Cheap is Still Possible. By Kelby Hartson Carr Updated by Gregory Hubbs 8/1/2012 People tend to assume a vacation in France must be expensive, but that is far from the truth with so many ways to plan a cheap, budget vacation to France.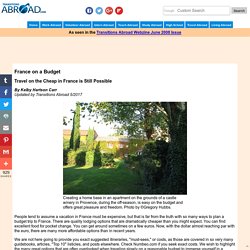 There are quality lodging options that are dramatically cheaper than you might expect. European Hostel Guide - Travellers Guide to hostels in Europe. InterRail Europe Train Pass, European Train Travel & Europe Train Tickets. Europe Vacation | Europe Trip | Travel Europe with Best Travel Content Europe. Europe. - StumbleUpon. By Time Out editors and Sulakshana Gupta 1.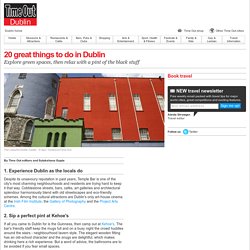 Experience Dublin as the locals do Despite its unsavoury reputation in past years, Temple Bar is one of the city's most charming neighbourhoods and residents are trying hard to keep it that way. Cobblestone streets, bars, cafés, art galleries and architectural splendour harmoniously blend with old streetscapes and eco-friendly schemes. Among the cultural attractions are Dublin's only art-house cinema at the Irish Film Institute, the Gallery of Photography and the Project Arts Centre. A Tale of a Thousand Cities: 69 Fun Facts About France - StumbleUpon.
69 facts is back!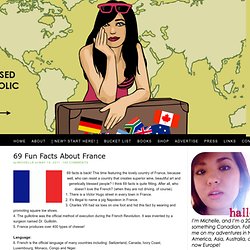 This time featuring the lovely country of France, because well, who can resist a country that creates superior wine, beautiful art and genetically blessed people? I think 69 facts is quite fitting. A Tale of a Thousand Cities: 69 Fun Facts About Germany. Germany, the country of beer, sausages, and Oktoberfest is an interesting country no doubt.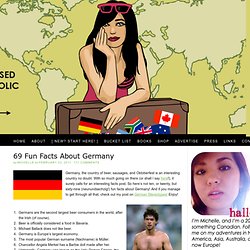 With so much going on there (or shall I say here!) , it surely calls for an interesting facts post. So here's not ten, or twenty, but sixty-nine (neunundsechzig!) Fun facts about Germany! And if you manage to get through all that, check out my post on German Stereotypes! Italy: a guide to finding good value. Tuscany and Umbria are by far the most popular destinations for villa holidays, and our online expert destination guides provide comprehensive information on the regions.
But areas of Italy aside from these British favourites also have much to offer. The country has rich regional variety: in the north-west, the Valle d'Aosta and Piedmont, for example, have strong French ties; German is the first language of many in the Alto Adige region in the far north; and in the north-eastern, autonomous Friuli-Venezia-Giulia, the ethnic and linguistic cocktail includes Slovenian. Italy's geography, but more its history – too long and fractured for uniformity – account for much of this variety. Nowhere is this more true than in the Latin south – the regions of Campania, Basilicata and Calabria – where Greeks, Arabs, Phoenicians, Normans and the Spanish all held sway at one time or another.
So where should you start? Five Places That You Shouldt Miss in Prague. Prague, which is believed to be one of the most beautiful and picturesque city of Europe is also known as one of the most well-liked holiday destinations in the whole world.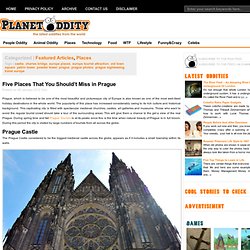 The popularity of this place has increased considerably owing to its rich culture and historical background. This captivating city is filled with spectacular medieval churches, castles, art galleries and museums. Those who want to avoid the regular tourist crowd should take a tour of the surrounding areas. This will give them a chance to the get a view of the real Prague. During spring time and fall Prague Tourism is at its peaks since this is the time when natural beauty of Prague is in full bloom. Top 20 free attractions in Paris. City of love, fashion capital, literary paradise…Paris has many different guises. And while museum entry can be steep and fine dining comes at a premium, the French capital can also be a very cheap date.
Whether you go weak at the knees for soaring church spires or want to rub elbows at an authentic French market, let yourself be seduced by our top 20 must-sees. They are all are completely gratuit, letting you save the euros for the really important stuff: wine, cheese and a flashing Eiffel Tower keyring you'll regret the minute you return home. 1. 66 Beautiful Small Cities & Towns In Europe - StumbleUpon. Explore - see where you can go for how much.
Thingys
20 free attractions in London - travel tips and articles - Lonely Planet - StumbleUpon. Who cares if London's hotels and restaurants tend to be on the expensive side? No city in the world has more free stuff to do. In addition to world-class museums without a ticket admission, you get the parks, canal walks, super markets (Portobello Road Market at Notting Hill Gate, Camden Market at Chalk Farm Rd, wonderful Columbia Road Flower Market at Gosset St in East London etc) and maybe some royal-spotting, and you can fill a life.
London, thank you!
---