1.A.3 Potentiel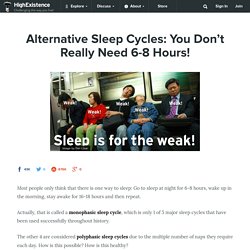 Most people only think that there is one way to sleep: Go to sleep at night for 6-8 hours, wake up in the morning, stay awake for 16-18 hours and then repeat. Actually, that is called a monophasic sleep cycle, which is only 1 of 5 major sleep cycles that have been used successfully throughout history. The other 4 are considered polyphasic sleep cycles due to the multiple number of naps they require each day.
New Journey Ive been traveling a lot this year, both for work and for pleasure. Just two weeks ago I was in NYC and now Im heading to the Bay area for a new job opportunity. Im also going to move there early next year. For the first time in 5 years Im going to switch from self employed to employee again.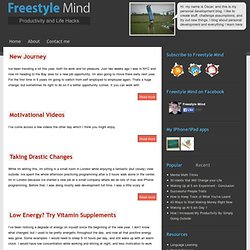 N O N : vous avez du mal à articuler fermement ce petit mot, et vous retrouvez souvent piégé(e) ? Un peu de courage, faites connaître clairement aux autres votre refus d'obtempérer. Cela s'apprend !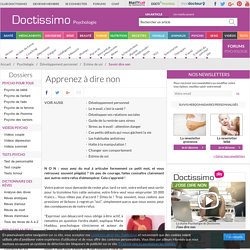 Apprenez à dire non
Développement personnel - le meilleur des blogs.pdf (Objet application/pdf)
"I sustain myself with the love of family." ―Maya Angelou Last night, an old friend from high school – a hometown success story and entrepreneur who owns and operates a large publicly traded company – a man whom I have a great deal of respect for – came over to our home for dinner.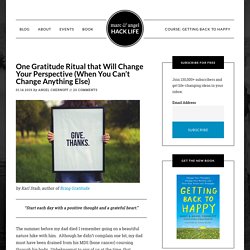 "A beautiful world. Look around you, it is amazing. Skyscrapers, gravity, daisies, peaches, archipelagos, children, languages, music, wars, phosphorous, galaxies, snow, literature, human existence. We live in such a breathtaking environment that is full of magic and wonder.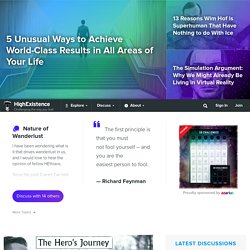 How2 : Le Blog de la Productivité Personnelle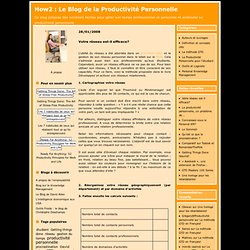 Salut à toi Etudiant, Afin de continuer de te donner quelques astuces afin d'être plus productif, nous allons t'expliquer aujourd'hui ce qu'est le sommeil et l'importance qu'il a sur ton rendement au quotidien. Car tu sais que ta vie se résume, pour certains spécialistes en trois phases que sont la veille, le sommeil et le rêve.
J'ai le plaisir d'accueillir un des lecteurs de ce blog, qui va nous expliquer pourquoi et comment il tient un journal personnel. Comme il a le même prénom que moi, et qu'il souhaite rester anonyme, il a décidé qu'on l'appellerait tout simplement : L'autre Alex. C'est donc lui qui s'exprime dans cet article. Quelques instants avant d'écrire cet article, je lance une recherche sur un moteur de recherche, et parmi les réponses, je trouve un résultat qui n'a rien à voir avec ce que je cherchais : un livre sur Voltaire de Max Gallo :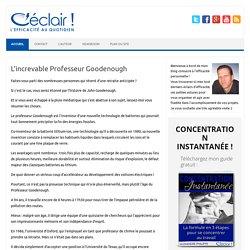 Développement personnel et efficacité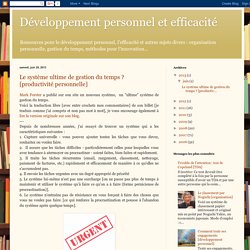 Mark Forster a publié sur son site un nouveau système, un "ultime" système de gestion du temps. Voici la traduction libre [avec entre crochets mes commentaires] de son billet [je traduis comme j'ai compris et non pas mot à mot], je vous encourage également à lire la version originale sur son blog. Depuis de nombreuses années, j'ai essayé de trouver un système qui a les caractéristiques suivantes : 1. Capture universelle - vous pouvez ajouter toutes les tâches que vous devez, souhaitez ou voulez faire. 2.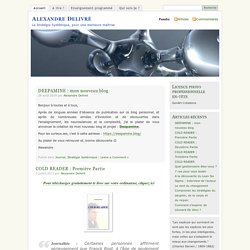 Pour lire la première partie cliquez ici Partie 2 La source La chaleur était suffocante en ce milieu d'après-midi, et des perles de sueur ruisselaient dans le cou de Franck. La voyante qui lui ouvrit la porte était miraculeusement fraîche comme le jour. Elle donnait apparemment ses consultations (« Comment on appelle ça d'ailleurs ?
Alexandre Delivré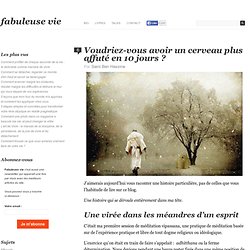 Préférez-vous qu'on vous applaudisse ou qu'on vous jette dans la fosse aux serpents ? Par Sami Ben Hassine Remâchez des vérités générales qu'aime à entendre le peuple et vous serez applaudie.
Design your life, un blog de Sami Ben Hassine » Design Your Life