TECHNIQUE
Get flash to fully experience Pearltrees
Writing is a muscle. Smaller than a hamstring and slightly bigger than a bicep, and it needs to be exercised to get stronger. Think of your words as reps, your paragraphs as sets, your pages as daily workouts. Think of your laptop as a machine like the one at the gym where you open and close your inner thighs in front of everyone, exposing both your insecurities and your genitals.
Previous iterations of the "25 Things" series: 25 Things Every Writer Should Know 25 Things You Should Know About Storytelling And now… Here you'll find the many things I believe — at this moment!
Our Quick Guide to writing convincing characters Building Character Creating characters isn't easy. In fact it's one of the hardest and most essential jobs in writing. For first time authors struggling to build characters with real life and vigour, here is our very own patented technique.
English 50 – Intro to Creative Writing: Exercises for Story Writers Basic Theory: What is a short story? As soon as someone delivers a definition, some good writer will write a story that proves the theory wrong. About the only thing we can say for sure is that short stories are short and that they are written in what we call prose .
1: Establishing Your Authority Chuck teaches two principal methods for building a narrative voice your readers will believe in. Discover the Heart Method and the Head Method and how to employ each to greatest effect.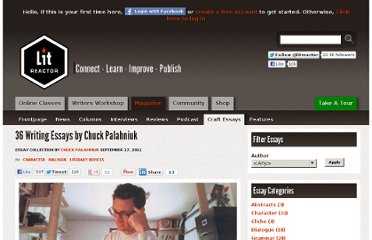 by Maria Popova Dancing with the absurdity of life, or what symbolism has to do with the osmosis of trash and treasure. As far as New Year's resolutions go, hardly anything does one's mental, spiritual, and creative health more good than resolving to read more and write better. Today's reading list addresses these parallel aspirations. And since the number of books written about reading and writing likely far exceeds the reading capacity of a single human lifetime, this omnibus couldn't be — shouldn't be — an exhaustive list. It is, instead, a collection of timeless texts bound to radically improve your relationship with the written word, from whichever side of the equation you approach it.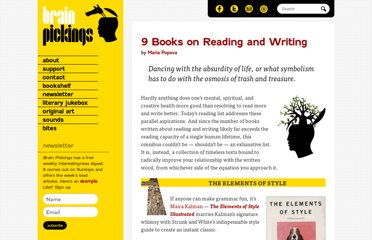 We've got you covered. Make a book with professional, book-store quality. Perfect Bound Saddle Stitch Coil Bound Casewrap
Here are lots of poem starters that you can use for your own poetry writing. (If you're looking for story starters instead, click here) . At the bottom of the page, you'll find links to more pages with creative writing ideas. Do you like this page? Please click the +1 button to recommend it. Poetry ideas - Write a poem about:
When George Plimpton asked Ernest Hemingway what the best training for an aspiring writer would be in a 1954 interview , Hem replied, "Let's say that he should go out and hang himself because he finds that writing well is impossibly difficult. Then he should be cut down without mercy and forced by his own self to write as well as he can for the rest of his life. At least he will have the story of the hanging to commence with." T oday, writing well is more important than ever.