Images
Viewing Entry - 'SOCIETY' Small Sketchbook 2010 on Illustration Served. Fantastic Works by Randis Albion. CGPortfolio - Zheng Xun See. 15-render-FG.jpg (1000×750) The Greatest Hits – A blog to care for picture on VisualizeUs.
Singapore Picture – Travel Photo. James Charles – Pop Cultured Currency. Viggo Mortensen is the man. Just a waterdrop in front of a world map. Awesome Minimalist Disney Posters FTW.
Something about minimalist art just looks great on movie posters.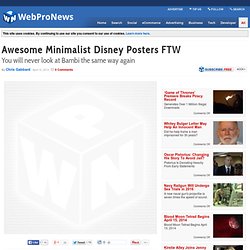 Combine that with Disney movies and you get a whole new edge. You might think most of these posters are for some dark, avant-garde indie film, not a cute animated kid's flick. Also, be sure to check out: Minimalist Posters of Cult Classics and Awesome Minimalist Book Covers FTW (image) Ff-67.jpg (640×490) Meeting-of-the-greats.png (848×523) 877e2e8b216a52b9bfe2edf40ebdd861.jpg (806×850) Animal30.jpg (991×680)
189421_10150131516999617_103137454616_6293395_2341856_n.jpg (449×700) Zelda25.jpg (1200×6566) Afternoon Endurance. Water Skirt. Eye Drop. Bagend.jpg (1227×850) Lennon.png (517×460) Free-as-a-bird-a-simple-lennon.jpg (700×683) Vulnerable by iavor. Horse in water by Vedran Vidak. Funny Celebrity Photographs. A Soldier's Best Friend. I-d-cry-for-you-but-real-men-don-t.jpg (580×435)
Animal pictures of the week: 6 April 2012. Fox.jpg (500×357) Drawings... on the Behance Network. The Psychology of Color [Infographic] | Louisville Painters. Funny Underwater Dogs. Great collection by Seth Casteel Award-winning photographer Seth Casteel has been featured on GOOD MORNING AMERICA, EXTRA, CNN WORLD REPORT, THE TODAY SHOW, JEOPARDY!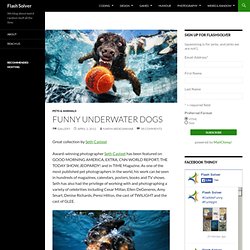 And in TIME Magazine. As one of the most published pet photographers in the world, his work can be seen in hundreds of magazines, calendars, posters, books and TV shows. Hand drawings, made using a pencil. iMGSRC.RU free photo hosting. At the right moment - part 5 (16 pictures)
---