Perspectives...
Perspectives - curators...
To sort... PULSE. New Left Review. The Immanent Frame. April 9th, 2014 Searching for the church of Islam posted by Amr Ezzat Amid the conflict currently underway in Egypt—between state authorities led by the military-backed government and the Muslim Brotherhood and their Islamist allies—another momentous battle is being waged over the country's mosques and pulpits.
Sermons, religious lessons, and charitable and development activities centered in mosques are an important sphere of influence for Islamist movements of various stripes. Silberzahn & Jones. Cutting-Edge Intellectual Interviews. Cover Interview of August 31: Nancy Bentley On her book Frantic Panoramas: American Literature and Mass Culture, 1870-1920 Cover Interview of August 28: Ayelet Shachar On her book The Birthright Lottery: Citizenship and Global Inequality Cover Interview of August 26: Cliff Edwards On his book Mystery of the Night Café: Hidden Key to the Spirituality of Vincent Van Gogh Cover Interview of August 24: Karen Newman On her book Essaying Shakespeare Cover Interview of August 21: Torben Grodal On his book Embodied Visions: Evolution, Emotions, Culture, and Film Cover Interview of August 19: Anne Dunlop On her book Painted Palaces: The Rise of Secular Art in Early Renaissance Italy.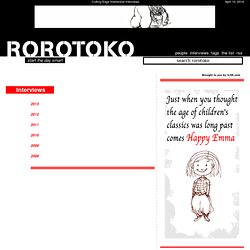 Edge : Conversations on the edge of human knowledge. The Caravan - A Journal of Politics and Culture. The Bichler & Nitzan Archives. Headlines. N+1. Jacobin + a magazine of culture and polemic. A Magazine of Art & Politics. The New Inquiry. The Baffler.
---