Food & Nutrition
Baked Eggs with Bacon and Spinach. Do y'all remember the scene in Runaway Bride (that's an Oscar contender if I've ever seen one…) where Julia Roberts realizes that she doesn't know how she likes her eggs?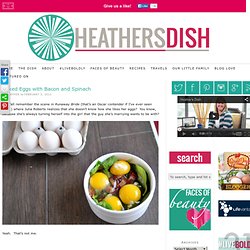 You know, because she's always turning herself into the girl that the guy she's marrying wants to be with? Yeah. That's not me. I know how I like my eggs, although I will say that it depends on the day. If it's a scrambled kind of day then I want them scrambled with NO MILK, a tab of butter, and salt and pepper. Simple Chicken Recipes - Interactive Feature - NYTimes.com - (Private Browsing)
Sunny Side Up Eggs - Breakfast Recipes. Cravings1.jpg (JPEG Image, 468 × 2532 pixels) Detox Foods | Detox smoothies. Toxins-free for life Looking to increase your energy levels, to lose weight, get clearer skin, prevent premature ageing and to help preventing diseases?
Then look no further! This 5 days step-by-step detox will help you implement long-lasting healthy habits that yields results. My Favorite Gourmet Nutrition Recipes. The Gourmet Nutrition V2 cookbook was created to show people that great-tasting food can also be great for you.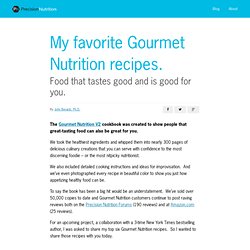 We took the healthiest ingredients and whipped them into nearly 300 pages of delicious culinary creations that you can serve with confidence to the most discerning foodie – or the most nitpicky nutritionist. We also included detailed cooking instructions and ideas for improvisation. And we've even photographed every recipe in beautiful color to show you just how appetizing healthy food can be. To say the book has been a big hit would be an understatement. We've sold over 50,000 copies to date and Gourmet Nutrition customers continue to post raving reviews both on the Precision Nutrition Forums (190 reviews) and at Amazon.com (25 reviews).
Nutrition Advice by Registered Dietitians - HealthCastle.com | Chocolate Cheesecake Cake | RecipeGirl.com - (Private Browsing) Chocolate Cheesecake Cake You know how some people really don't get along well with their In-Laws?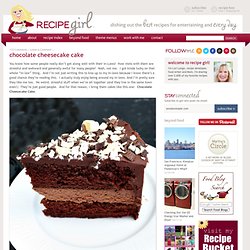 How visits with them are stressful and awkward and generally awful for many people? Yeah, not me. I got kinda lucky on that whole "in-law" thing. And I'm not just writing this to kiss-up to my in-laws because I know there's a good chance they're reading this. Bacon Wrapped Jalapenos Recipe | Free Online Recipes | Free Recipes - (Private Browsing) One of the best grilled appetizers is bacon wrapped jalapeno peppers.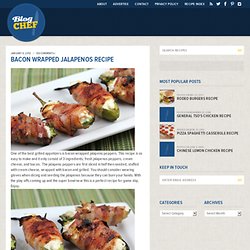 This recipe is so easy to make and it only consist of 3 ingredients; fresh jalapenos peppers, cream cheese, and bacon. The jalapeno peppers are first sliced in half then seeded, stuffed with cream cheese, wrapped with bacon and grilled. You should consider wearing gloves when slicing and seeding the jalapenos because they can burn your hands. With the play offs coming up and the super bowl near this is a perfect recipe for game day.
Baked Egg Boat recipe - (Private Browsing) Breakfast is my favorite meal.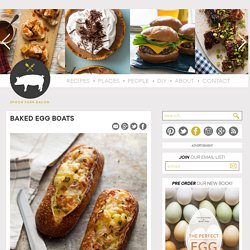 I like to drink iced coffee and watch the cream climb its way down the chunky ice cubes in a dazy before the caffeine hits. I like to order bacon with whatever I'm eating. I like eating potatoes with ketchup. Watermelon vs. pear - Compare which is healthier? - (Private Browsing) Ten Worst and Best Foods. Do you want to know the best super foods to eat, for your better health?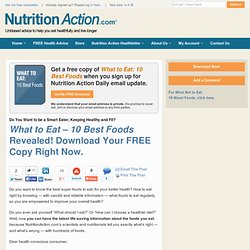 How to eat right by knowing — with candid and reliable information — what foods to eat regularly, so you are empowered to improve your overall health? Do you ever ask yourself "What should I eat?" Or "How can I choose a healthier diet?" Well, now you can have the latest life-saving information about the foods you eat, because NutritionAction.com's scientists and nutritionists tell you exactly what's right — and what's wrong — with hundreds of foods. The World's Healthiest Foods. 100 foods that can serve as the basis of your Healthiest Way of Eating.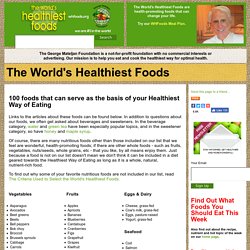 Links to the articles about these foods can be found below. In addition to questions about our foods, we often get asked about beverages and sweeteners. In the beverage category, water and green tea have been especially popular topics, and in the sweetener category, so have blackstrap molasses, honey and maple syrup. The 29 Healthiest Foods on the Planet | Belly Bytes. Fruits 01.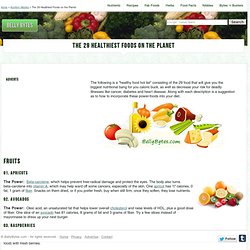 Apricots The Power: Beta-carotene, which helps prevent free-radical damage and protect the eyes. The body also turns beta-carotene into vitamin A, which may help ward off some cancers, especially of the skin. Food Pyramid Submissions. 50 Healthy Recipes to Kick Off 2012. Happy New Year!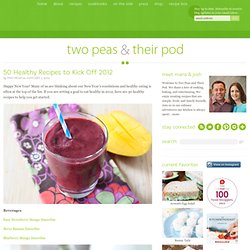 Many of us are thinking about our New Year's resolutions and healthy eating is often at the top of the list. If you are setting a goal to eat healthy in 2012, here are 50 healthy recipes to help you get started. Beverages.
---