Knowledge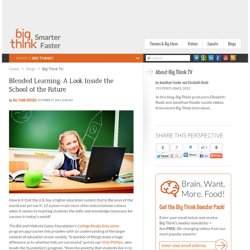 Blended Learning: A Look Inside the School of the Future | Big Think TV
How is it that the U.S. has a higher education system that is the envy of the world and yet our K-12 system trails most other industrialized nations when it comes to teaching students the skills and knowledge necessary for success in today's world? The Bill and Melinda Gates Foundation's College Ready Education program approaches this problem with an understanding of the larger context of education in our society. "A number of things make a huge difference as to whether kids are successful," points out Vicki Phillips, who heads the foundation's program, "from the poverty that students live in to their health to nutrition." The Gates Foundation can't tackle every issue in education, Phillips points out, so it looks to co-invest with partners in the same locations "and try to really bolster and leverage each other's work."
Being Strategic in Education: Can the Le... | Læring for framtiden
What is the purpose of education? To educate, to enable and to empower. It is to prepare its recipient for the world around and time ahead. The time ahead is one, where the world will be a constantly changing place, highly evolved yet highly challenging, where humanity will have to overcome unprecedented obstacles to continue its survival, continuity and progress. The next chapter of the human story is about mitigating the harm that the species has done to its world. The chapter is about how humanity reverses the impacts of its actions or alters its own habits or methods of self-preservation, to keep human life going.
India Future Society | The Future as a Case for Global Transformation of Education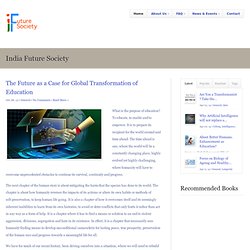 'An Industry of Mediocrity'
Is Music the Key to Success?
The Recruiter's Tale - On Hiring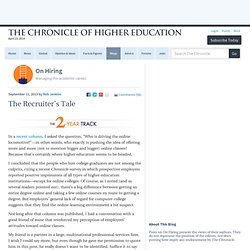 In a recent column, I asked the question, "Who is driving the online locomotive?"—in other words, who exactly is pushing the idea of offering more and more (not to mention bigger and bigger) online classes? Because that's certainly where higher education seems to be headed. I concluded that the people who hire college graduates are not among the culprits, citing a recent Chronicle survey in which prospective employers reported positive impressions of all types of higher-education institutions—except for online colleges.
In 1936 Graham Wallas, co-founder of the London School of Economics, published The Art of Thought, outlining the four stages of the creative process. This pre-dates, by at least a decade, James Webb's A Technique for Producing Ideas. Wallas's model "is still the most common explanation of how insight works. If you do any exploration into the field of insight, you can't go far without bumping into Wallas, who is the epitome of a British freethinking intellectual," writes Gary Klein in Seeing What Others Don't: The Remarkable Ways We Gain Insights. The Creativity Question, published in 1976, preserves Wallas's "Stages of Control" and presents his model of insight: (1) preparation; (2) incubation; (3) illumination; and (4) verification. In Seeing What Others Don't: The Remarkable Ways We Gain Insights, Klein summarizes:
The Remarkable Ways We Gain Insights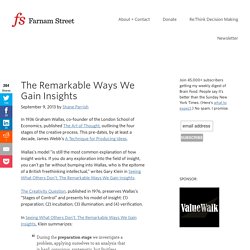 Learning to learn fast To acquire "the meta-skill of acquiring skills," Ferriss recommends approaching any subject with some contrarian analysis: "What if I try the opposite of best practices?" Some conventional wisdom---"children learn languages faster than adults" (no they don't)---can be discarded.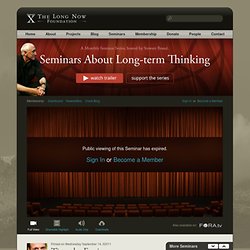 Timothy Ferriss: Accelerated Learning in Accelerated Times
This Database Lets You 3D Print and Explore Thousands of Fossils
The United States, Falling Behind
8 New Jobs People Will Have In 2025 | Co.Exist | ideas + impact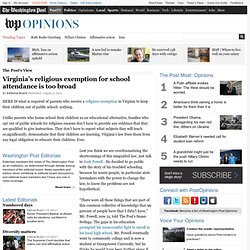 Virginia's religious exemption for school attendance is too broad
HERE IS what is required of parents who receive a religious exemption in Virginia to keep their children out of public school: nothing. Unlike parents who home-school their children as an educational alternative, families who opt out of public schools for religious reasons don't have to provide any evidence that they are qualified to give instruction. They don't have to report what subjects they will teach or,significantly, demonstrate that their children are learning.
At first glance, "Feminism and Technology" sounds like another massive open online open course. The course will involve video components, and will be available online to anyone, with no charge. There are paths to credit, and it's fine for students to take the course without seeking credit. An international student body is expected.
Feminist professors create an alternative to MOOCs
How I got my A-levels at a virtual school - video | Education
John Hunter | Author, World Peace and Other 4th Grade Achievements
False memories generated in lab mice - life - 22 March 2012
In the 1940s, neurosurgeon Wilder Penfield found his patients would recall seemingly random information – the smell of cookies for instance – when he stimulated different brain areas with electric shocks. Two studies have now found evidence to support the memory storage theory that Penfield stumbled across. The research, in mice, even demonstrates that it is possible to manipulate brain cells to create false memories. Mark Mayford of the Scripps Research Institute in San Diego, California, and colleagues genetically engineered mice so that neurons that fired would fire again when the brain was injected with a drug.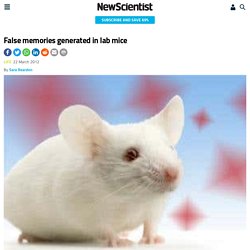 Oxford Questions seek to pull back the curtain on the foundations of quantum physics
(Phys.org) —Relativity and quantum theory form the backbone of modern physics, but a group of physicists stresses that daily use of these theories can numb the sense of wonder at their immense empirical success. At the same time, fundamental questions on the foundations of these two theories remain. In 2010, experimentalists, theorists, and philosophers of physics convened at a conference at the University of Oxford called Quantum Physics and the Nature of Reality.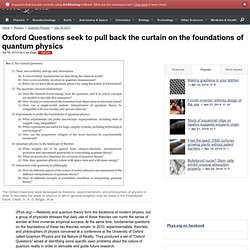 [1307.1310] The Oxford Questions on the foundations of quantum physics
A Test to Measure How Rational You Really Are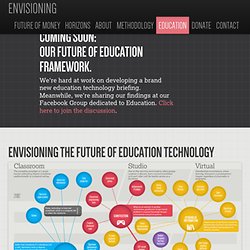 Why look at education? Education lies at a peculiar crossroad in society. On one hand it has the responsibility of anticipating real-life skills by preparing us for an increasingly complex world – but education methodologies can only be formalized after practices have been defined. This dichotomy is particularly aggravated when it comes to technology, where fast-paced innovation and perpetual change is the only constant. This visualization attempts to organize a series of emerging technologies that are likely to influence education in the upcoming decades.
www.annenbergclassroom.org/Files/Documents/EducationPolicy.pdf
American Educational History: A Hypertext Timeline Last updated February 4, 2013. See the lesson plan designed for use with this timeline. 1607 – The first permanent English settlement in North America is established by the Virginia Company at Jamestown in what is now the state of Virginia. 1620 - The Mayflower arrives at Cape Cod, bringing the "Pilgrims" who establish the Plymouth Colony.
American Educational History Timeline
Timeline of US Education
Neuroscience and the Emerging Mind: A Conversation with the Dalai Lama
8 Punctuation Marks that we desperately need
By The Unknown Transcriber Lambert here: The Unknown Transcriber has done a superlative job transcribing this important talk [applause]. I especially like how Lessig contextualizes Swartz's death as a consequence of corruption. It's all about the rents, baby!
Transcript: Lawrence Lessig on "Aaron's Laws – Law and Justice in a Digital Age": Section I
5 March 2013 Last updated at 15:58 GMT By Jane O'Brien BBC News, Washington Could learning music help children with attention disorders? New research suggests playing a musical instrument improves the ability to focus attention. How music could be used as mental health medicine To the musical ear, life has a rhythm comparable to grand opera or simple folk tunes.
Power of Art: Can music help treat children with attention disorders?
Writing Rules: Jack Kerouac's Rules for Spontaneous Prose | Lit Drift: Storytelling in the 21st Century
It's the invasion of the Can't-Help-Yourself books. Unlike most pop self-help books, these are about life as we know it — the one you can change, but only a little, and with a ton of work. Professor Kahneman, who won the Nobel Prize in economic science a decade ago, has synthesized a lifetime's research in neurobiology, economics and psychology.
The Amygdala Made Me Do It
Competitive intelligence and strategic surprises: Why monitoring weak signals is not the right approach « Silberzahn & Jones
The difficulty of anticipating strategic surprises is often ascribed to a 'signal-to-noise' problem, i.e. to the inability to pick up so-called 'weak signals' that foretell such surprises. In fact, monitoring of weak signals has become a staple of competitive intelligence. This is all the more so since the development of information technology that allows the accumulation and quasi-automatic processing of massive amount of data. The idea is that the identification of weak signals will enable an organization to detect a problem (or an opportunity) early and, hence, to react more quickly and more appropriately.
Wendell E. Berry Lecture | National Endowment for the Humanities
Wendell Berry Quotes (Author of Jayber Crow)
World Happiness Report: Success can't just be measured in dollars and cents
Mash-up aids translation of obscure languages - tech - 28 March 2012
A Picture of Language
Culturomics Looks at the Birth and Death of Words