Copyright | Trademark | Creative Commons | Fair Use | PD
A Fair(y) Use Tale. About The Licenses. Our public copyright licenses incorporate a unique and innovative "three-layer" design.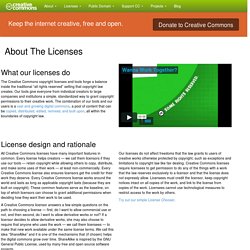 Each license begins as a traditional legal tool, in the kind of language and text formats that most lawyers know and love. We call this the Legal Code layer of each license. Creative Commons license. This video explains how Creative Commons licenses can be used in conjunction with commercial licensing arrangements.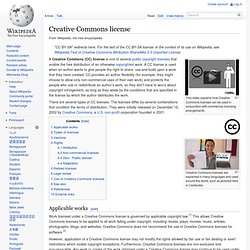 Creative Commons licenses are explained in many languages and used around the world, such as pictured here in Cambodia. A Creative Commons (CC) license is one of several public copyright licenses that enable the free distribution of an otherwise copyrighted work. A CC license is used when an author wants to give people the right to share, use and build upon a work that they have created. Creative Commons images and you: a quick guide for image users. Here at Ars we're big fans of Creative Commons, both the idea behind it and the work that gets produced.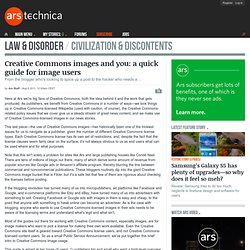 As publishers, we benefit from Creative Commons in a number of ways—we look things up in Creative Commons-licensed Wikipedia (used with caution, of course), the Creative Commons-related policy issues that we cover give us a steady stream of great news content, and we make use of Creative Commons-licensed images in our news stories.
This last piece—the use of Creative Commons images—has historically been one of the trickiest issues for us to navigate as a publisher, given the number of different Creative Commons license types. Will I Use Creative Commons Licenses? (Activity 9: H817OPEN. I feel a great deal of moral support for the Creative Commons movement and for use of the CC license, for several reasons:If you want to get something widely used, understood and appreciated, make it freely available (and get credit too).If you have benefited from the use of freely available resources, you have an obligation to 'return the favour.'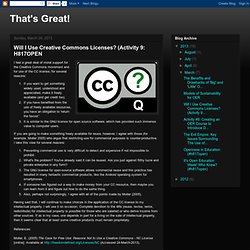 It is similar to the GNU license for open source software, which has provided such immense value to computer users. If you are going to make something freely available for reuse, however, I agree with those (for example, Moller 2005) who argue that restricting use for commercial purposes is counter-productive. Licenses/NC - Definition of Free Cultural Works. When the Creative Commons project published its first licenses in December 2002, it finally brought a sense of unity to the free culture movement.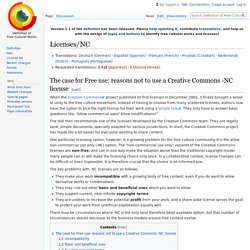 Instead of having to choose from many scattered licenses, creators now have the option to pick the right license for their work using a simple tool. They only have to answer basic questions like: "Allow commercial uses? Allow modifications? " The tool then recommends one of the licenses developed by the Creative Commons team. Fair Use. Copyright Fair Use and How it Works for Online Images. You've heard the adage that a picture is worth a thousand words, but when that picture is protected by copyright, the picture is only worth three words: cease and desist.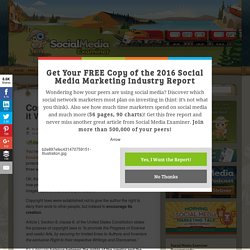 OK, that's kind of a lawyer joke. But it illustrates how protective people are about finding their images used online without permission. In General (FAQ) 10 Big Myths about copyright explained. See EFF notes on fair use and links from it for a detailed answer, but bear the following in mind: The "fair use" exemption to (U.S.) copyright law was created to allow things such as commentary, parody, news reporting, research and education about copyrighted works without the permission of the author.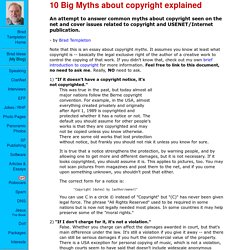 That's vital so that copyright law doesn't block your freedom to express your own works -- only the ability to appropriate other people's. Tips For Making Sure Your Copyright Registration Application Is Accepted. Circ07d.pdf (application/pdf Object) Copyright_Graphic_Article.pdf (application/pdf Object) YouTube. If You Cannot Find the Owner. The situation is common: You want to use a copyrighted work beyond the limits of fair use or other copyright exception.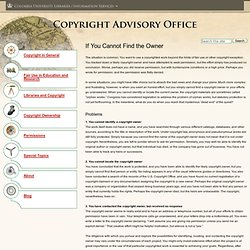 You tracked down a likely copyright owner and have attempted to seek permission, but the effort simply has produced no conclusion. Worse, perhaps you did receive permission, but with burdensome conditions or a high price. Perhaps you wrote for permission, and the permission was flatly denied. In some situations, you might have little choice but to absorb the bad news and change your plans. MyFreeCopyright.com: FREE Copyright Protection. Public domain in the United States. Works are in the public domain if they are not covered by intellectual property rights, such as copyright, at all, or if the intellectual property rights to the works has expired.[1] Public domain in copyrighted works in the United States[edit] Congress has restored expired copyrights several times: "After World War I and after World War II, there were special amendments to the Copyright Act to permit for a limited time and under certain conditions the recapture of works that might have fallen into the public domain, principally by aliens of countries with which we had been at war.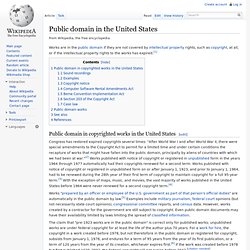 (Re-)Defining the Public Domain : Carl Malamud. <div style="padding:5px; font-size:80%; width:300px; background-color:white; margin-left:auto; margin-right:auto; border:1px dashed gray;"> Internet Archive's<!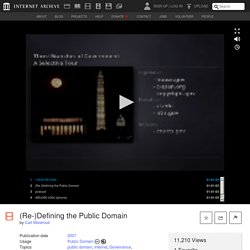 --'--> in-browser video player requires JavaScript to be enabled. It appears your browser does not have it turned on. Please see your browser settings for this feature. </div> Embedding Examples and Help. Public Knowledge | Fighting for your digital rights in Washington. Society: Law: Legal Information: Intellectual Property: Copyrights.
Survey_private_registries-final_draft-2011_09_14-clean 2.doc. Trademark. The "Registered Trade Mark" logo Usage[edit] Brewery displays its trademark on a flag on a tower in Steinfurt, Germany Trademarked gym weights (counterfeit) Trademarks are used to claim exclusive properties of products or services. The usage of trademarks by its owner can cause legal issues if this usage makes them guilty of false advertising or if the trademark is offensive.[6]
How to Register a Trademark for a Company Name - Small Business. Registering a trademark for a company name is pretty straightforward. Many businesses can file an application online in less than 90 minutes, without a lawyer's help. The simplest way to register is on the U.S. Patent and Trademark Office's Web site, www.uspto.gov. Trademarks Home. WARNING: Non-USPTO Solicitations May Resemble Official USPTO Communications Be aware that private companies not associated with the USPTO often use trademark application and registration information from the USPTO's databases to mail or e-mail trademark-related solicitations (samples of non-USPTO solicitations included). First-Time Filers, Start Here Trademark Educational Outreach Program SelectUSA.
Plagiarism, Creativity & The Remix.
---