Psychology
Idiagram provides systemic analysis, systems mapping, and strategic consulting services to help our clients: 1 ) Think Clearly and systemically about complex problems 2 ) Engage Diverse Stakeholders who must be part of the solution 3 ) Communicate Effectively with the people who must act on those problems We work with teams facing complex multi-faceted problems to: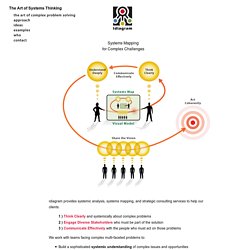 Welcome to the Stanford Prison Experiment web site, which features an extensive slide show and information about this classic psychology experiment, including parallels with the abuse of prisoners at Abu Ghraib. What happens when you put good people in an evil place? Does humanity win over evil, or does evil triumph? These are some of the questions we posed in this dramatic simulation of prison life conducted in the summer of 1971 at Stanford University. How we went about testing these questions and what we found may astound you.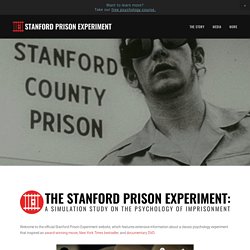 Addiction Science Network
Online Course Information (courses listed here are taught by Dr. Michael A. Bozarth at the State University of New York at Buffalo)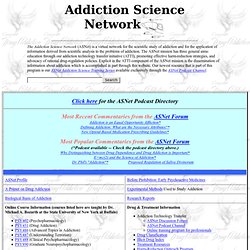 Royal College of Psychiatrists
Alcoholism Treatment - Information and Program Resources for the Alcoholic and Their Families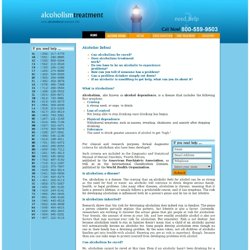 What is Alcoholism? Alcoholism , also known as alcohol dependence , is a disease that includes the following four symptoms. For clinical and research purposes, formal diagnostic criteria for alcoholism also have been developed. Such criteria are included in the Diagnostic and Statistical Manual of Mental Disorders, Fourth Edition, published by the American Psychiatric Association , as well as in the International Classification Diseases, published by the World Health Organization . Is alcoholism a disease?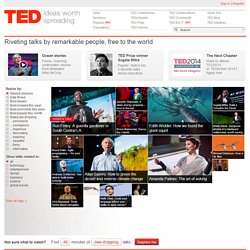 Melinda Gates and Bill Gates Why giving away our wealth has been the most satisfying thing we've done In 1993, Bill and Melinda Gates—then engaged—took a walk on a beach in Zanzibar, and made a bold decision on how they would make sure that their wealth from Microsoft went back into society. In a conversation with Chris Anderson, the couple talks about their work at the Bill & Melinda Gates Foundation, as well as about their marriage, their children, their failures and the satisfaction of giving most of their wealth away.
Psihoteca - resurse de psihologie