Agencies
Maná e.d.i. - Infografia, 3D e Design
Signal Noise is an independent information design agency We are passionate about bringing data and information to life and pride ourselves on creating memorable user experiences. We work with clients from global fashion labels to financial institutions to help them understand and visually communicate data and content. Latest Transfer Window An interactive visualisation using live data from European football transfers and the impact this has on clubs' league position.
Signal | Noise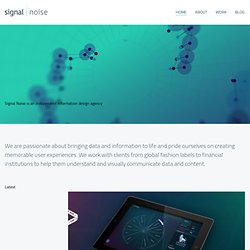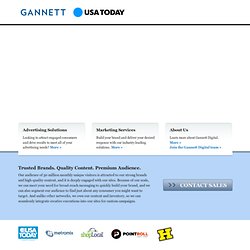 USA TODAY Ad Solutions
Our audience of 50 million monthly unique visitors is attracted to our strong brands and high-quality content, and it is deeply engaged with our sites. Because of our scale, we can meet your need for broad-reach messaging to quickly build your brand, and we can also segment our audience to find just about any consumer you might want to target. And unlike other networks, we own our content and inventory, so we can seamlessly integrate creative executions into our sites for custom campaigns.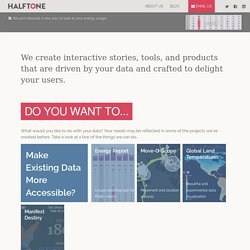 We help clients manage, design, and realize data visualization projects of any size. Our focus is solving industry specific problems and communicating effectively through visualization and interaction design. Some of our work Generate art with global temperature data This project displays over 100 years of average monthly land temperature data collected from over 7,200 climate monitoring stations, with each month creating unique geometric artwork. Learn why the sky is blue It's a simple question that few can answer correctly.
Halftone | Data Visualization Consulting and Design
Discovering and Illustrating Patterns in Data
Data Visualization and Websites by Flo Apps Ltd | Frontpage
:: MANUEL CANALES GRAPHICS, INFOGRAFÍA, DISEÑO, WEB, ILUSTRACIÓN ::
Gráfica Interactiva
catalogtree 4.0
ripetungi
Infografía.cl | Desarrollo en Información Visual
Designbysoap Portfolio | Designbysoap.co.uk
Infogram.it - Agenzia di Infovisualizzazione
London Design Agency: Editorial design, Infographics, Data Visualisation, Branding, Illustration, Graphic Design, Visual Communication. The Design Surgery.
Interactive Things
Neue Zürcher Zeitung For the Swiss newspaper Neue Zürcher Zeitung we have created a series of 20 visualizations covering various topics related to national relevance, like the municipal disparity of electricity rates, the development of population over the last 40 years or the flow of migration between the cantons. The visualizations has been essential part of a journalistic series and were optimized for desktop, mobile and print.
Kiln
Maskar Design | Graphic design for print and web
Visualizing Poverty Recently launched… the Mayor's Office of Community Empowerment and Opportunity created a strategic plan for fighting poverty in the city of Philadelphia Shared Prosperity Philadelphia. We've Moved!! We're right around the corner in a fabulous new space. Come and visit us soon!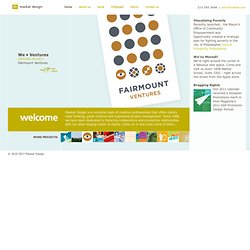 Neo Mam Infographic Design Agency Exciting new projects and interesting people make us tick. I have known Danny Ashton for over 5 years, this is a guy who gets it. If I needed someone to create content that gets links at the right price, this is the man I would call.
Infographic Design UK | Neo Mammalian Studios in Manchester www.infograficanimata.it
Hot Butter Studio
This past weekend Maga Design teamed up with SPARC to help host the 3rd annual Hackathon. The 3D themed event included presentations, guest speakers, food, drinks, and games while the 34 participating teams of software engineers tirelessly worked to create the best mobile app. Maga Design offered support by providing creative team name cards for tables, certificates for winning teams, maps of event locations, and a 36"x72" Info-graphic Map reflecting the history of 3D.
Maga Design Blog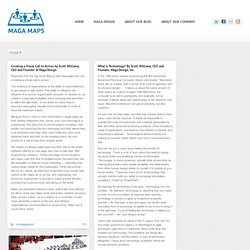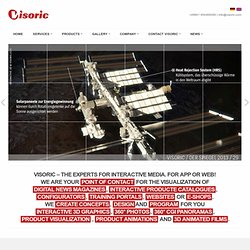 animate_cool http://visoric.com/en/interactive-3d-graphic/ slot_machine_down http://www.visoric.com/en/3d-animated-film/
GmbH | YOUR EXPERTS FOR INTERACTIVE MEDIA
Vultorama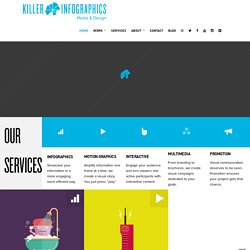 Wow! That is the only word that comes to mind when I saw my finished project. Super-responsive would be another word if that even is a word, if I had to pick a long hyphenated way to describe them as well. You'd be silly going elsewhere! — Craig Agranoff, CBS12 Tech Correspondent I work with a range of clients and can always trust that the team at Killer Infographics will do a job worth putting my name behind.
5W
Hyperakt » Meaningful Design for the Common Good
The Online Portfolio of Kenny Chung - Ad-SHARK.com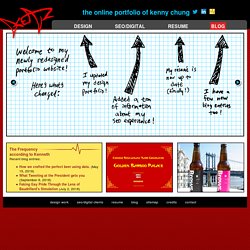 "Kenny's one of the best -- he has a tireless work ethic, outstanding technical capabilities, and a great sense of humor... His projects were always on-time, and despite challenging, concurrent projects, they were professional, creative, and demonstrated a keen sense of user experience... he would be a wonderful asset to any organization." ( Read full quote ) Professor Joyce Macario
Kristffer's Visualizatin Factory.
Boost Labs :: Data Visualization : Infographics : Web Innovation :: Washington DC : Maryland : Virginia
Responsive Design and Infographics Static infographics are a dime a dozen these days. Wal-Mart pricing models and generic template designs have paved the way to get more stories visualized... Read More... Gamification and UI Design Here is something to think about the gaming industry is the largest segment of the entertainment market by such a wide margin it's staggering...
The Information Lab - Helping people make sense of data
Infographic design
DensityDesign is a research lab in the Design Department of the Politecnico di Milano. It focuses on the visual representation of complex social, organizational and urban phenomena read more... Activities The relationship between design interventions and the environment in which they are performed more and more are seen as complex. When acting within... more... Link, Idee per la television (ideas for television) is a periodical magazine about culture and tv published by Mediaset-RTI.
oBizMedia: Social Media Strategy | Infographics | Viral Content Marketing |
People are easily bored. Corporate messaging can be pretty boring. So, we take that message and add tons of research and art and color and design, thus un-borifying it. If we've done our jobs right (we always do) — people will Share, Like, Tweet and Pin it for their friends. Alchemy? Magic?