INSPIRATION/RESPIRATION
Blog - Institute of Making
Luminescence Public Open Day - May 25th Visitors were able to watch demonstrations by neon artists who were bending and filling neon tubes live in the space. They explored luminescent materials from the library, had a go with 'invisible' UV face paint and mouldable glow-in-the-dark polymorph plastic, and took away laser-etched test tubes filled with glow-in-the-dark liquid. It was one very busy, luminescence-filled day. More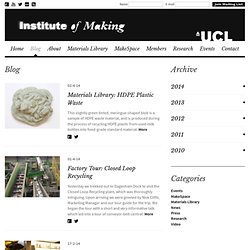 Design Crowbar
Bizarre Bazar - Mike LIBBY - JOKER - MUGLER -… - Kate MacDOWELL... - Matthieu LAVANCHY - NOIR noir… - curieuxdetrucs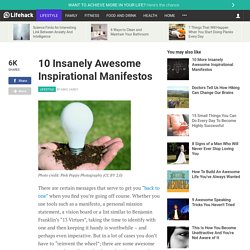 Photo credit: Pink Poppy Photography (CC BY 2.0) There are certain messages that serve to get you "back to one" when you find you're going off course. Whether you use tools such as a manifesto, a personal mission statement, a vision board or a list similar to Benjamin Franklin's "13 Virtues", taking the time to identify with one and then keeping it handy is worthwhile – and perhaps even imperative.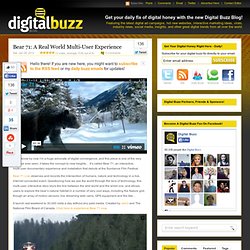 You'll know by now I'm a huge advocate of digital convergence, and this piece is one of the very best I've ever seen, it takes the concept to new heights… It's called Bear 71, an interactive, multi-user documentary experience and installation that debuts at the Sundance Film Festival. Bear 71 Live observes and records the intersection of humans, nature and technology in a live, Internet connected event. Questioning how we see the world through the lens of technology, this multi-user, interactive story blurs the line between the wild world and the wired one, and allows users to explore the bear's natural habitat in a number of very cool ways, including the Nature grid, though an array of motion sensors, live streaming web cams, GPS equipment and the like… It launch last weekend to 30,000 visits a day without any paid media.
Bear 71: A Real World Multi-User Experience 
Why Women Count: South Africa - Finding Grace - ViewChange.org
1001idées pour faire décoller le monde
Online Portfolios on the Behance Network
La seconde question à poser concerne Merah et sa surveillance - ou plutôt son défaut de surveillance. La première chose qui m'a frappé, c'est l'extrême professionnalisme du terroriste.
Traverses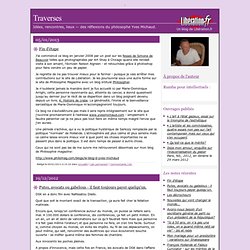 Le site de Roger-Pol Droit
anthrostrategist | Just another WordPress.com site
Flying to Greenville, South Carolina and taking time away from my family wasn't on the top of my list of must-dos, but Food for Thought, an event produced by Erwin-Penland, was an amazing experience to fuel the mind. From the opening speaker to the closing performer, it was a marathon of inspiring learning opportunities.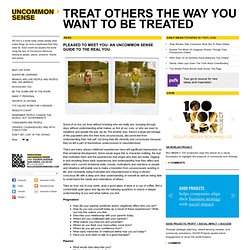 Treat others the way you want to be treated | Bulldog Drummond – Uncommon Sense
Next Generation Design Competition
Resumes are one of the most important documents needed when applying for any kind of a job. If you're wondering how to get a job of your dreams, first of all consider creating an impressive and outstanding resume with a custom design. It's your opportunity to create personality, show off your skills and creativity.
25 Intelligent Resume Ideas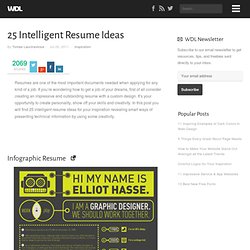 can teach the world to innovate, says author
Si cette dernière décennie commencée avec Napster a vu naître la révolution du partage de fichiers et des créations collaboratives (Wikipedia, les œuvres sous Creative Commons, les plateformes comme SourceForge ou Github...), celles qui s'ouvrent pourraient bien en reprendre les principes, et les adapter au monde matériel et industriel.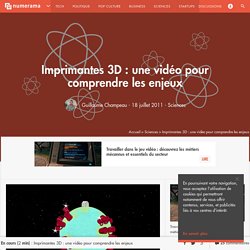 Imprimantes 3D : une vidéo pour comprendre les enjeux
Influxinsights
[re]design hold innovative, engaging, accessible events for public, design trade and business audiences throughout the year. Our projects range from public exhibitions with tens of thousands of visitors, to inspiring in-house events tailor-made for partner organisations, to hands-on making workshops and lively debates. [re]design is a relationship building organisation and there are lots of ways to get involved.
[re]design - About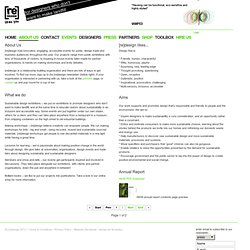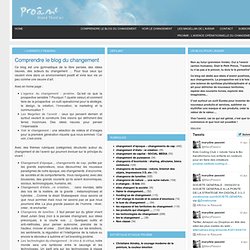 Ce blog est une gymnastique de la libre pensée, des idées neuves, des acteurs du changement … Pour tous ceux qui veulent vivre dans un environnement positif et vivre leur vie un peu comme une oeuvre d'art. Avec en home page :
prospective, changement, avenir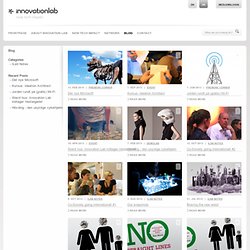 Innovation Lab | new tech impact
Innovation Lab DK UK Medlemslogin
About Daniel Pink
Daniel H. Pink is the author of five provocative books– including the long-running New York Times bestsellers, A Whole New Mind and Drive . His latest book, To Sell is Human , is a #1 New York Times business bestseller, a #1 Wall Street Journal business bestseller, and a #1 Washington Post nonfiction bestseller.
1.
Projects That Make Cities Better
2
Lamétéodujour
Lamétéodujour À propos ♡ Page facebook