Modelado y escaneado 3D
Matterform.net - HOME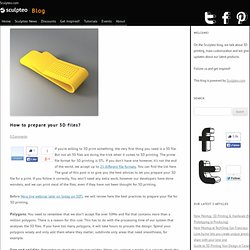 If you're willing to 3D print something, the very first thing you need is a 3D file. But not all 3D files are doing the trick when it comes to 3D printing. The prime file format for 3D printing is STL.
How to prepare your 3D files?
Digitizer
www.diy3dscan.com
Volumental
DAVID 3D Scanner
3D Scanner for 3D scanning - easy to use & low cost | CADScan
Das deutsche Unternehmen Sturm GmbH, bietet mit "Apollo" einen vielseitigen 3D-Scanner. Der mobile 3D-Scanner Apollo, arbeitet mit zwei Kameras und einem Projektor und verfügt über drei Messbereiche sowie ein modulartiges System mit dem kleine bis große Objekte erfasst werden können. Dafür können die "ApolloEyes"-Objektive einfach in drei vorgesehene Positionen geschoben werden. Der 3D-Scanner soll sich laut Hersteller für Reverse Engineering, Qualitätsprüfung, Multimedia, Body-Scanning und 3D-Archivierungs Aufgaben eigen und kann in den drei Ausstattungsoptionen Basic, Professional und Premium erworben werden.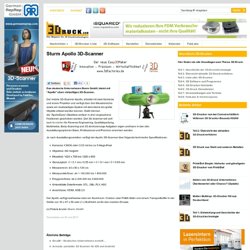 Sturm Apollo 3D-Scanner
FabliTec | 3D Scanning Technology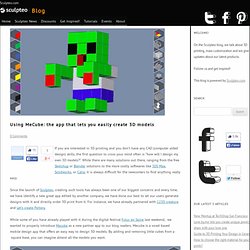 If you are interested in 3D printing and you don't have any CAD (computer aided design) skills, the first question to cross your mind often is "how will I design my own 3D models?". While there are many solutions out there, ranging from the free Sketchup or Blender solutions to the more costly softwares like 3DS Max , Solidworks , or Catia , it is always difficult for the newcomers to find anything really easy. Since the launch of Sculpteo , creating such tools has always been one of our biggest concerns and every time, we have identify a new great app edited by another company, we have done our best to let our users generate designs with it and directly order 3D print from it. For instance, we have already partnered with 123D creature and Let's create Pottery . While some of you have already played with it during the digital festival Futur en Seine last weekend, we wanted to properly introduce Mecube as a new partner app to our blog readers.
Using MeCube: the app that lets you easily create 3D models
The Buccaneer™ Cloud 3D Printer - World's Most Affordable Home 3D Printer
Autodesk has released yet another 3D print-friendly free tool, the 3D Print Utility.
Autodesk's 3D Print Utility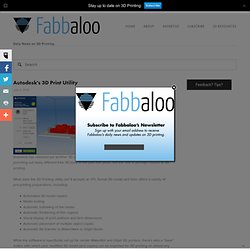 Welcome to Leopoly | Leopoly.com
Welcome
The Photon by Matterform - The world's first, affordable 3D scanner for anyone! If you've ever wanted a 3D scanner now's your chance. By pledging support to this project, you can have your very own Photon 3D Scanner. Photon 3D Scanner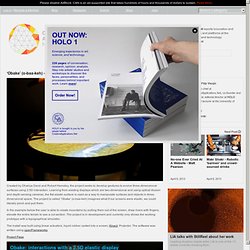 Created by Dhairya Dand and Robert Hemsley, the project seeks to develop gestures to evolve three-dimensional surfaces using 2.5D interaction. Learning from existing displays which are two-dimensional and using optical illusion and depth sensing cameras, the flat elastic surface is used as a way to manipulate surfaces and objects in three-dimensional space. The project is called 'Obake' (o-baa-keh) imagines what if our screens were elastic, we could literally pinch and pull them.
'Obake' (o-baa-keh) - 2.5D interaction gestures to manipulate 3D surfaces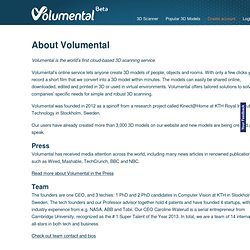 Volumental is the quickest and easiest way to scan and share 3D models of anything you want - people, objects or rooms. Your 3D model can be shared or embedded in any webpage just like a video clip. All you need is your depth camera - Volumental runs directly in your browser. You just move the camera around the object or room while recording, and Volumental takes care of the rest. Volumental started as a robotics research project at the Royal Institute of Technology, Sweden, with the aim of advancing robotics research while being useful to everyday people.
Volumental
Voronoization
You may have seen those fascinating 3D models that seem to have replaced the normal shape with a strange, smooth skeletal networked form. The complex structures seem impossibly difficult to design with conventional 3D modeling tools, and indeed they are. Perhaps they've been made with mathematical 3D model generation tools operated by a PhD? Sometimes this is the case. But did you know there's an easy way to do this yourself with almost any 3D model? We found tutorials describing how to create "Voronoi" shapes.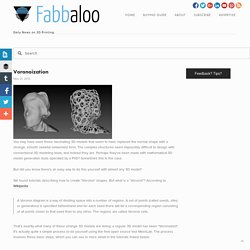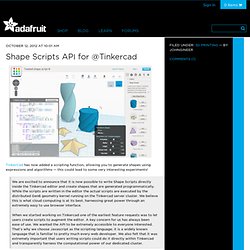 Shape Scripts API for @Tinkercad
TinkerCad has now added a scripting function, allowing you to generate shapes using expressions and algorithms — this could lead to some very interesting experiments! We are excited to announce that it is now possible to write Shape Scripts directly inside the Tinkercad editor and create shapes that are generated programmatically. While the scripts are written in the editor the actual scripts are executed by the distributed Gen6 geometry kernel running on the Tinkercad server cluster. We believe this is what cloud computing is at its best, harnessing great power through an extremely easy to use browser interface.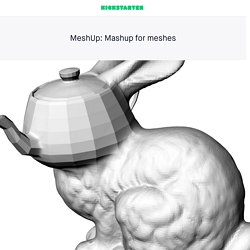 MeshUp is the first real volume modeler for meshes. We want to make life easier for 3D printing and for creators. At Uformia we envision a very different experience for users, where without effort, a creator can be sure that their models are always ready for 3D printing.
MeshUp: Mashup for meshes by Uformia
About SCENECT
This free of charge software solution allows 3D enthusiasts various options - such as scanning for 3D printing, modeling, prototyping construction, graphics and game design. Commodity items, rooms, figures and real persons can all be scanned using your live moving sensor and the new SCENECT app. Operates with Microsoft Kinect for Xbox and Asus Xtion PRO Live Is based upon the professional laser scan software SCENE
Expanding 3D printing beyond the build volume. Chopper was developed by Linjie Luo, Ilya Baran, Szymon Rusinkiewicz, Wojciech Matusik of Princeton University as a way to readily make 3D prints larger than the a 3D printer's build volume. The software divides the model into logical sections and automatically prepared joints for easy assembly and gluing. Watch the video to se how it works. Via Shapeways
Software that automatically partitions large models 3D printable sections
Digitizer
Cookie Caster: Build your own cookie cutter in a minute
(First part: Enhancing openscad with the attach library ) Introduction There is one very common operation that has to be done in nearly all the designs: beveling edges . It can be done on the convex side , for avoiding sharp edges, or on the concave side , for reinforce the part (avoiding the 90 degrees connection between parts). With the bevel library I am developing doing these two operations is a piece of cake.
Enhancing openscad (II): Bevel library « Iearobotics Blog
OmNomNom Creator by jetty
DIY : Fabriquer un scanner 3D avec un kit Arduino et un tourne-disque
Sébastien Korczak a réalisé ce scanner 3D en utilisant un tourne-disque dont il a modifié la partie motorisation pour pouvoir la piloter à l'aide d'un kit Arduino . Sur la plateforme en rotation , on retrouve un appareil photo et un pointeur laser qui balaye la zone à scanner . Éléments de constitution un appareil photo avec une fonction enregistrement ( resol de 640×480, 30 images par secondes). un pointeur laser avec un diffuseur pour afficher une ligne. un tourne-disque modifié au niveau du moteur avec un moteur pas à pas piloté par kit Arduino . Fonctionnement
Fabriquer son scanner 3D
La création de modèles en 3D est un travail long et ardu, il nécessite de bonnes compétences ; en d'autres termes, il faut d'excellents artistes/graphistes. Pour faciliter cette tâche, on peut avoir recours aux scanners 3D, mais c'est onéreux et pas très facile à utiliser. Pourtant, la technologie de la barrière laser n'est pas très compliquée. Le site suivant vous propose de fabriquer un scanner 3D simple à partir d'une webcam, d'un pointeur laser, d'un moteur et de quelques engrenages.
DIY : Fabriquer un scanner 3D avec un kit Arduino et un tourne-disque
HOW-TO: Make realistic 3D renderings of PCB designs
PotteryPrint: the new 3D printing iPad app for kids
Matherix 3Dify – an upcoming Kinect 3D scanning tool in development
Replicating with ReconstructMe
zaggo/Pleasant3D - GitHub
Pleasant Software - Pleasant3D
iFace3D pour iPhone, iPod touch (4e génération), iPad 2 Wi-Fi et iPad 2 Wi-Fi + 3G sur l'iTunes App Store
tbuser/thingiview.js - GitHub
Using CodeThread to create 3D objects
About My3DScanner
MeshLab | Download MeshLab software for free at SourceForge
About My3DScanner
3d modelling software
Shapesmith
Autodesk's Two New Things: Catch & Make
From photos to print with Autodesk 123d Catch