Trucs de filles
Absolutely Glamourous : blog mode, blog beauté, photos de mode, look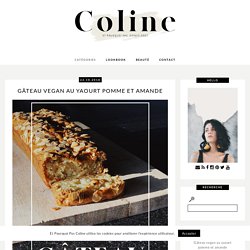 J'adore le mois de janvier! C'est le moment des nouveaux départs, des espoirs, des rétrospectives en tous genre. Le moment de regarder en arrière et de se demander de quoi a été faite l'année qui vient de s'écouler. Grande fan des best of en tous genre j'ai eu envie de faire celui de mon dressing, ces 12 derniers mois et de revenir sur mes meilleurs achats! –> Cabas Yvonne Koné: Ma toute première pièce Yvonne Koné.
Et pourquoi pas Coline: blog mode et beauté
pop.see.cul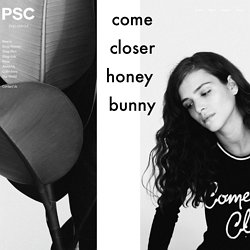 Pop.asks.James 'I believe in the secret behavior of human beings. Capturing a fleeting moment or revealing a hidden world is what I strive to do. And if I'm successful, I am able to glimpse some of the beauty, ugliness, solitude, and desire that exists in us all.'
Mademoiselle Hazard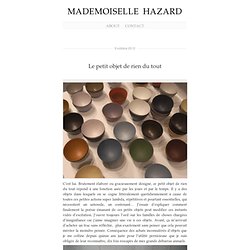 " Marveille ", doit son surnom à un heureux twist syllabique dont les enfants ont le secret. Je l'ai gardé celui-ci.. pour un nom propre, c'est sans conséquence. Donc Marveille se casse, elle a dépassé ses propres bornes depuis longtemps j'ai l'impression. Elle voue un grand amour à Paris et de ses origines canadiennes, ou pas, elle garde un esprit punk-intello ouvert sur les grands espaces de la pensée avec une attirance pour les territoires limitrophes. Elle me donne carte blanche en me montrant un petit presse-papier en verre avec une image d'oiseau, voilà le brief me dit-elle. Avec ma fine psychologie, je vois oiseau, je pense nid.
A Beautiful Mess
Here in southern Missouri, where we live, spring is tormenting us. One day it's nice and warm; you could totally wear sandals and no jacket at all (which excites me as I LOVE sandals). The next day it's cold, and I find myself pulling my coat back out of the closet. Also, one of my brulees got a little too toasty. Guess which one? I tend to do that to my first one almost every time.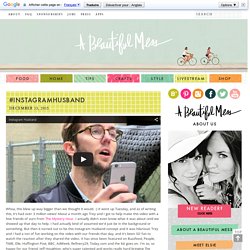 A CUP OF JO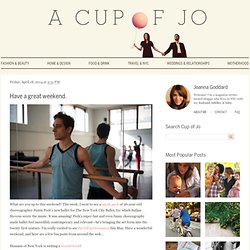 My aunt Lulu is visiting this week (we're all ecstatic!) and of course on Monday night we drank wine and watched The Bachelor. She was totally into it, but kept saying, "Who are these poor women?
Quand j'ai été invitée à l'avant-première de Yves Saint Laurent, je m'attendais, moi, Mai ColorDesigner, amoureuse de Saint Lolo, à ressortir couvertes de ses palettes chatoyantes. Nous en avons déjà parlé maintes fois ici. Mais il n'en fut rien. Je ne m'en plains pas car le film m'a emmenée bien ailleurs.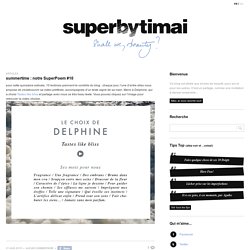 Superbytimai – Shall we, Beauty ?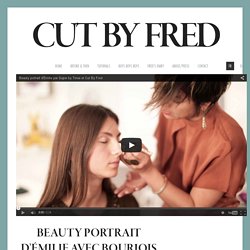 Colette, Coco pour les intimes, est je pense la classe incarnée en femme. Lire la suite Bonne année mes bigoudis!!!! Whouu houuu c'est la rentrée, une nouvelle année de foliiiiiie, j'ai envie qu'on soit fou fou et que la couleur fuse dans vos crinières. Lire la suite
Cut by Fred | Hair Beauty Blog
Vie de femme, vie de maman, vie d'entrepreneuse… 2 avril 2014 Dernièrement, Nelly et moi recevons beaucoup de mails hyper gentils et hyper encourageants… Pour n'en citer qu'un, celui de Marlene : …Tout d'abord, je voudrais vous feliciter vous et votre collaboratrice pour votre blog. Il est juste genial!
MakeMyBeauty : Un blog beauté, deux makeup artists qui déclinent la beauté, le maquillage et les tests produits en billets d'humeur, coups de coeur, must-have et tendances.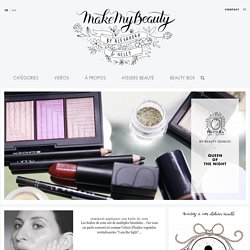 Into The Gloss
Hot girls, cool art Stuff to calm your skin down now Contouring Made Easy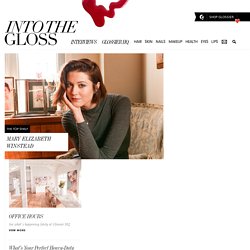 Toujours chez Christine, j'ai choppé la question suivante : si vous deviez ne plus porter qu'un seul fond de teint jusqu'à la fin de vos jours, quelle marque et quelle texture choisiriez-vous ? Bon par contre je ne peux pas garder la partie « jusqu'à la fin de vos jours », parce que dieu sait quelles merveilles on va nous sortir dans les mois / années qui viennent, et LE TEINT C'EST MA PASSION donc je ne veux pas me couper de tout ça ;-) Donc je parle pour aujourd'hui, et tant pis si je triche par rapport à la question de Christine ;-)
Mon Blog de Fille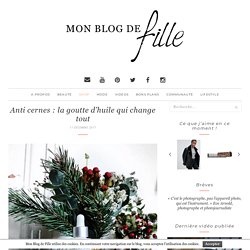 Tales Of Endearment
We love a good DIY, and we particularly love a DIY that includes flowers. Saw one of these floral ribbons at a retail store the other day. It was way too overpriced for my liking so of course we decided to create a version you can make yourself for about $2. It's a simple thin ribbon with flowers and a bobby pin attached– not rocket science, but sometimes simple is just prettier.
The Beauty Department: Your Daily Dose of Pretty.
Lisa Eldridge Make Up
Stay In And Have A Bath - It's January! "There must be quite a few things that a hot bath won't cure, but I don't know many of them." - Sylvia Plath, The Bell Jar Depending on where in the world you are, it feels as though there's no better time of year to soak in a tub than post NewYear, when the holidays are over and we settle into the quiet, dark months of January and February. If you were lucky, you may have received some delicious bathing goodies over the holiday that can be put to good use now. Whatever the time of year I love nothing more than to sink into a hot bath - and relax. I rarely have time for pampering treats, like massages or days at the spa, so if I have any free time (night or day), and want to really switch off and de-stress, I light a candle, run the bath and unleash some of my favourite bath-time treats.
La vie en Blonde
Après les carottes, c'est au tour de la banane ! Il y a quelques semaines j'avais fait des petits banana breads pour le bureau, il était temps que je vous partage la recette. Plutôt qu'un gros cake pas facile à transporter (entre le TGV et le métro, il me faut des plats résistants !), j'avais choisi de faire plusieurs petits cakes (dans un moule en silicone).
Magazine mode : beauté, people, culture, vie perso, astro, votre magazine mode Glamour
Magazine féminin - madmoiZelle.com
Astuces beauté, prendre soin de soi avec les astuces beauté sur Vogue.fr
T Magazine - Continuous Style Coverage - The New York Times
Beauté Addict : Le portail des passionnés de beauté
Beauté Blog