Trucs de filles
Absolutely Glamourous : blog mode, blog beauté, photos de mode, look. Et pourquoi pas Coline: blog mode et beauté. Pop.see.cul. Mademoiselle Hazard. A Beautiful Mess. Hey, friends!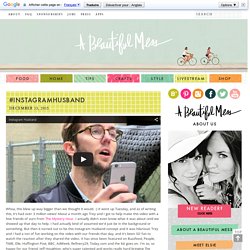 I'm here to share my new favorite happy hour recipe! It's fresh, herbal-y, and citrus-y. Mojitos were my first favorite cocktail, and I still love them, but finding new combinations is my current obsession. I'm thinking about planting an herb garden on my porch this weekend. Have any of you done this? A CUP OF JO. Superbytimai – Shall we, Beauty ? Cut by Fred | Hair Beauty Blog.
MakeMyBeauty : Un blog beauté, deux makeup artists qui déclinent la beauté, le maquillage et les tests produits en billets d'humeur, coups de coeur, must-have et tendances. Into The Gloss. Mon Blog de Fille. Tales Of Endearment. The Beauty Department: Your Daily Dose of Pretty. Lisa Eldridge Make Up. La vie en Blonde. Magazine mode : beauté, people, culture, vie perso, astro, votre magazine mode Glamour. Magazine féminin - madmoiZelle.com. Astuces beauté, prendre soin de soi avec les astuces beauté sur Vogue.fr.
Fitness. T Magazine - Continuous Style Coverage. Beauté Addict : Le portail des passionnés de beauté. Beauté Blog.
---