Myths
We have more Gods and Goddesses than you can shake a stick at. Our Mythology Encyclopedia features over 3,700 weird and wonderful Supreme Beings, Demons, Spirits and Fabulous Beasts from all over the world. Explore ancient legends and folklore, and discover Gods of everything from Fertility to Fluff with Godchecker... Mythology Encyclopedia. Browse the pantheons of mythology and meet weird and wonderful Gods from around the world.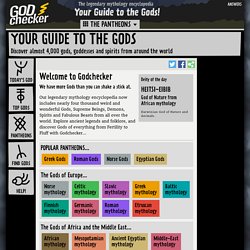 The Hero: Lord Raglan's Scale
Lord Raglan, in The Hero (1936) has classified the parallel life-patterns of the mythical hero of tradition into twenty-two archetypal incidents, as noted below. The higher a particular hero scores, the closer he is to the UR-archetype of the sacred hero-king of prehistoric religious ritual; a historical hero is likely to share rather few of the mythical characteristics. Let your favorite hero take the Lord Raglan Challenge!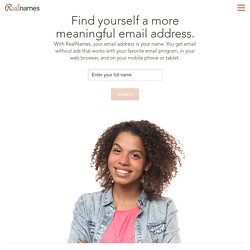 The Theoi Project profiles each deity and creature of Greek Mythology on a separate page, incorporating an encyclopedia summary, quotations from a wide selection of ancient Greek and Roman texts, and illustrations from ancient art. Analysis of the texts and interpretation of the stories of myth is currently beyond the scope of the project. For such detailed analysis, I would suggest consulting some of the good books available on the subject. Transliterated forms of Greek names are used throughout the biography pages of the site rather than their Latin forms, e.g.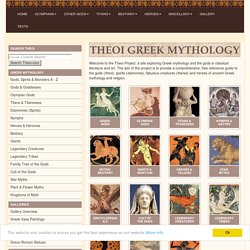 MYTH INDEX, Greek Mythology