Other fun stuff
Peanut Turtle Blondies. Try Kitchen View!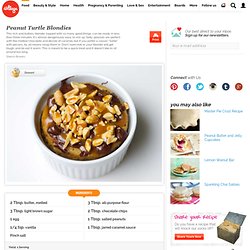 Take your computer to the kitchen and view this recipe full-screen, with step-by-step directions. Enter Kitchen View 1 In a small bowl, melt the butter in the in the microwave on high for 30 seconds. Stir in the brown sugar, then beat in the egg with a fork. 2 Add the vanilla, salt and flour and mix well with the fork. Warm Toasted Marshmallow S'mores Bars Recipe from Betty Crocker. Pots de Creme. Okay, first of all, here's how you do NOT pronounce Pots de Creme: "Pawts deh Creem."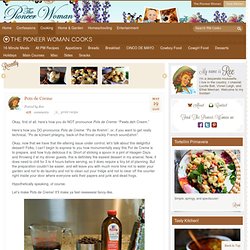 Here's how you DO pronounce Pots de Creme: "Po de Krehm", or, if you want to get really technical, "Po de k(insert phlegmy, back-of-the-throat crackly French sound)ehm". Okay, now that we have that life-altering issue under control, let's talk about this delightful dessert! Folks, I can't begin to express to you how monumentally easy this Pot de Creme is to prepare, and how truly delicious it is. Short of sticking a spoon in a pint of Haagen Dazs and throwing it at my dinner guests, this is definitely the easiest dessert in my arsenal.
Now, it does need to chill for 3 to 4 hours before serving, so it does require a tiny bit of planning. The Best Caramel Dip. Good morning all!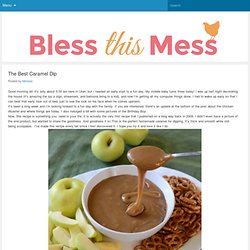 It's only about 5:30 am here in Utah, but I needed an early start to a fun day. My middle baby turns three today! Three No-Bake Easter Treats. Holidays are all about getting together with family and friends, making memories and eating good food.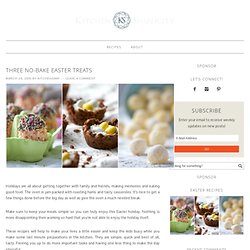 The oven is jam packed with roasting hams and tasty casseroles. It's nice to get a few things done before the big day as well as give the oven a much needed break. Make sure to keep your meals simple so you can truly enjoy this Easter holiday. Cheesecake Stuffed Strawberries. What? Yes! - SugarBlog - SugarDerby. Um... ok.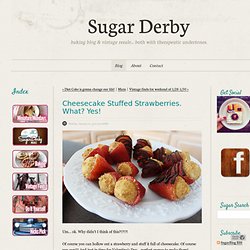 Why didn't I think of this?!?!?! Of course you can hollow out a strawberry and stuff it full of cheesecake. Of course you can!!! Banana Split Bites. Banana Split Bites ~ A classic ice cream dessert gets mini for some bite size fun.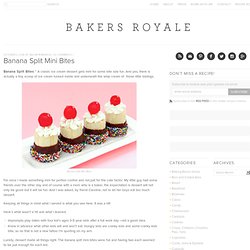 And yes, there is actually a tiny scoop of ice cream tucked inside and underneath the whip cream of those little darlings. Banana Split Mini Bites For once I made something mini for portion control and not just for the cute factor. My little guy had some friends over the other day and of course with a mom who is a baker, the expectation is dessert will not only be good but it will be fun.
And I was asked, by friend Caroline, not to let her boys eat too much dessert. Chocolate Chip Cookie Dough Peanut Butter Cups. Soooooo… you know that episode of Sex and the City where Miranda has to dump dish soap on top of chocolate cake just so she will stop eating it??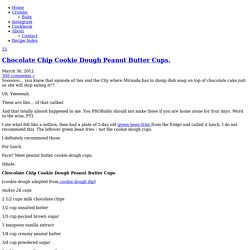 Uh. Yeeeeeah. These are like… of that caliber. And that totally almost happened to me. Lvl 60 Elite Caramel Apples | Comics. Deep Dish Fruit Pizza. My sister-in-law Missy first introduced me to the concept of fruit pizza years and years ago, and here's how: she brought one to my house and I proceeded to eat the whole thing.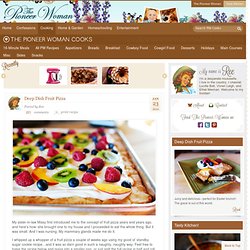 But it was small. And I was nursing. My mammary glands made me do it. I whipped up a whopper of a fruit pizza a couple of weeks ago using my good ol' standby sugar cookie recipe…and it was so darn good in such a naughty, naughty way. Cinnamon Toast Rolls. The USDA released its new food pyramid the other day (which is actually a plate now instead of a pyramid), and I am sorely disappointed to report that cinnamon rolls did not appear anywhere on that plate.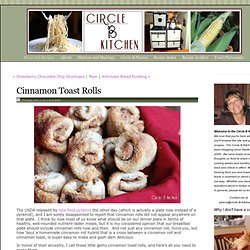 I think by now most of us know what should be on our dinner plate in terms of healthy, well-rounded nutrient-laden meals, but it is my considered opinion that our breakfast plate should include cinnamon rolls now and then. And not just any cinnamon roll, mind you, but how 'bout a homemade cinnamon roll hybrid that is a cross between a cinnamon roll and cinnamon toast, is super easy to make and gosh darn delicious. In honor of their ancestry, I call these little gems cinnamon toast rolls, and here's all you need to make them… Yep. Cinnamon Roll Pancakes. Cinnamon Roll Pancakes Updated 9/22/11 to Add: If you're coming here to sample these delicious Cinnamon Roll Pancakes, you just might like the latest recipe that I've posted for Pumpkin Cinnamon Roll Pancakes too.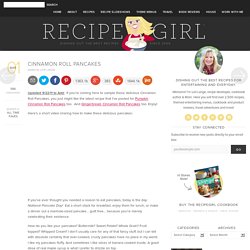 And Gingerbread- Cinnamon Roll Pancakes too. Blue-Eyed Bakers - Blue Eyed Bakers. Making a Cherpumple at Home Proves One Long, Hot Mess. ​Here's the first thing you need to know about making a cherpumple: It takes five hours. For those who missed the Internet sensation, the cherpumple is the brainchild of writer Charles Phoenix, who calls his monstrosity the turducken of desserts. It's an assortment of three store-bought pies baked inside three box-mix cakes, all stacked on top of each other, cemented with loads of cream cheese frosting.
It's an ode to the best and worst of America, a mix of ingenuity and conspicuous consumption. Now, we're no fan of cake mixes or store-bought pies, but a good friend requested a cherpumple for his birthday recently. Now you're cooking with comics. Chocolate Truffles Recipe : Alton Brown. Directions Place the 10 ounces of chocolate and butter in a medium size glass mixing bowl. Microwave for 30 seconds. Remove and stir, and repeat this process 1 more time.
Set aside. Red Velvet Rice Krispies Treats Hearts for Valentine's Day. You may have noticed I share a lot of Rice Krispies Treats, especially around the holiday. Can you blame me though? They're sweet, gooey and oh-so-good! And these red velvet treats are to die for!
---