History Sources and Resources
TudorHistory.org
This page began life as a rather tongue in cheek response to the new English National Curriculum for History, published for consultation on 7th February 2013. The sustained focus in the key stage one and two programmes of study on factual knowledge to be acquired has caused something of stir amongst teachers, teacher educators and academics. The thinking behind the approach can be found in this recent speech. Concerns have been raised about the age-appropriateness of some of the material and the sheer quantity of stuff to be covered. With the idea of crowdsourcing the curriculum in mind, I thought it would be useful and instructive to link the new content to explanatory material, with Wikipedia being an obvious source.
WikiPrimaryHistory?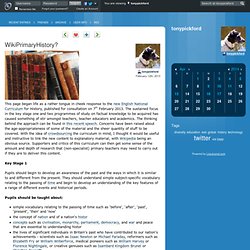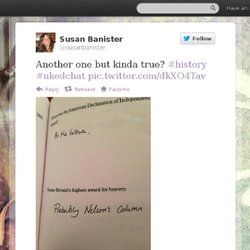 Language: English Bahasa Indonesia Bahasa Melayu Dansk Deutsch
susanbanister: Another one but kinda true?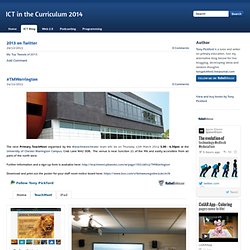 ICT in the Curriculum 2012 - ICT in the Curriculum 2012
Can't say the NSA/PRISM security services surveillance controversy has got me very hot under the collar. Maybe its just that I struggle to get excited about Big Brother-esque snooping, when privacy is something of a redundant concept these days - CCTV is everywhere in the UK, even in Welsh forests! You are being watched!
Timelines - ICT in the Curriculum 2012
Image: © Tony Pickford - The clock on Burton Church, Cheshire. Following up a post on Twitter about online timeline creators, I searched back through these blog posts to find my own list and realised I hadn't done one! A fairly serious omission as timelines provide a particularly appropriate bridge between my interests in history and in web technology for learning. So, without further ado, my list of timeline 'apps' in no particular order - starting with some online tools which display, rather than allow creation of timelines. ChronoZoom is an open source project dedicated to visualizing the history of everything! Funded by Microsoft Research Connections, in collaboration with University California at Berkeley and Moscow State University, it really is a stunning tool for exploring 'Big History'.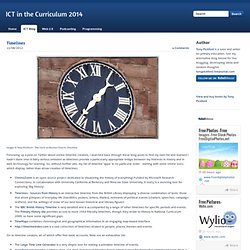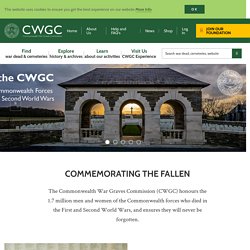 Twin Brothers Remembered 70 Years On Welcome to the Commonwealth War Graves Commission website. We commemorate the 1,700,000 men and women of the Commonwealth forces who died in the two world wars. Our cemeteries, burial plots and memorials are a lasting tribute to those who died in some 153 countries across the world. Our Register records details of Commonwealth war dead so that graves or names on memorials can be located. Find out more about the scope of our organisation today by clicking on the links above.
CWGC - Homepage
Calculator: Add to or subtract from a date
Scran
Welcome to the home of the Virtual Victorians. Here you can take a look at a typical week in our lives and ask us questions. In the "Themes Gallery" you can see many of the things we use, and some things that we would like to be able to afford to use! You can even play with some of the children's favourite toys! You can find out more about our legacy to you, send something they are calling an 'eCard', whatever that is, and if you like news you can work on a Victorian Newspaper.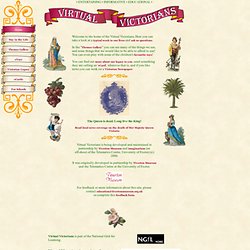 Virtual Victorians contains Victorian artefacts, objects, news, photographs, presented in an innovative, exciting way for schools, parents and those interested in the Victorian era
The history of the workhouse by Peter Higginbotham
Imperial War Museums
StoryVault
A Vision of Britain through Time | Your national on-line library for local history | Maps, Statistics, Travel Writing and more
Primary sources: the texts of original documents, such as the Journals of the Houses of Commons and Lords, Acts and Ordinances of the Interregnum, and the Statutes of the Realm. Secondary texts: works by modern historians, such as the Victoria County History of the Counties of England, Fasti Ecclesiae Anglicanae, English Heritage's Survey of London, and Office Holders in Modern Britain. Guides and calendars: summaries of primary sources, prepared by modern editors, such as multiple series of the Calendars of State Papers, the Catalogue of Ancient Deeds, and the Letters and Papers of Henry VIII. Gazetteers and dictionaries: listings of places, property, goods and markets, such as Lewis's topographical dictionaries of England, Scotland and Wales, Harben's Dictionary of London, plus the Dictionary of Traded Goods.
British History Online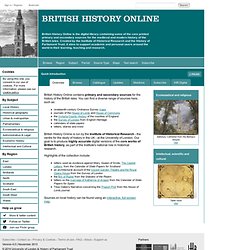 Census records
Treasures from The National Archives
Education
Spartacus Educational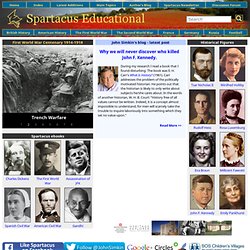 In September, 1997, Spartacus Educational founder and managing director John Simkin became the first educational publisher in Britain to establish a website that was willing to provide teachers and students with free educational materials. According to a survey carried out by the Fischer Trust, Spartacus Educational is one of the top three websites used by history teachers and students in Britain (the other two are BBC History and the Public Record Office's Learning Curve). The Spartacus Educational website currently gets up to 7 million page impressions a month and 3 million unique visitors.
Object Lessons: an online display of about 400 objects from Islington Artefacts Library
Old-Maps is the UK's most comprehensive historical map archive comprising site centred historical maps covering England, Wales and Scotland. We provide a complete step by step picture of land use changes that have taken place from the mid-19th Century onwards, from OS County Series, OS Town Plans and post-war National Grid mapping to unique Russian Maps of UK target locations from the cold-war era. To view our map editions and pricing see our Map Prices page.
Old-Maps - the online repository of historic maps - home page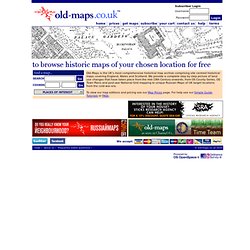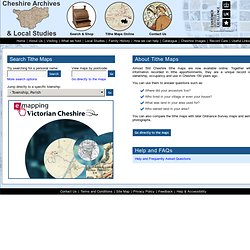 e-mapping Victorian Cheshire: Cheshire's Tithe Maps Online
Almost 500 Cheshire tithe maps are now available online. Together with the information recorded in tithe apportionments, they are a unique record of land ownership, occupancy and use in Cheshire 150 years ago. You can use them to answer questions such as: Where did your ancestors live? Who lived in your village or even your house? What was land in your area used for?
Cheshire Archives and Local Studies
Historical Directories
Museum of London - www.museumoflondon.org.uk
Connected Histories brings together a range of digital resources related to early modern and nineteenth century Britain with a single federated search that allows sophisticated searching of names, places and dates, as well as the ability to save, connect and share resources within a personal workspace. We have produced this short video guide to introduce you to the key features. Connected Histories is a not-for-profit project.
Connected Histories
Commonwealth Online - education resources for schools
Please note the British Empire and Commonwealth Museum (BECM) is now closed. In Spring 2012 the museum's collections transferred to Bristol Museums, Galleries and Archive Service (BMGA). BMGA is part of Bristol City Council. The transfer took place following a decision that the planned move of BECM to London was no longer possible. The transfer has enabled the collections to be retained in Bristol and become an integral part of Bristol Museums, Galleries and Archives' priorities for research, education and public display.
Moving Here - 200 years of Migration to England
Home
Resources
Cleo resource: John Redhead
Young explorers
Learning at the British Library
Timelines: Sources from History
Schools Ages 4-11 - History Sites
Free high resolution old photos and pictures of the United Kingdom of Great Britain and British Isles
ViewFinder - Home