History Sources and Resources
TudorHistory.org
This page began life as a rather tongue in cheek response to the new English National Curriculum for History, published for consultation on 7th February 2013.
WikiPrimaryHistory?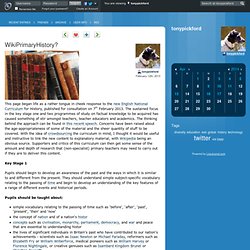 susanbanister: Another one but kinda true?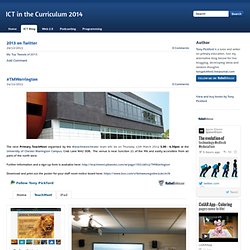 ICT in the Curriculum 2012 - ICT in the Curriculum 2012
Can't say the NSA/PRISM security services surveillance controversy has got me very hot under the collar. Maybe its just that I struggle to get excited about Big Brother-esque snooping, when privacy is something of a redundant concept these days - CCTV is everywhere in the UK, even in Welsh forests! You are being watched!
Timelines - ICT in the Curriculum 2012
Image: © Tony Pickford - The clock on Burton Church, Cheshire. Following up a post on Twitter about online timeline creators, I searched back through these blog posts to find my own list and realised I hadn't done one!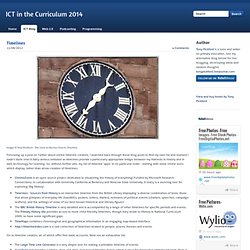 CWGC - Homepage
Calculator: Add to or subtract from a date
Scran
Virtual Victorians contains Victorian artefacts, objects, news, photographs, presented in an innovative, exciting way for schools, parents and those interested in the Victorian era
The history of the workhouse by Peter Higginbotham
Imperial War Museums
StoryVault
A Vision of Britain through Time | Your national on-line library for local history | Maps, Statistics, Travel Writing and more
British History Online
Census records
Treasures from The National Archives
Education
Spartacus Educational
Object Lessons: an online display of about 400 objects from Islington Artefacts Library
Old-Maps - the online repository of historic maps - home page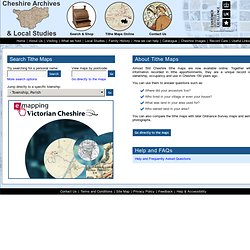 e-mapping Victorian Cheshire: Cheshire's Tithe Maps Online
Almost 500 Cheshire tithe maps are now available online. Together with the information recorded in tithe apportionments, they are a unique record of land ownership, occupancy and use in Cheshire 150 years ago.
Cheshire Archives and Local Studies
Historical Directories
Museum of London - www.museumoflondon.org.uk
Connected Histories
Commonwealth Online - education resources for schools
Moving Here - 200 years of Migration to England
Home
Resources
Cleo resource: John Redhead
Young explorers
Learning at the British Library
Timelines: Sources from History
Schools Ages 4-11 - History Sites
Free high resolution old photos and pictures of the United Kingdom of Great Britain and British Isles
ViewFinder - Home