History Sources and Resources
TudorHistory.org. WikiPrimaryHistory? This page began life as a rather tongue in cheek response to the new English National Curriculum for History, published for consultation on 7th February 2013.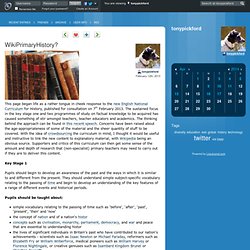 The sustained focus in the key stage one and two programmes of study on factual knowledge to be acquired has caused something of stir amongst teachers, teacher educators and academics. The thinking behind the approach can be found in this recent speech. Concerns have been raised about the age-appropriateness of some of the material and the sheer quantity of stuff to be covered. With the idea of crowdsourcing the curriculum in mind, I thought it would be useful and instructive to link the new content to explanatory material, with Wikipedia being an obvious source.
Susanbanister: Another one but kinda true? ICT in the Curriculum 2012 - ICT in the Curriculum 2012. Can't say the NSA/PRISM security services surveillance controversy has got me very hot under the collar.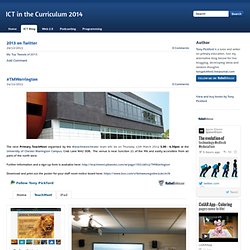 Maybe its just that I struggle to get excited about Big Brother-esque snooping, when privacy is something of a redundant concept these days - CCTV is everywhere in the UK, even in Welsh forests! You are being watched! Timelines - ICT in the Curriculum 2012. Image: © Tony Pickford - The clock on Burton Church, Cheshire.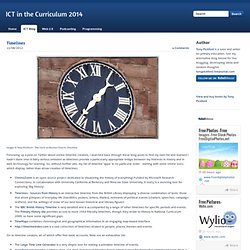 Following up a post on Twitter about online timeline creators, I searched back through these blog posts to find my own list and realised I hadn't done one! A fairly serious omission as timelines provide a particularly appropriate bridge between my interests in history and in web technology for learning. So, without further ado, my list of timeline 'apps' in no particular order - starting with some online tools which display, rather than allow creation of timelines.
ChronoZoom is an open source project dedicated to visualizing the history of everything! Funded by Microsoft Research Connections, in collaboration with University California at Berkeley and Moscow State University, it really is a stunning tool for exploring 'Big History'. CWGC - Homepage. Calculator: Add to or subtract from a date. Scran. Virtual Victorians contains Victorian artefacts, objects, news, photographs, presented in an innovative, exciting way for schools, parents and those interested in the Victorian era. The history of the workhouse by Peter Higginbotham. Imperial War Museums. StoryVault. A Vision of Britain through Time | Your national on-line library for local history | Maps, Statistics, Travel Writing and more. British History Online. Census records. Treasures from The National Archives. Education. Object Lessons: an online display of about 400 objects from Islington Artefacts Library. Old-Maps - the online repository of historic maps - home page.
E-mapping Victorian Cheshire: Cheshire's Tithe Maps Online. Almost 500 Cheshire tithe maps are now available online.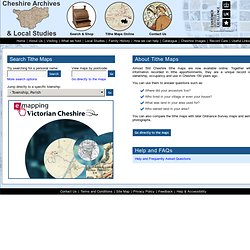 Together with the information recorded in tithe apportionments, they are a unique record of land ownership, occupancy and use in Cheshire 150 years ago. You can use them to answer questions such as: Where did your ancestors live? Who lived in your village or even your house? What was land in your area used for? Cheshire Archives and Local Studies. Historical Directories. Museum of London - www.museumoflondon.org.uk. Connected Histories. Commonwealth Online - education resources for schools. Moving Here - 200 years of Migration to England. Home. Resources. Cleo resource: John Redhead. Young explorers. Learning at the British Library. Timelines: Sources from History.
Schools Ages 4-11 - History Sites. Free high resolution old photos and pictures of the United Kingdom of Great Britain and British Isles. ViewFinder - Home.
---