Graphisme
Media packaging mashups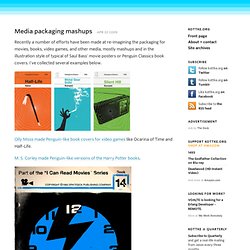 Recently a number of efforts have been made at re-imagining the packaging for movies, books, video games, and other media, mostly mashups and in the illustration style of typical of Saul Bass' movie posters or Penguin Classics book covers.
Chromeography
Krazy Kids Items
80+ Must-Read Design Blogs to Enhance your Creativity and your C
There are hundreds of design blogs online. I have thoughtfully chosen over 80 of my absolute favorites for this must-read list and have categorized them for easy navigation. Which do you like best?