Web Comics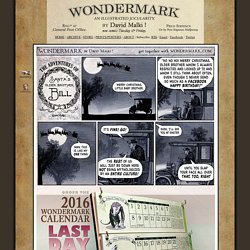 Wondermark
True Stuff: Mortality record from 1665 January 23rd, 2014 (click image for bigger) I love this: Via Slate's The Vault, "In 16th- and 17th-century London, in response to recurrent epidemics of bubonic plague, authorities instituted the tradition of publishing a bill of mortality each week." See Slate's brief article, with more links, here. They also link to Craig Spence's Bills of Mortality blog:
They All Bleed The Same
Now we are getting into the real meat of who this new mysterious character is and I'm quite exited for it. We've put a lot of work into it, so it's going to be awesome. Also, as you may have noticed, I'm trying to step up the detail in the last few comics. It gives me an excuse to play around with a few new techniques. Also, tune into This. It's a Dr.
Comics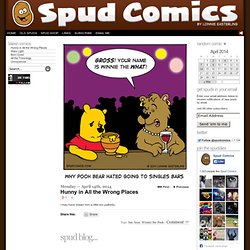 Spud Comics
Upcoming Spud Sightings November 3rd, 2013 Takin' the toons on the road again!
Saturday Morning Breakfast Cereal
PvPonline
Welcome to the year 2014. The last couple of weeks we've been a bit signal dark here at PvP and Table Titans. Part of that was due to the holidays, but we've also been very busy here behind the scenes preparing for a lot of cool things that are about to go down in Q1 2014. Thanks to Table Titans and Mappy we have a lot of new readers who just really have no idea where to dive into PvP. For that reason our site is getting a much needed facelift which we'll be debuting soon. And we're going to launch with a new story-arc that will help introduce new readers to our characters for the first time.
Penny Arcade! - Inner Wealth
Lost in Comics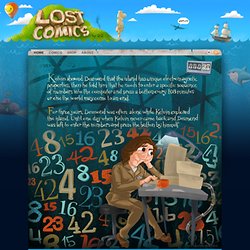 Earlier on Twitter, I teased some images from a new poster and it's time to see the fruits of those labors! I would like to introduce you to a new series of posters…LOST in Horror. First up in the series is The Freighter. The Freighter is a whopping 24 x 36 inches!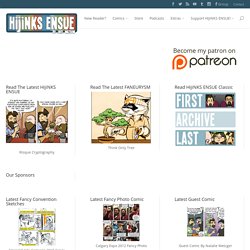 HijiNKS ENSUE – A Geek Webcomic – 5 Days A Week - geek comic, geek webcomic, geek pop culture comic
SHORTEST VERSION: My daughter and I collaborated on a print! It's signed by both of us and limited to 100 pieces. GO BUY IT NOW (and tell 99 of your friends)! SHORT VERSION: Instead of selling a limited print to pay for a trip for my wife and I on JoCo Cruise Crazy, like I wanted to (and like I have for the past 2 years), I am NOW selling a limited print to pay off an unexpected tax bill from the IRS which cost ALMOST EXACTLY what the cruise was going to cost.
Happle Tea Comics - Comics about mythology and other things
Arguing with true believers of any particular creed, myth, or ideal requires monumental patience and mental fortitude. That, or impotent rage and a serious masochistic streak. You could always just slam your head repeatedly into a wall, it might be less painful in the end. I generally find it's not even worth bothering with, these days. Either people converse with the understanding that the participants are willing to admit when they're wrong and accept new information that might change their point of view, or you might as well just speak to inanimate objects.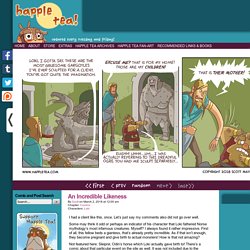 2307
Dueling Analogs - Gaming Webcomic
DorkTower
Boba Fett, Cake Boss Boba Fett, Cake Boss It was my nephew's 13th birthday, Monday. So the Lovely and Talented Judith, Daughter, Age 5, and I spent the weekend with family, in the great city of St. Louis. My nephew's a great kid, and is currently in a Star Wars phase. But I repeat myself.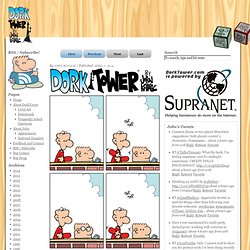 diesel sweeties : robot webcomic and geeky music t-shirts
random nonsense 5 days a week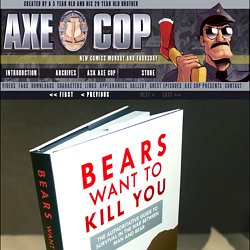 And there it is, the first blow of the coming battle is struck, and it's called foul right off. The way this came about was in telling the story, Charlotte got to this part and said: "…Axe Cop walks up with all his pals. And he says to them "you will never be evil again!
Axe Cop
Dinosaur Comics
Okay I'm about to make an admission that's going to shock you all. I'm a cynic. No no, really!
GU Comics
Weregeek
Posted January 12th, 2014 by Alina Hey everyone, Sorry for another sketch again so soon.
xkcd
Questionable Content