Social/Enivronmental Entrepreneurship
Yasmin Farms: Modern Ethical Farming | Khaleejesque. There's no doubt that food is high on everyone's agenda but how often do you think about where your vegetables and fruits actually come from?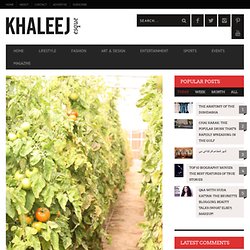 Farming nowadays is all about commercial gains and getting the healthiest looking fruits to hit the markets when in reality they're full of chemicals, preservatives, and hormones. Curious about what goes on behind the scenes in the farming industry, the Khaleejesque team got the chance to visit Yasmin Farms in Kuwait with their business development manager, Bader Al-Ayoubi, and got a briefing about the farm's clean modern approach to farming. Established in 2005, it is one of the forerunners of ethical farming in Kuwait. Muslim Community – Muslim Domestic Violence – Muslim Domestic Abuse. Peaceful Families Project: Advocating Against Domestic Violence Among Muslims.
Paul Stamets: 6 ways mushrooms can save the world. Can hot air be the free fuel of the future? An Australian company says it can produce enough electricity for 100,000 homes by using the movement of hot air.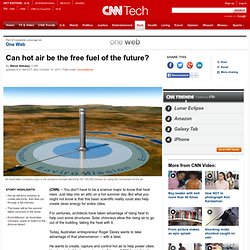 Hot air will drive turbines to create electricity, then flow out through a tall chimneyThe tower will be the second tallest structure in the worldEnviroMission, an Australian company, wants to build it in the Arizona desert (CNN) -- You don't have to be a science major to know that heat rises: Just step into an attic on a hot summer day. But what you might not know is that this basic scientific reality could also help create clean energy for entire cities. Ecosearch.co--search to save the planet. Super Nutrition for Malnourished Children. You could literally save a life by providing nutrition powerful enough to bring a child back from the brink of death.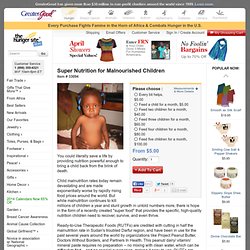 Child malnutrition rates today remain devastating and are made exponentially worse by rapidly rising food prices around the world. But while malnutrition continues to kill millions of children a year and stunt growth in untold numbers more, there is hope in the form of a recently created "super food" that provides the specific, high-quality nutrition children need to recover, survive, and even thrive. Ready-to-Use Therapeutic Foods (RUTFs) are credited with cutting in half the malnutrition rate in Sudan's troubled Darfur region, and have been in use for the past several years around the world by organizations like Project Peanut Butter, Doctors Without Borders, and Partners In Health. This peanut/ dairy/ vitamin/ mineral paste requires no preparation -- no mixing with clean water, which can be difficult to find -- and no special supervision, making it easy to use.
WISE Muslim Women. Cambridge to Build Europe's First Eco-Mosque « Green Prophet - a sustainable voice for the Middle East. Architect Marks Barfield is to design a £13 million "eco" mosque on a 0.4 hectare brownfield site in Cambridge.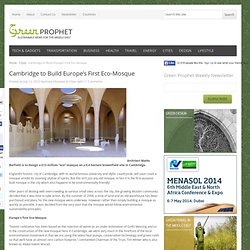 England's historic city of Cambridge, with its world-famous university and idyllic countryside, will soon count a mosque amidst its stunning skyline of spires. But this isn't just any old mosque. In fact it is the first-purpose built mosque in the city which also happens to be environmentally-friendly! After years of dealing with overcrowding at various small sites across the city, the growing Muslim community decided that it was time to take action.
By the summer of 2008, a strip of land and an old warehouse has been purchased and plans for the new mosque were underway. Dr. Hawa Abdi & Her Daughters: The Saints of Somalia: Women of the Year. They are Women of the Year because: "They are fearless.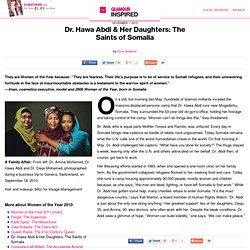 Their life's purpose is to be of service to Somali refugees, and their unwavering fortitude in the face of insurmountable obstacles is a testament to the warrior spirit of women." —Iman, cosmetics executive, model and 2006 Woman of the Year, born in Somalia On a still, hot morning last May, hundreds of Islamist militants invaded the massive displaced-persons camp that Dr.
Hawa Abdi runs near Mogadishu, Somalia. Afghans For Peace - Representing Afghan Voices for Peace. Inge Missmahl brings peace to the minds of Afghanistan. Chickpea replaces peanut in new therapeutic food recipe. QUETTA, 2 June 2011 (IRIN) - Ready-to-use therapeutic foods (RUTFs) have become an important weapon in fighting child malnutrition, since their early development in Malawi [ ], and subsequent endorsement by major NGOs and UN agencies.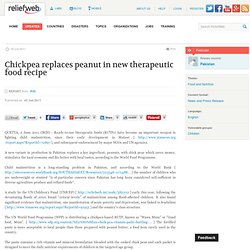 A new variant in production in Pakistan replaces a key ingredient, peanuts, with chick peas which saves money, stimulates the local economy and fits better with local tastes, according to the World Food Programme. Child malnutrition is a long-standing problem in Pakistan, and according to the World Bank [ ] the number of children who are underweight or stunted "is of particular concern since Pakistan has long been considered self-sufficient in diverse agriculture produce and refined foods". Eating Disorders | Anorexia | Bulimia | Compulsive Overeating | Eating Disorder Treatment | Addiction. Worldchanging: Bright Green. FEED Projects - Home Page. Mother Bear Project. Book Drives for Better Lives. Young giver sells lemonade to help pelicans. By The Times-Picayune The Times-Picayuneon July 24, 2010 at 2:21 PM, updated July 24, 2010 at 7:39 PM By Kari Dequine, staff writer At first, 4-year-old Jonathan Bush wanted to sell all of his toys to help save the oiled pelicans.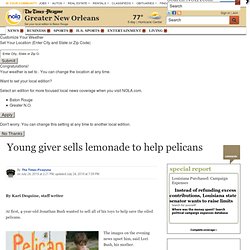 The images on the evening news upset him, said Lori Bush, his mother. It's In the Bag! Teenager Wins Science Fair, Solves Massive Environmental Problem | Discoblog. Pooktre Tree Shapers — Almost invisible mirrored tree house built in Sweden | Yahoo! Green. A Low Impact Woodland Home. Eben Bayer: Are mushrooms the new plastic? Project Noah. Boston Area Rape Crisis Center (BARCC) Forensics Information from Boston Area Rape Crisis Center (BARCC) After a sexual assault, you have many options.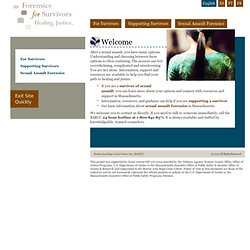 Understanding and choosing between these options is often confusing. The process can feel overwhelming, complicated and unwelcoming. You are not alone. Survivor Theatre Project - Home.
---