Photographic
Imagination
philippines-bat-cave-huge-population-tree_34165_600x450.jpg (JPEG Image, 600x399 pixels)
Gorgeous nature | Cira Car
The last known photo of New York Times journalists missing in Libya is intense. - GenoFromPgh's Posterous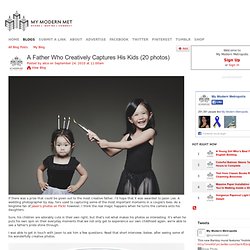 If there was a prize that could be given out to the most creative father, I'd hope that it was awarded to Jason Lee. A wedding photographer by day, he's used to capturing some of the most important moments in a couple's lives. As a longtime fan of Jason's photos on Flickr however, I think the real magic happens when he turns the camera onto his daughters. Sure, his children are adorably cute in their own right, but that's not what makes his photos so interesting. It's when he puts his own spin on their everyday moments that we not only get to experience our own childhood again, we're able to see a father's pride shine through.
A Father Who Creatively Captures His Kids (20 photos)
shuttle-Endeavour-sts130-nuit.jpg (JPEG Image, 1920x1277 pixels) - Scaled (40%)
39 Amazing Photomanipulations: Pics, Videos, Links, News
jul09wallpaper-8_1280.jpg (JPEG Image, 1280x960 pixels) - Scaled (51%)
the lighthouse" by piet flour
Bowerbird Photo, Papua New Guinea Wallpaper
Sand Dune Photo, Fraser Island Wallpaper
Eyjafjallajökull Volcano Photo, Iceland Wallpaper
Artistic-Photography-6.jpeg (JPEG Image, 1024x840 pixels)
Morning_Mist_by_DSent.jpg (JPEG Image, 930x627 pixels) - Scaled (83
honeybee137LK
3690325.jpg (JPEG Image, 900x532 pixels) - Scaled (98%)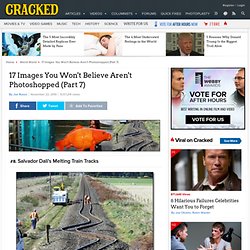 Salvador Dali's Melting Train Tracks These funhouse-mirror railroad tracks are a reminder that Mother Nature pretty much laughs at the things we build. What you're seeing is the aftermath of a recent earthquake in New Zealand. We feel sorry for those two guys in orange who apparently have been tasked with re-straightening the tracks with their bare hands. Hurry up, guys! The train will be here in 10 minutes!
17 Images You Won't Believe Aren't Photoshopped (Part 7)
29847_1276226838_large.jpg (JPEG Image, 1600x826 pixels) - Scaled (63
baby-asian-elephant_227_990x742.jpg (JPEG Image, 989x742 pixels) - Scaled (70%)
New photos | Landscape photos | landscapes with a soul
Fire-On-The-Sky-Wallpaper-279902.jpeg (JPEG Image, 1680x1050 pixels) - Scaled (49
115202211.jpg (JPEG Image, 1024x768 pixels)
jula'.jpg (JPEG Image, 500x405 pixels)
Nature-Category-Winner-Aaron-Feinberg.jpg (JPEG Image, 900x600 pixels) - Scaled (87%)
attachment.php (JPEG Image, 800x549 pixels) - Scaled (95%)
Niagara Falls by Garbis H. Sarafian
Stefano Unterthiner Photography : Animals Face to Face