Kimika
Virtual ChemBook. ChemWiki: The Dynamic Chemistry Textbook - ChemWiki. About.com Chemistry - Chemistry Projects, Homework Help, Periodic Table. Dynamic Periodic Table. Interactivos. The Elements Revealed: An Interactive Periodic Table. Chemistry World - Interactive Periodic Table. ChemReference: Periodic Table and Chemistry Reference. Build an Atom. IUPAC Nomenclature Home Page. Free Chemistry software: Download Chemistry. Www.andaluciainvestiga.com/espanol/revista/pdf/100PreguntasQuimica/100PreguntasQuimica.pdf.
Recursos TIC para aprender la tabla periódica. Investigadores rusos han logrado sintetizar el elemento 118 de la tabla periódica.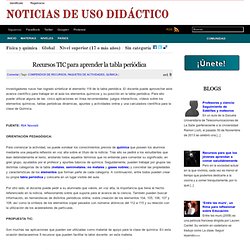 El docente puede aprovechar este avance científico para trabajar en el aula los elementos químicos y su posición en la tabla periódica. Para ello puede utilizar alguna de las cinco aplicaciones en línea recomendadas: juegos interactivos, vídeos sobre los elementos químicos, tablas periódicas dinámicas, apuntes y actividades online y una calculadora científica para la clase de Química. FUENTE: RIA Novosti Para comenzar la actividad, se puede sondear los conocimientos previos de química que poseen los alumnos mediante una pequeña reflexión en voz alta sobre el título de la noticia.
Chemistry. Virtual Textbook of Organic Chem. Organic Reactions: Education. Chemical Ed Digital Library. Bachillerato. Actividades Educativas Física y Química Bachillerato. Molecular Workbench - An Interface to the Molecular World.
Chemistry: Quiz: The pH Scale. Ciencias de la Tierra - Simulaciones PhET. Fisikaetakimika - home. Table of Contents. Middle School Chemistry | Download Free Science Activities, Access Chemistry Multimedia, Find Information on Workshops. Chemistry - Links for Chemists - Topics - Biographies. AP Chemistry Review Activities. AP Chemistry Interactive Review Activities In keeping with the new framework for AP Chemistry beginning in 2013 - 2014, I am indicating here if the topic to which a review activity relates has been dropped from the curriculum.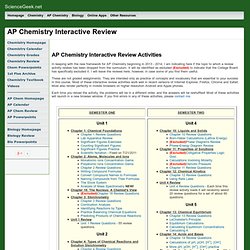 It will be identified as excluded (Excluded) to indicate that the College Board has specifically excluded it. I will leave the reviews here, however, in case some of you find them useful. Chemistry PowerPoint Lessons, Handouts, Labs, and Worksheets. Chemistry Freeware. ACD/ChemSketch 12 Freeware.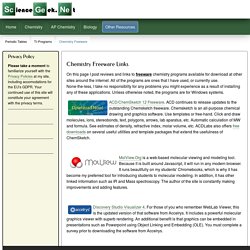 ACD continues to release updates to the outstanding Chemsketch freeware. Chemsketch is an all-purpose chemical drawing and graphics software. Use templates or free-hand. IUPAC Nomenclature Home Page. Chemistry Laboratory. Learn how to make up chemical solutions, perform lab techniques, play it safe in the lab, and perfom chemistry lab experiments.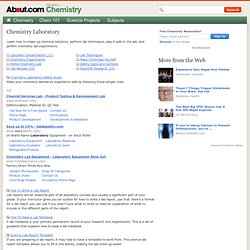 Chemistry Laboratory Safety RulesMake your chemistry laboratory experience safe by following these simple rules. How to Write a Lab ReportLab reports are an essential part of all laboratory courses and usually a significant part of your grade. If your instructor gives you an outline for how to write a lab report, use that. Chemistry Labs. Atomic Structure Series - Classifying Matter - Great Helpers View Now...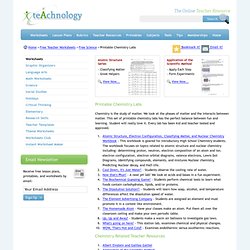 Application of the Scientific Method - Apply Each Step - Form Experiments. Free labs! Free Labs!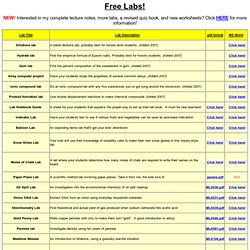 NEW! Interested in my complete lecture notes, more labs, a revised quiz book, and new worksheets? Click HERE for more information! Return to the free resources page by clicking HERE. Return to the Cavalcade Publishing main page by clicking HERE. Reaction Explorer: Synthesis Explorer and Mechanism Explorer Reaction Tutorial System. Reaction Explorer is an interactive system for learning and practicing reactions, syntheses and mechanisms in organic chemistry, with advanced support for the automatic generation of random problems, curved-arrow mechanism diagrams, and inquiry-based learning.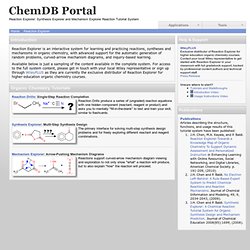 Available below is just a sampling of the content available in the complete system. For access to the full system content, please get in touch with your local Wiley representative or sign up through WileyPLUS as they are currently the exclusive distributor of Reaction Explorer for higher-education organic chemistry courses. PyMOL Molecular Viewer - Home Page. eMolecules.com | Chemical Structure Drawing Search.
Más tamaños | QR Code Periodic Table with Symbols | Flickr: ¡Intercambio de fotos! The ChemCollective: Virtual Lab. Database of Periodic Tables. Thanks to Marcus Lynch for the tip!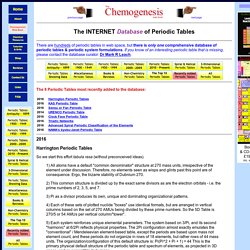 Top of Page1991 Non-Scientist's Periodic TableBy John T Hortenstine Jr. of the R.W. Johnson Pharmaceutical Research Institute, The Non-Scientists Concept of the Periodic Table of the Elements, for example "Zirconium, in Fake Diamonds", etc. Click here for the big version. Thanks to Eric Scerri for the tip! Chemical element games - periodic table info. E. de Jesús: Resúmenes Química General. Table of Contents. Redox Reactions - Question 1. Quick access to animations. Chemistry | 5.112 Principles of Chemical Science, Fall 2005 | Video Lectures | Lecture 26: Molecular Orbital Theory.
AP Chemistry Review Activities. The Photographic Periodic Table of the Elements. Periodic Table of Elements and Chemistry. Classic ChemBalancer - Welcome. This is the classic version of Chembalancer that teaches you how to balance equations for the first time.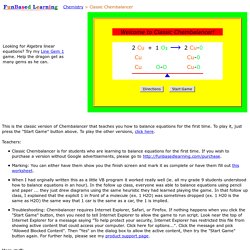 To play it, just press the "Start Game" button above. To play the other versions, click here. Chemistry PowerPoint Lessons, Handouts, Labs, and Worksheets. Kent's Chemical Demonstrations Movies Page 1. Regents Prep Chemistry: Multiple-Choice Questions. Physical Setting/Chemistry Regents Examinations. Chemistry Review Activities. Chemistry Interactive Review Activities These are not graded assignments.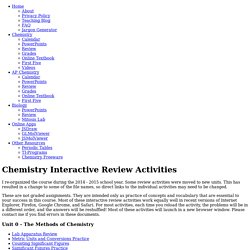 They are intended only as practice of concepts and vocabulary that are essential to your success in this course. Most of these interactive review activities work equally well in recent versions of Internet Explorer, Firefox, Google Chrome, and Safari. For most activities, each time you reload the activity, the problems will be in a different order, and the answers will be reshuffled! Most of these activities will launch in a new browser window. Librairie de Molécules. Structures de molécules. Visual Elements Periodic Table. Chemistry Resources for teachers Resource listing. Structures de molécules. Chemistry & Chemical Engineering Library - University of California, Berkeley. Tableau Périodique Dynamique.
Chemistry - dawnwelch7. Chemical element games - periodic table info. The Periodic Table of Videos - University of Nottingham.
---