Biologia
Cancer Animations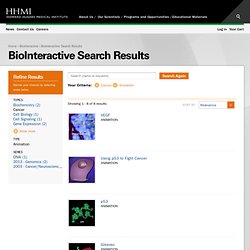 Animation A cancer tumor forms in a bed of healthy cells. The animation goes on to show how the tumor recruits blood vessels and how metastasis occurs. Chronic myeloid leukemia (CML) is caused by a mutation that leads to an abnormal protein that is always active.
unnamed pearl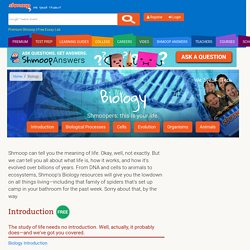 Biology Learning Guides
Topics: Introduction, What is Biology?, Life is Complex, Life uses Energy, Life is Maintained, Life Reproduces, Life Evolves, Major Biology Themes, The Sci... Simply put, chemistry is the foundation for biology.
Protein Synthesis - long
Biology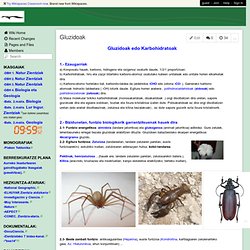 AlaitzNatura - Gluzidoak
Gluzidoak edo Karbohidratoak1.- Ezaugarriak: a) Konposatu hauek, karbono, hidrogeno eta oxigenoz osaturik daude, 1/2/1 proportzioan. b) Karbohidratoak, hiru eta zazpi bitarteko karbono-atomoz osatutako kateen unitateak edo unitate horien elkarketak dira. c) Karbono-atomo horietako bat, karbonilo-taldea da (aldehidoa -CHO edo zetona -CO- ). Gainerako karbono atomoak hidroxilo taldeetara ( -OH) loturik daude. Egitura horren arabera , polihidroxialdehidoak (aldosak) edo polihidroxizetonak (zetosak) dira. d) Masa molekular txikiko karbohidratoak (monosakaridoak, disakaridoak .) ongi disolbatzen dira uretan, sapore gozokoak dira eta egoera solidoan, txuriak eta itxura kristalinoa izaten dute.
BIOZONE: Biolinks
AP Biology Links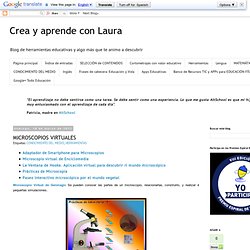 Microscopio Virtual en el puedes encontrar la historia de los microscopios, sus componentes (si picas en cad uno se abre información sobre el mismo) e imágenes ( frotis sanguíneos teñidos, parásitos, bacterias y hongos microscópicos y sedimento de orina). UD Virtual Compound Microscope de la Universidad de Delaware. En inglés, tienes que encenderlo y te va guiando para manejarlo y realizar prácticas. Aquí puedes ver un vídeo en Flash (en inglés) en el que puedes apreciar el funcionamiento de la unidad real como modelo para el virtual. Los controles del microscopio:
MICROSCOPIOS VIRTUALES
DP AP Biology - AP Biology Poster Board-Presentations
Biology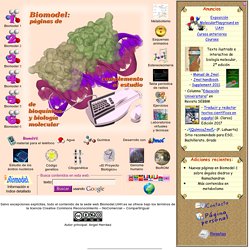 Biomodel: Complementos de Bioquímica y Biología Molecular
<em>Nota:</em> estas p&aacute;ginas utilizan JavaScript para proporcionar un contenido interactivo; tu navegador tiene JavaScript desactivado, por lo que algunas prestaciones no funcionar&aacute;n. La dirección correcta de esta página es http://biomodel.uah.es Si tiene problemas de acceso a páginas interiores en el futuro, acceda desde esta página principal y no directamente. Esta página intenta ser compatible con las normas de accesibilidad WCAG 1.0 (WAI-A y, en lo posible, WAI-AA). Si tiene problemas de accesibilidad, por favor no dude en escribir proporcionando detalles e intentaré mejorar la página .
BBC Nature - Collections
African Wildlife Sir David Attenborough's Africa series took over four years to make and has brought us eye to eye with the continent's... This is Planet Earth Narrated by Sir David Attenborough Planet Earth was the ground-breaking series that explored the wild and beautiful parts of our... Nature: Behind the Scenes The BBC has been producing ground-breaking wildlife programmes from across the globe for over 50 years.
Continuamos con el tema de las Animaciones, esa vez con unas de la mejores que he visto sobre Biología Celular , donde se incluyen temas desde la Anatomía de la Célula, Estructura de los Cromosomas, ADN, Ciclo de Krebs, Fotosíntesis, etc. y mis favoritas las de Mitosis y Meiosis. Lo único malo es que cuentan con Copyright a nombre de John Kirk y que solo pueden mostrarse o reproducirse en su sitio Web; por eso solo muestro algunas imágenes; lo bueno es que son muy accesibles y vienen en 6 idiomas.
Mitosis
Metabolismo
http://www.iespando.com/web/departamentos/biogeo/web/departamento/2BCH/B3_METABOLISMO/t33_RESPIRACION/informacion.htm Los organismos autótrofos fijan la energía solar en forma de energía química contenida en los compuestos orgánicos, glucosa, en particular. Esta energía, convenientemente liberada, será utilizada posteriormente por las partes de la planta que no tienen cloroplastos, como suele ser el caso de las raíces y tallos no verdes, o por toda la planta cuando falta la energía solar. Es también esta energía la que permite la vida de los organismos heterótrofos. La respiración celular aerobia y las fermentaciones son las vías catabólicas más corrientes para la obtención de la energía contenida en las sustancias orgánicas. Ambas vías, no obstante, tienen una primera fase común: la glucolisis.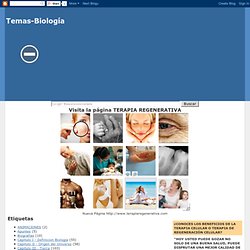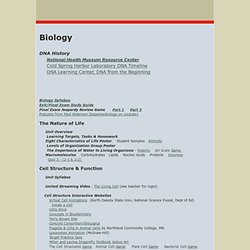 DNA History The Nature of Life Unit Overview
biology - dawnwelch7