Wiki Everything
Everything Wiki ;-) mirlen101 Oct 25
EnglishThe Free Library358,000+ pages FrançaisLa bibliothèque libre84,000+ pages РусскийСвободная библиотека196,000+ статей EspañolLa biblioteca libre51,000+ páginas DeutschDie freie Quellensammlung83,000+ Seiten ItalianoLa biblioteca libera62,000+ pagine
Explore Wikispecies HELP Section -- Detailed information on creating pages.Taxonomy -- Information on the Linnaean classification of species.Village Pump -- Discuss the project.Done and To Do -- See references to very detailed areas and defined future targetsWikispecies FAQ -- Check replies to common concerns.Image Guidelines -- Our recommendation on where to upload illustrationsWikispecies PR -- Help us by spreading the word of Wikispecies Collaboration with ZooKeys A collaboration between Wikispecies and ZooKeys has been announced. PhytoKeys also joined the collaboration in November 2010.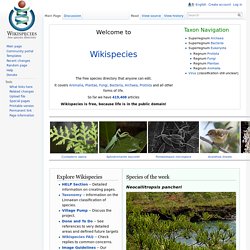 Welcome to the Wikimedia Usability wiki. This wiki served as a knowledge collective and collaboration space for the Wikipedia Usability Initiative and the Multimedia Usability Project. It was discontinued in January 2011, as both these grant-funded projects were over. Where to go now? You're warmly invited to participate in the product discussions and express your interest in a certain topic,For technical details on the implementation of features, please refer to the MediaWiki website.
Wikipedia Usability Initiative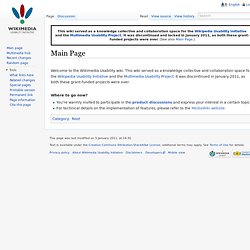 Wikistats
Disclaimer: this portal links to many external sites where WMF is not involved in any way WMF also published many other stats data and charts which are not covered in this portal Legend: hosted by WMF, by Toolserver on Wikipedia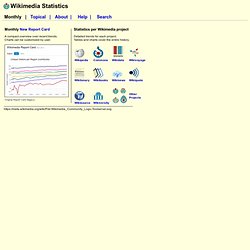 Wikimedia Toolserver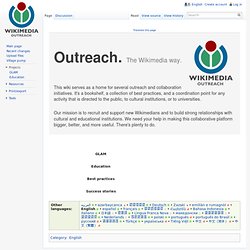 Outreach. The Wikimedia way. This wiki serves as a home for several outreach and collaboration initiatives. It's a bookshelf, a collection of best practices, and a coordination point for any activity that is directed to the public, to cultural institutions, or to universities. Our mission is to recruit and support new Wikimedians and to build strong relationships with cultural and educational institutions. We need your help in making this collaborative platform bigger, better, and more useful.
Wiki development
Welcome! Below is a listing of all the public mailing lists on lists.wikimedia.org. Click on a list name to get more information about the list, or to subscribe, unsubscribe, and change the preferences on your subscription. To visit the general information page for an unadvertised list, open a URL similar to this one, but with a '/' and the list name appended. List administrators, you can visit the list admin overview page to find the management interface for your list.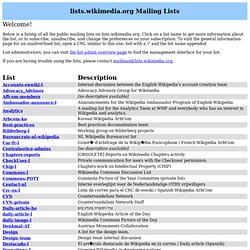 WikiMailing Lists
Main Page From Wikitech Jump to: navigation, search Retrieved from "https://wikitech.wikimedia.org/w/index.php?title=Main_Page&oldid=109703"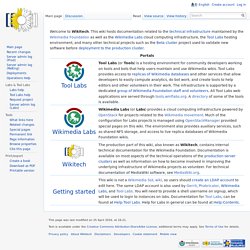 WikiLabs
This is the Wikimedia Incubator, where potential Wikimedia project wikis in new language versions of Wikipedia, Wikibooks, Wikinews, Wikiquote, Wiktionary and Wikivoyage can be arranged, written, tested and proven worthy of being hosted by the Wikimedia Foundation. Although these test wikis do not yet have their own wiki, they can be used for real like any other Wikimedia project wiki. New language versions of Wikiversity should go to Beta Wikiversity, and those of Wikisource to Old Wikisource.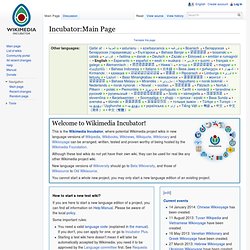 WikiBugzilla
TiddlyWiki is very flexible, and there are many different ways to use it. Here we're focusing on using it as a standalone file in the browser, which is a good choice for most users as it doesn't require any special knowledge or tools. For more options you can also run TiddlyWiki on Node.js.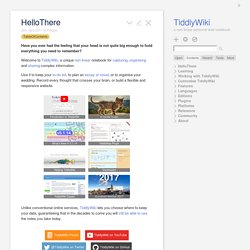 DBpedia is a crowd-sourced community effort to extract structured information from Wikipedia and make this information available on the Web. DBpedia allows you to ask sophisticated queries against Wikipedia, and to link the different data sets on the Web to Wikipedia data. We hope that this work will make it easier for the huge amount of information in Wikipedia to be used in some new interesting ways. Furthermore, it might inspire new mechanisms for navigating, linking, and improving the encyclopedia itself.