Webcomics
It's a magic wallet, made out of duct tape. The magic wallet has been done before, but I decided to make one, dirt cheap. This should last a while, and if it gets destroyed, just take another fifteen minutes and make another one. The story behind it... Well, I was watching QVC, and I saw that they were selling "magic wallets" for 20 dollars for a set of two. I thought, OMG, who in their right mind would pay that much for something that they can make with stuff around their house??
Magic Duct Tape Wallet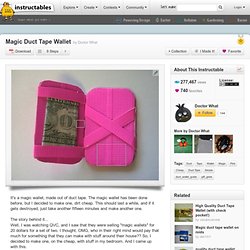 A wallet made of five Tyvek credit card sleeves, often used to package gift cards. Tyvek is a durable paper compound used for event bracelets and packaging envelopes. Glued together, these five Tyvek card cases make a durable, simple, small wallet.
Super Thin Tyvek Card Sleeve Wallet!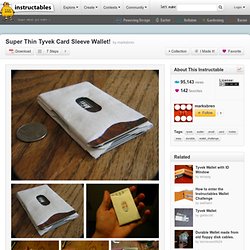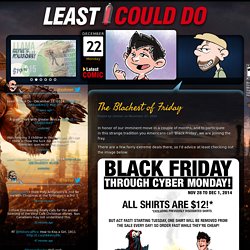 Posted by sohmer on January 7, 2014 It's safe to say that I have somewhat more than a passing interest in the 'Interwebs', especially when it comes to viewing habits. Over the last decade, I've seen a great deal of ridiculous shite capture people's attention for brief moments, only to be eclipsed and forgotten when the next thing comes along. It's only recently that the culmination of all this aforementioned shite has combined and formed something new, something terrifiying. It's as if Youtube, Twitter, Facebook, TMZ and Gawker were all pieces of Voltron.
Motherfucking Banner Saga, man. I've been anxiously awaiting this game for the better part of a year, and it's finally arrived. I was up until the wee hours of the morning playing, and I can't wait to finish my other stuff today to get back to it. Everything you need to know about the combat and the artwork can be found in my original post about Banner Saga: Factions, the free-to-play multiplayer component, and all of it still rings true. The combat is deep and engaging, and the game's art and animation continue to be stunningly gorgeous.