Webcomics
It's a magic wallet, made out of duct tape. The magic wallet has been done before, but I decided to make one, dirt cheap. This should last a while, and if it gets destroyed, just take another fifteen minutes and make another one. The story behind it... Well, I was watching QVC, and I saw that they were selling "magic wallets" for 20 dollars for a set of two. I thought, OMG, who in their right mind would pay that much for something that they can make with stuff around their house??
Magic Duct Tape Wallet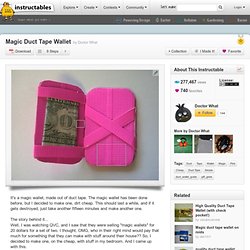 Use your old wallet as a template and traced around the thumb slider with a pen on the Tyvek. These two sleeves will be the outer card holders. Once you outline the thumb slider, cut the hole out with a razor blade.
Super Thin Tyvek Card Sleeve Wallet!