Webcomics
Magic Duct Tape Wallet. It's a magic wallet, made out of duct tape.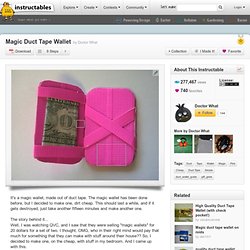 The magic wallet has been done before, but I decided to make one, dirt cheap. This should last a while, and if it gets destroyed, just take another fifteen minutes and make another one. The story behind it... Well, I was watching QVC, and I saw that they were selling "magic wallets" for 20 dollars for a set of two. I thought, OMG, who in their right mind would pay that much for something that they can make with stuff around their house?? Super Thin Tyvek Card Sleeve Wallet! A wallet made of five Tyvek credit card sleeves, often used to package gift cards.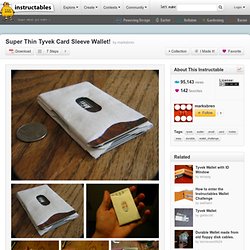 Tyvek is a durable paper compound used for event bracelets and packaging envelopes. Glued together, these five Tyvek card cases make a durable, simple, small wallet. Least I Could Do: the Comic » by Ryan Sohmer and Lar deSouza. Ctrl+Alt+Del. QC: New Comics Every Monday Through Friday. Advertising Discovery. Saturday Morning Breakfast Cereal.
---