UK news
Home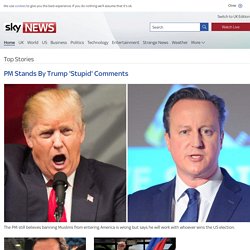 News, First for Breaking News, Latest News and Video News from the UK and around the World
Flood-Hit Areas Seek Easter Boost Captain 'Not At Helm As Ship Sank' Crane Arrives At Ship Disaster Site Vladimir Putin Special Report Property: The New 'Generation Rent' Amanda Todd's Cyber Bullying Video Chelsea Clinton: 'I'm Pregnant' Obama Sceptical Over Ukraine Deal Friday's Newspaper Review Sky Sports News Headlines Pistorius Trial Special Programme Obama More Sceptical About Meeting Orangutan Has Pioneering Surgery Sky News Weather Forecast Co-op Boss On 'Disastrous Year' Inside Sinking South Korean Ferry John Kerry: 'Words Are Not Enough' Russia's Foreign Minister Co-op Group Announce Record Losses Gruelling Day For Defence Witness What Made Ferry Sink So Quickly?
Homepage
Man tries to snatch necklace Football juggler sets record Iggy Azalea gives music advice Rat scares train passengers
Latest News : Headlines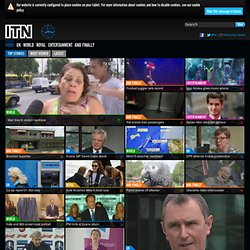 Metro.co.uk: News, sport, showbiz, celebrities from Metro newspaper
Comprehensive local and international news and analysis
The Times | UK News, World News and Opinion
The Sun | The Best for News, Sport, Showbiz, Celebrities | The Sun
People.co.uk
Observer | From the Observer | The Guardian
Home - Morning Star
Alltmawr, Powys LD2 Chapel House is a former vicarage with nine bedrooms in the beautiful Upper Wye Valley http://www.independent.co.uk/incoming/article9258900.ece/ALTERNATES/w300/wye-valley.jpg http://zoopla.homesandproperty.co.uk/for-sale/details/32536994
The Independent | News | UK and Worldwide News | Newspaper
London News | London Evening Standard - London's newspaper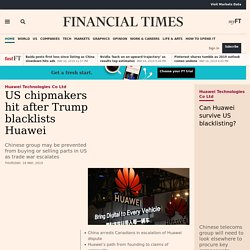 "If they wanted to end deflation they should stop fixating on the CPI and allow market forces to eliminate the zombies which are the true source of deflation in Japan. Every intervention makes the problem more intractable. Assuming it's actually a problem, that is. Most Japanese are quite content to have had rising living standards through falling prices and a strong yen."
World business, finance, and political news from the Financial Times
News
Telegraph.co.uk - Telegraph online, Daily Telegraph, Sunday Telegraph
The Daily Record - Scotland's newspaper
Mirror Online: Number one for news, opinion, sport & celebrity gossip
Homepage | Breaking news, sport, showbiz, pictures and video from the Daily and Sunday Express newspapers - updated 24/7
Home