UK news
Home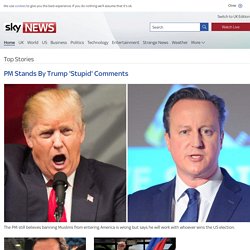 News, First for Breaking News, Latest News and Video News from the UK and around the World
Huge Fire Rips Through Paper Mill William Roache Arrives At Court Raging Bull Elephant Rolls Car Over Baby Doc Guilty Of Trafficking China Doubles High-Speed Network Religious War's Innocent Victims Big Increase In UK Cancer Cases Hollande To Face Press Over Affair Madeleine Detectives Seek Burglars GM Revs Up At Detroit Auto Show Fracking: The Case For The Industry Brutal Birth: Life In A War Zone Lives Of NI Abuse Victims 'Wrecked' Number Of Text Messages Tumbles MPs Splash Tax Cash On Portraits Britain's Big Obesity Problem Grows Scandal Takes Toll On First Lady Angry Protests Over Fracking Plans Madeleine Detectives Seek Burglars Ariel Sharon Laid To Rest Hague Reiterates Syria Commitment Cameron's Fracking Future Protestors Cause Chaos In Bangkok Ireland Chess Killer Cannibal Claim Hollande 'Affair' A Private Matter?
Homepage
Man tries to snatch necklace Football juggler sets record Iggy Azalea gives music advice Rat scares train passengers
Latest News : Headlines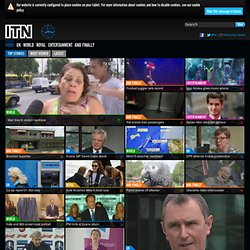 Metro.co.uk: News, sport, showbiz, celebrities from Metro newspaper
Comprehensive local and international news and analysis
The Times | UK News, World News and Opinion
The Sun | The Best for News, Sport, Showbiz, Celebrities | The Sun
People.co.uk
Rate it love it meh Observer | From the Observer | The Guardian
Home - Morning Star
Bath, BA1 A boutique mews house, set around a central courtyard, with three bedrooms and a private roof terrace http://www.independent.co.uk/incoming/article9066622.ece/ALTERNATES/w300/bath.jpg http://zoopla.homesandproperty.co.uk/for-sale/details/30727795
The Independent | News | UK and Worldwide News | Newspaper
London News | London Evening Standard - London's newspaper
Peckham Rye, SE15 A two-bedroom detached house with two en suite bathrooms and a sun-drenched decked terrace, £750,000 http://www.standard.co.uk/incoming/article9061449.ece/ALTERNATES/w300/peckham-rye.jpg http://zoopla.homesandproperty.co.uk/for-sale/details/29604259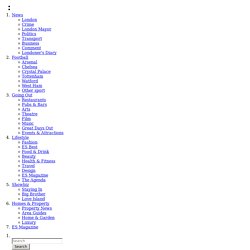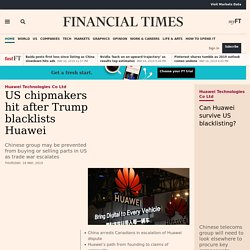 "If they wanted to end deflation they should stop fixating on the CPI and allow market forces to eliminate the zombies which are the true source of deflation in Japan. Every intervention makes the problem more intractable. Assuming it's actually a problem, that is. Most Japanese are quite content to have had rising living standards through falling prices and a strong yen."
World business, finance, and political news from the Financial Times
News
Telegraph.co.uk - Telegraph online, Daily Telegraph, Sunday Telegraph
The Daily Record - Scotland's newspaper
Mirror Online: Number one for news, opinion, sport & celebrity gossip
Homepage | Breaking news, sport, showbiz, pictures and video from the Daily and Sunday Express newspapers - updated 24/7
Home
Frank Cattrall, 62, said the hole in the road ruined his Renault's suspension, but when Essex County Council denied responsibility, he said out to prove them wrong. The retiree, from Colchester, obtained information under the Freedom of Information Act that showed that the large pothole had been reported to the council three months beforehand. Armed with details, he took the council to the small claims court and now a judge at Colchester County Court has ordered the council to pay for the car repairs and Mr Cattrall's costs.