Think
Melinda Gates and Bill Gates Why giving away our wealth has been the most satisfying thing we've done In 1993, Bill and Melinda Gates—then engaged—took a walk on a beach in Zanzibar, and made a bold decision on how they would make sure that their wealth from Microsoft went back into society.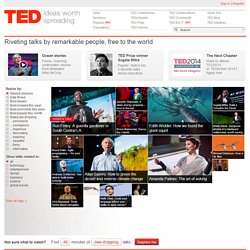 city 2.0 / ville de demain
Economie collaborative / P2P economy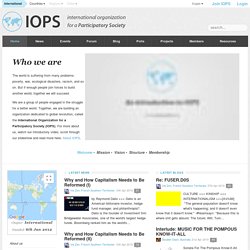 IOPS - Home
Fanfare for the Future is a three volume set, Occupy Theory by Michael Albert and Mandisi Majavu, Occupy Vision by Michael Albert and Mark Evans, and Occupy Strategy by Michael Albert, David Marty, and Jessica Azulay. Below is a link to a page with information about the books, and links to buy ebook and print versions. Fanfare means to be a self contained presentation of theory, vision, and strategy relevant for IOPS organizing. The authors hope all IOPS members will weigh in with their critical evaluations and, we hope, elaborate the ideas and their implications. Fanfare for the Future Page
ContreCulture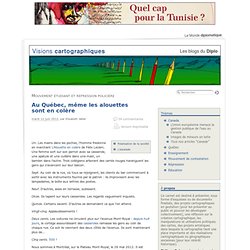 Un. Les mains dans les poches, l'homme fredonne en marchant L'Alouette en colère de Félix Leclerc. Une femme sort sur son perron avec sa casserole, une spatule et une cuillère dans une main, un bambin dans l'autre.
The Xenophobe's Guides Home Page
Influences du web et d'Internet sur la société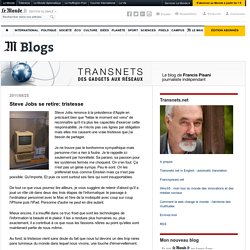 Dans ce quatrième billet sur les réseaux sociaux et politique je développe l'idée selon laquelle ils permettent d'aborder la double question des changements et du pouvoir d'une façon différente. Il fait suite à un billet sur la révolution des réseaux sociaux , à un autre sur leurs contributions aux printemps arabes et à un troisième sur les limites et les dangers des TIC et des médias sociaux dans les crises politiques . L'internet, la téléphonie mobile et les réseaux sociaux sont de merveilleux outils de communication et communiquer c'est pouvoir, mais toute confrontation politique pose la question de sa prise et communiquer n'y suffit pas. Qu'il s'agisse de bulletins de vote, de balle ou de bombes… il faut autre chose que tweets et SMS que l'on peut envoyer de la rue, de la plage ou de sa chambre. Le jour des élections il faut mobiliser les électeurs.
Want to dig deeper into culture? The Hofstede Centre and its partners offer a wide variety of courses (certification courses, management courses, and webinars). In addition, you can find links to recommended books and products about culture, our facebook page and info about The Hofstede Centre itself.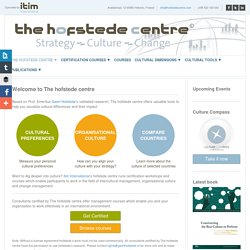 Mardi 8 décembre, dans « Là-bas si j'y suis », à 15 heures, sur France Inter, François Ruffin s'entretenait avec l'équipe du Monde diplomatique autour du numéro de décembre. Serge Halimi évoque la question de la dette, et se demande dans quelle mesure certains déficits n'ont pas été volontaires, recentrant le débat autour de thématiques libérales. Patrick Coupechoux explique comment la psychiatrie est envisagée par l'actuel gouvernement sous un angle très largement répressif : « Les malades mentaux, aujourd'hui, sont des criminels. »
« Là-bas si j'y suis » : décembre 2009