Technology
Brain Workshop - a Dual N-Back game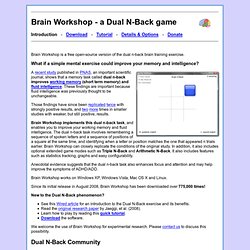 Introduction - Download - Tutorial - Details & Options - Donate Brain Workshop is a free open-source version of the dual n-back brain training exercise. What if a simple mental exercise could improve your memory and intelligence? A recent study published in PNAS, an important scientific journal, shows that a memory task called dual n-back improves working memory (short term memory) and fluid intelligence. These findings are important because fluid intelligence was previously thought to be unchangeable.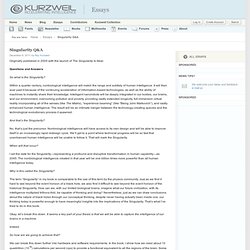 Singularity Q&A
Originally published in 2005 with the launch of The Singularity Is Near. Questions and Answers So what is the Singularity?
In this short, Jad puts on his music hat and shares his love of Dawn of Midi, a band that he recently started using on the show. Midi, for those of you who don't know, is sort of like a computer language for music. But the band Dawn of Midi seems to exist at the intersection between acoustic and electronic sounds. Jad talks to Aakaash Israni, Amino Belyamani, and Qasim Naqvi about how they met and how they ended up creating their latest album, Dysnomia, an album filled with heavily layered rhythms that feel both mechanistic and deeply human at the same time.
Dawn of Midi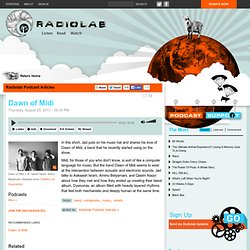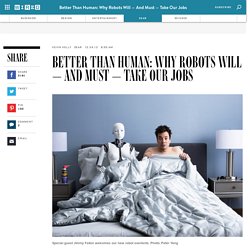 Special guest Jimmy Fallon welcomes our new robot overlords.Photo: Peter Yang Imagine that 7 out of 10 working Americans got fired tomorrow. What would they all do? It's hard to believe you'd have an economy at all if you gave pink slips to more than half the labor force. But that—in slow motion—is what the industrial revolution did to the workforce of the early 19th century. Two hundred years ago, 70 percent of American workers lived on the farm.
Self-Tracking Apps To Help You 'Quantify' Yourself : All Tech Considered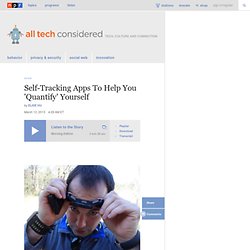 hide captionNoah Zandan shows off his Zeo sleep-tracking headband. His other self-tracking devices are on his wrists. Noah and his father, Peter, are both part of the growing "Quantified Self" movement. Elise Hu/NPR
Robots on the rise in the workplace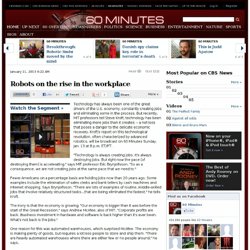 Technology has always been one of the great drivers of the U.S. economy, constantly creating jobs and eliminating some in the process. But recently, MIT professors tell Steve Kroft, technology has been eliminating more jobs than it creates -- a net loss that poses a danger to the delicate economic recovery. Kroft's report on this technological revolution, often characterized by advanced robotics, will be broadcast on 60 Minutes Sunday, Jan. 13 at 8 p.m.
hide captionCould you say "no" to this face? Christoph Bartneck of the University of Canterbury in New Zealand recently tested whether humans could end the life of a robot as it pleaded for survival. Christoph Bartneck Could you say "no" to this face? Christoph Bartneck of the University of Canterbury in New Zealand recently tested whether humans could end the life of a robot as it pleaded for survival.
No Mercy For Robots: Experiment Tests How Humans Relate To Machines : Shots - Health News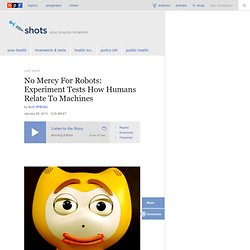 Morgan Harris - Introducing Muse: Changing The Way The World Thinks
Morgan Harris - Seeing Beyond the Human Eye | Off Book | PBS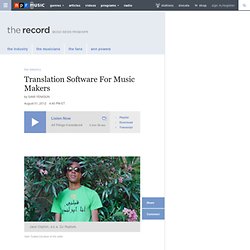 hide captionJace Clayton, a.k.a. DJ Rupture. Xabi Tudela/Courtesy of the artist Jace Clayton, a.k.a. DJ Rupture.
Translation Software For Music Makers : The Record
NASA engineer Adam Steltzner led the team that designed a crazy new approach to landing on Mars. Rachael Porter for NPR It's called the seven minutes of terror. In just seven minutes, NASA's latest mission to Mars, a new six-wheeled rover called Curiosity, must go from 13,000 mph as it enters the Martian atmosphere to a dead stop on the surface. During those seven minutes, the rover is on its own.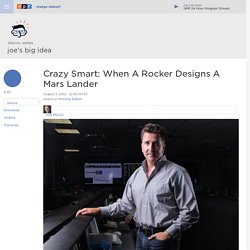 Crazy Smart: When A Rocker Designs A Mars Lander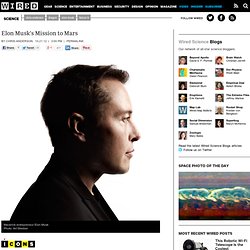 Elon Musk's Mission to Mars | Wired Science
Maverick entrepreneur Elon Musk Photo: Art Streiber When a man tells you about the time he planned to put a vegetable garden on Mars, you worry about his mental state. But if that same man has since launched multiple rockets that are actually capable of reaching Mars—sending them into orbit, Bond-style, from a tiny island in the Pacific—you need to find another diagnosis.
Monday, 01/13/14: The best nap-conditions may be tricky at times to find at work, but they're not impossible. Before we begin, lets cover the basics: First, stay warm. Your body temperature drops as you snooze, so pull your coat over yourself, put on a hoodie, or find a blanket. Second, make it dark.
The Cure For Internet Addiction? Mindfulness
Like Bitbanger Labs on Facebook Remee has been selected as a finalist for the William McShane Fund, by Buckyballs & Brookstone! If you think Remee deserves to be available at Brookstone, vote here! Yes, really!
Remee - The REM enhancing Lucid Dreaming Mask by Bitbanger Labs
100 years ago this year, the man who first conceived of the computer age was born. His name was Alan Turing. He was also a math genius, a hero of World War II and he is widely considered to be the father of artificial intelligence.
The Turing Problem
101010: That's the number 42 represented in binary, which is the mathematical way today's binary computers see every single piece of information flowing through them, whether it's a stock price, the latest Adele track, or a calculation to generate an MRI of a tumor. But now IBM believes it's made progress in developing quantum computers, which don't use binary coding. It is not overstating the matter to say this really may be the ultimate answer in computing machines. Quick, mop your brow and don't worry: The science isn't too hard to grasp and the revolution, when it comes, could rock the world.
IBM's Quantum Computers Could Change The World (Mostly In Very Good Ways)
Helvetica/Objectified/Urbanized: The Complete Interviews Book Greetings, friends. Over the past eight years I've had the pleasure of having conversations with an incredible group of designers for Helvetica, Objectified and Urbanized. But while each conversation might last two hours or more, we only get to use maybe two minutes of it in the film. So if you've watched my three documentaries, you've actually only seen 3% of the conversations we recorded.
After Conquering Consoles, Hard-Core Gaming Shifts To Mobile : All Tech Considered
Blazing The Trail For Female Programmers : All Tech Considered
Cloud Computing: Cloud University
In Cyberwar, Software Flaws Are A Hot Commodity
Syrian Cyber-Rebel Wages War, One Hack At A Time
Firms Brace For Possible Retaliatory Cyberattacks From Syria : All Tech Considered
Program or Be Programmed: Douglas Rushkoff, Leland Purvis: Amazon.com
Morgan Harris - The Culture Of Reddit | Off Book | PBS
Facebook's Bold, Compelling and Scary Engine of Discovery: The Inside Story of Graph Search | Wired Business
Bump On The Road For Driverless Cars Isn't Technology, It's You : All Tech Considered
If A Driverless Car Crashes, Who's Liable? : Planet Money
With Smarter Cars, The Doors Are Open To Hacking Dangers : All Tech Considered
In Kenya, Using Tech To Put An 'Invisible' Slum On The Map : Parallels
Genome Sequencing For Babies Brings Knowledge And Conflicts : Shots - Health News
A Rare Mix Created Silicon Valley's Startup Culture
Tim O'Reilly's Key to Creating the Next Big Thing | Wired Business
Rio Goes High-Tech, With An Eye Toward Olympics, World Cup : Parallels
Taking The Battle Against Patent Trolls To The Public : All Tech Considered