Big Data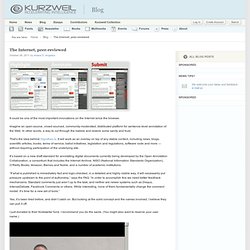 It could be one of the most important innovations on the Internet since the browser. Imagine an open-source, crowd-sourced, community-moderated, distributed platform for sentence-level annotation of the Web. In other words, a way to cut through the babble and restore some sanity and trust.
The Internet, peer-reviewed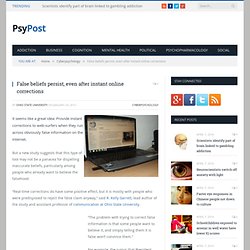 Reporting research on behavior, cognition and society
False beliefs persist, even after instant online corrections
AT 7 years old, Gilad Elbaz wrote, "I want to be a rich mathematician and very smart." That, he figured, would help him "discover things like time machines, robots and machines that can answer any question." In the 34 years since, Mr.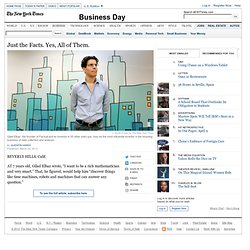 Factual's Gil Elbaz Wants to Gather the Data Universe
5D optical memory in glass could record the last evidence of civilization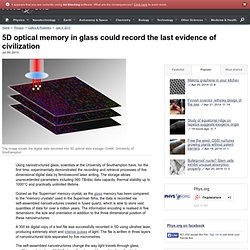 Using nanostructured glass, scientists at the University of Southampton have, for the first time, experimentally demonstrated the recording and retrieval processes of five dimensional digital data by femtosecond laser writing.
Million-Year Data Storage Disk Unveiled
Back in 1956, IBM introduced the world's first commercial computer capable of storing data on a magnetic disk drive.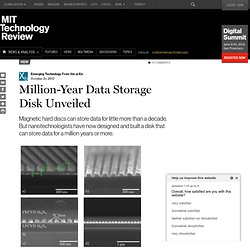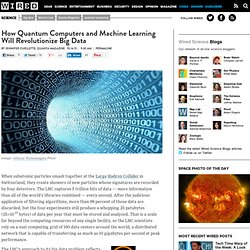 How Quantum Computers and Machine Learning Will Revolutionize Big Data - Wired Science
When subatomic particles smash together at the Large Hadron Collider in Switzerland, they create showers of new particles whose signatures are recorded by four detectors.
Data Visualization / Infographics
Why the world's governments are interested in creating hubs for open data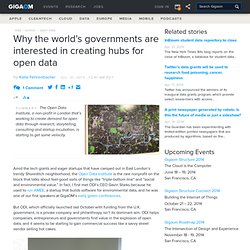 Amid the tech giants and eager startups that have camped out in East London's trendy Shoreditch neighborhood, the Open Data Institute is the rare nonprofit on the block that talks about feel-good sorts of things like "triple-bottom line" and "social and environmental value." In fact, I first met ODI's CEO Gavin Starks because he used to run AMEE, a startup that builds software for environmental data, and he was one of our first speakers at GigaOM's early green conferences.
Simon DeDeo, a research fellow in applied mathematics and complex systems at the Santa Fe Institute, had a problem. He was collaborating on a new project analyzing 300 years' worth of data from the archives of London's Old Bailey, the central criminal court of England and Wales.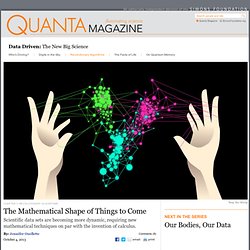 The Mathematical Shape of Big Science Data
Artwork: Tamar Cohen, Andrew J Buboltz, 2011, silk screen on a page from a high school yearbook, 8.5" x 12" Download a free chapter from Thomas H. Davenport's book Keeping Up with the Quants. When Jonathan Goldman arrived for work in June 2006 at LinkedIn, the business networking site, the place still felt like a start-up.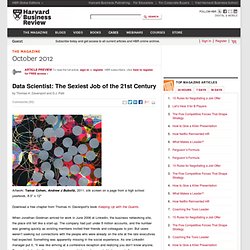 Data Scientist: The Sexiest Job of the 21st Century
For Start-Ups, Sorting the Data Cloud Is the Next Big Thing
"My smartphone produces a huge amount of data, my car produces ridiculous amounts of really valuable data, my house is throwing off data, everything is making data," said Erik Swan, 47, co-founder of Splunk, a San Francisco-based start-up whose software indexes vast quantities of machine-generated data into searchable links. Companies search those links, as one searches Google, to analyze customer behavior in real time. Splunk is among a crop of enterprise software start-up companies that analyze big data and are establishing themselves in territory long controlled by giant business-technology vendors like Oracle and I.B.M.
How Big Data Gets Real
FacebookTwitterGoogle+SaveEmailSharePrint The business of Big Data, which involves collecting large amounts of data and then searching it for patterns and new revelations, is the result of cheap storage, abundant sensors and new software. It has become a multibillion-dollar industry in less than a decade. Growing at speed like that, it is easy to miss how much remains to do before the industry has proven standards. Until then, lots of customers are probably wasting much of their money.
Big Data, Trying to Build Better Workers
"I've seen things you people wouldn't believe.
Tears in rain: how Snapchat showed me the glory of data death
In 2011, IBM's Watson supercomputer got an unusually public proof-of-concept, competing on Jeopardy!
IBM's Watson wants to fix America's doctor shortage
Kris Snibbe/Harvard University At Harvard, Erez Lieberman Aiden and Jean-Baptiste Michel, standing center and right, are among those working on a browser to note changes in language over time. Denise Applewhite/Princeton University
Words by the Millions, Sorted by Software
Down in the Data Dumps: Researchers Inventory a World of Information
What data is being collected on you? Some shocking info
Everything We Know About What Data Brokers Know About You
How Facebook Uses Your Data to Target Ads, Even Offline