Spiritual
Buddhist Geeks | Discover the Emerging Face of Buddhism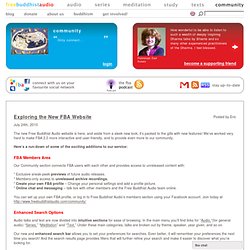 The new Free Buddhist Audio website is here, and aside from a sleek new look, it's packed to the gills with new features! We've worked very hard to make FBA 2.0 more interactive and user-friendly, and to provide even more to our community.
free buddhist audio : community : exploring the new fba website
Quotes | Tiny Buddha
The Simple Tao (Simple Taoism)
Lao Tzu quotes
101 Zen Stories
18 Rules For 2011 - New Zealand
Learning Meditation Home Page
Lojong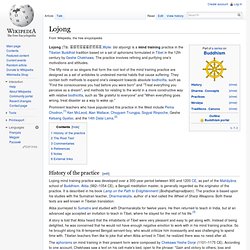 Lojong (Tib.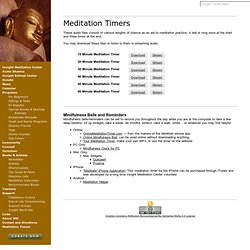 Meditation Timers: Insight Meditation Center
These audio files consist of various lengths of silence as an aid to meditation practice. A bell is rung once at the start and three times at the end.
How to Meditate - Guided Meditation Techniques - Buddhist Meditations
Healing the Body with Mindfulness of Breathing « Metta Refuge
This excerpt from a talk by Zen Master Thich Nhat Hanh explains how to use mindfulness of breathing to bring loving-kindness to our dear bodies. The physical effect of this can be truly remarkable.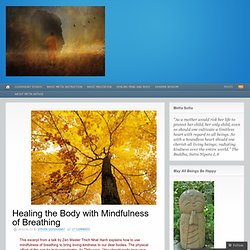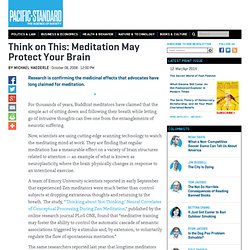 For thousands of years, Buddhist meditators have claimed that the simple act of sitting down and following their breath while letting go of intrusive thoughts can free one from the entanglements of neurotic suffering. Now, scientists are using cutting-edge scanning technology to watch the meditating mind at work. They are finding that regular meditation has a measurable effect on a variety of brain structures related to attention — an example of what is known as neuroplasticity, where the brain physically changes in response to an intentional exercise. A team of Emory University scientists reported in early September that experienced Zen meditators were much better than control subjects at dropping extraneous thoughts and returning to the breath.
Meditation May Protect Your Brain | Miller-McCune Online
Buddhism -- The Four Noble Truths -- 4 Truths
Buddha's Wheel of Life
Buddhist Geeks - Download free podcast episodes by Personal Life Media on iTunes.