Songwriting
Leigh Ann's MIDI World
Midi Files
joe dolce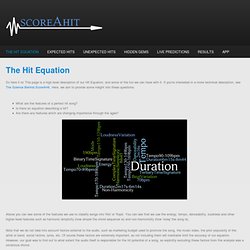 The Hit Equation | Score a Hit!
So here it is! This page is a high-level description of our Hit Equation, and some of the fun we can have with it. If you're interested in a more technical description, see The Science Behind ScoreAHit. Here, we aim to provide some insight into these questions: What are the features of a perfect hit song?
Lorenzo Policelli's Songwriting Blog
Great SongWriting Blog
This Great SongWriting blog provides information that is meaningful to songwriters. It provides full details on songwriting and songwriting tips, secrets, resources, tools, ideas etc. This digital video songwriting course is worth trying. The Ultimate Songwriting Handbook - its a Step-by-Step Guide to finding your inner creative genius so you can write that killer song you know you have in you. Subscribing to this blog keeps you informed with minimum effort. When you see something that interests you just click through to the webpage.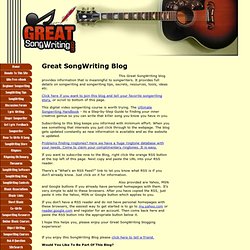 Songwriter Career Blog - Songwriting, Songwriters and Music Business
Songwriting Scene — A blog for songwriters about songwriting
Ultimate Songwriting Blog
Songwriting Tips
Jeff's Songwriting Blog
Music Composition Blog
Creativity and Composition
Music Composition and Songwriting Blog
Oct 15, 2012 Ravyn Bossett My name is Ravyn Bossett I'm 15 years old today I love singing and I started writing my own songs when I was 12 years old I have always had the dertermination Continue reading "Ravyn Bossett " Megan McCandless I'm a 15 year old from PA.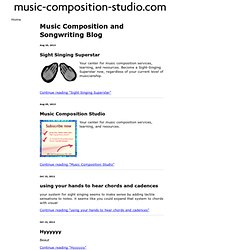 → Music Composition Weblog ←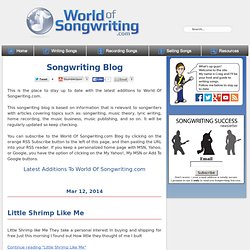 Songwriting blog - World Of Songwriting.com Blog
This is the place to stay up to date with the latest additions to World Of Songwriting.com. This songwriting blog is based on information that is relevant to songwriters with articles covering topics such as: songwriting, music theory, lyric writing, home recording, the music business, music publishing, and so on. It will be regularly updated so keep checking. You can subscribe to the World Of Songwriting.com Blog by clicking on the orange RSS Subscribe button to the left of this page, and then pasting the URL into your RSS reader.
Leon Quinn's Blog - Songwriting : Music : Poetry : Philosophy : Creativity
New starting songwriter,music friend,welcome to our site's Blog.. This Blog as well as our site, has the main purpose to help songwriters, bands and musicians, to guide them through the forest of the music business is. How? By giving the right information and advice concerning record deals and everything else that goes about music industry.
Songwriting Blog!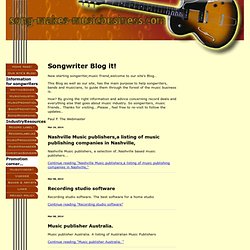 The Songwriter