Search engines
Startpage Web Zoek. 100 Useful Tips and Tools to Research the Deep Web. By Alisa Miller Experts say that typical search engines like Yahoo!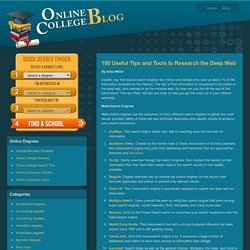 And Google only pick up about 1% of the information available on the Internet. Google Scholar. Google SSL. Google ES. MetaCrawler. MetaEureka. AltaVista.
Exalead. 20Search. SurfWax. Dogpile. T10. Clusty. Mamma. New generation metasearch engine and web portal. Metasearch guide. Spezify.
Duck Duck Go. Fazzle. Nmn900.com. Twitter Search. Cuil. WiseGEEK. Bing. Answerbag.
---