Room Design Ideas
Decorate. Mantel Decorating Video. Trove wallpaper. Christmas Lights in 8 Bedrooms. Jordi Canosa. What is interesting is how we like the idea of what is presented but the practical application of the ideas, in the US anyway, would not go over well.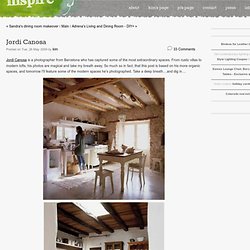 There are no doors on any of the rooms, no closets, no cabinets, merely shelves with curtains. From a real estate perspective this would be a tough sell and would be viewed as houses to flip. I do find it amusing that what we call "artistic" and "rustic" is what used to be referred to as "unfinished". Cool Interior Tree Home: Best Kids Bedroom Design Ever? There are a lot of ways to make a nice bedroom, but for kids there is an element of excitement that is just as important as bedroom size and style.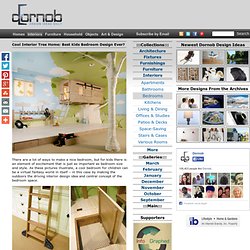 As these pictures illustrate, a cool bedroom for children can be a virtual fantasy world in itself – in this case by making the outdoors the driving interior design idea and central concept of the bedroom space. Complete with climbing ropes, ladders, swings and all kinds of hidden storage spaces, this bedroom brings all of the elements of an outdoor play space inside and makes the room feel like a self-sufficient home at the same time. The best part, of course, is the tree house in the center of the room – who would not have enjoyed that as a kid growing up?
Though this kind of cool bedroom design for kids can of course be contracted out to someone else like Kidtropolis, it is also perhaps an opportunity for a fun do-it-yourself project that engages children in the activity of designing and building their own space. Brian Park. An email was sitting in my box this week from photographer Brian Park.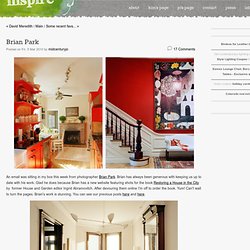 Brian has always been generous with keeping us up to date with his work. Glad he does because Brian has a new website featuring shots for the book Restoring a House in the City by former House and Garden editor Ingrid Abramovitch. After devouring them online I'm off to order the book. Yum! Can't wait to turn the pages. Give a little love « style/SWOON. 568 square feet of pure happiness… So thrilled today to share the home of high school graphic design teacher Allison Myers.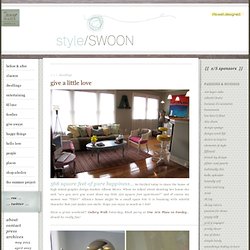 When we talked about shooting her house she said "are you sure you want shoot my little 550 square foot apartment?" And of course my answer was "YES!!" Living Room Designs , Sets, Furniture, Sofas, Ideas. Launched in 2007, Freshome is a weblog devoted to uncovering (and sharing) the latest and greatest products in Architecture and Design.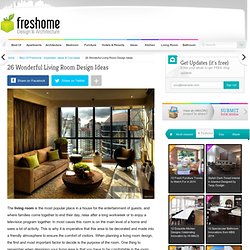 Freshome was launched in March 2007 and has grown rapidly to become one of the most popular and influential architecture and design blogs on the internet. We now get more than 3,8 million visits a month, and traffic is growing every month. The primary focus of this design publication is to give you inspiration to make your home more beautiful, organized and healthy. We believe that a calm, healthy, beautiful home is a necessary foundation for happiness and success in the world. Color - Live Like You & Marmalade Interiors. If you have followed this blog for a while you might be familiar with my line "Life is too Short for White walls".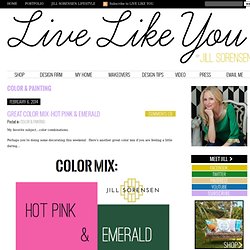 Well ironically, or perhaps to test myself (?) The bungalow rental we are in for the next few months has…yes…only WHITE walls. After living with a kaleidoscope of colors in our old house it felt at first refreshing with stark white walls. Kitchen Designs: Energized Eating. Focus on form - page 2. Kitchen Designs: Energized Eating. Outdoor-bathroom-in-The-Sui.jpg (850×557) Inspiration for artists from Wildfox Couture - I LOVE WILDFOX - Gwyneth Paltrows Apt, Tribeca (Don't cry) Interior Inspiration #20. Continuing a series of posts about the best interiors in a week.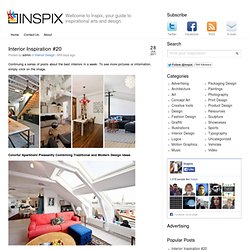 To see more pictures or information, simply click on the image. Colorful Apartment Pleasantly Combining Traditional and Modern Design Ideas Maurice Padovani Charming Apartment with Surprising Design Elements. Pictures - 48 Totally clever alcove bed design ideas - San Diego interior decorating. Tiny Paris Apartment. Would you like to tour a sweet little apartment in Paris with me today?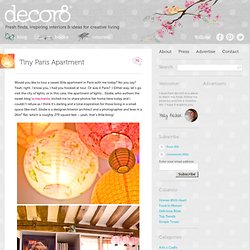 No you say? Yeah, right. I know you, I had you hooked at tour. A selection of graphic projects. Warehouse stalking. Pages Search Jo on Instagram.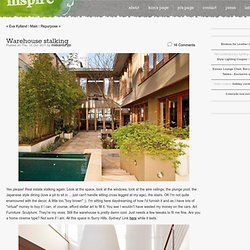 Most amazing apartment ever! - MAIYA - MY ADVENTURE IS YOUR ADVANTAGE :: ART / DESIGN / FASHION / DECOR. Ah, jeez.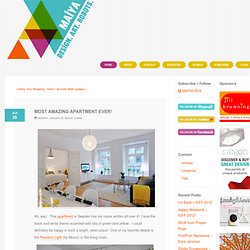 This apartment in Sweden has my name written all over it! I love the black and white theme accented with bits of green and yellow. I could definitely be happy in such a bright, clean place! One of my favorite details is the Random Light (by Moooi) in the living room. The Selby + Simple Creative Home. Posted by rd on Wednesday, October 19, 2011 · I recently discovered The Selby, and here is a home, more or less 1000 sq ft., bursting with neutral colors making it 'bigger' than it actually is. I really love the combination of open planning and simple palette in this home..
Room Design Ideas For Teen Boys. Small is cool. If you choose to live on your own as a young person (and i say this assuming that you don't earn major bucks or perhaps you live in an expensive city – or both) you will probably be faced with the reality of renting a studio apartment. unless you're an investment banker, or you won the lotto, or your granddad left you a sweet inner city pad the size of an ark that he bought back in 1950 for R500, or you've found some 3 bedroom palace with wooden floors and a working fireplace that's being rented out for tuppence. if you're one of those people, please don't pity me. for i might be jumping on the studio flat bandwagon one of these days, and of course in lieu of that, the first thing i consider is HOW TO DECORATE. zach motl lives in a 178 ft² studio apartment in brooklyn. that's 16m² folks… he's an interior decorator, which explains why his flat looks the way it does.
"the more stuff you put in a room, the bigger it seems" Stairway to heaven. Posted by victoria //// 69 Comments i love everything about this beautiful home i saw on mixr. can you imagine having a lovely staircase like this, and then having it take you along its winding steps to all of this? This 1970′s townhouse renovated by Swedish interior designer Marie Olsson Nylander, is pretty much a decor dream come true for me. i love all the white, and rustic woods with dashes of bright colors and eclectic, vintage-inspired home furnishings. yep, this is my stairway to heaven. Puzzle box apartment. Bates Corkern Studio. Unique Vintage Details in a Fascinating Apartment Near Barcelona.
6 Summer Bunk Bed Rooms. PadStyle | Interior Design Blog | Modern Furniture | Home Decor | Interior Design. Top 5 Kitchen Building Trends" Decorate | Lonnymag.com. Parlour: Cheery Home. 30 Awesome Interior Designs. Dream Bedroom Designs. Bedroom Designs: Modern Interior Design Ideas & Photos | Designs &I... A completely renovated... Home Decorating Photos, Interior Design Photos, Home Decorating Pictures, House Interior & Exterior Design Pictures, Home Decor & Improvement Ideas - GetDecorating.com. Home Trends | Decoration | Gardening. COCOCOZY. Interiors: Juli and John Baker in Canada. Gardener & Marks.
Inpiration : 10 Beautiful Bathroom Design Ideas | Interior Design Blog -... Bedrooms.
---