Carbon Sequestration (Storing It)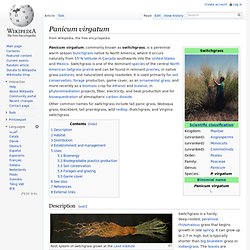 Panicum virgatum, commonly known as switchgrass, is a perennial warm season bunchgrass native to North America, where it occurs naturally from 55°N latitude in Canada southwards into the United States and Mexico. Switchgrass is one of the dominant species of the central North American tallgrass prairie and can be found in remnant prairies, in native grass pastures, and naturalized along roadsides. It is used primarily for soil conservation, forage production, game cover, as an ornamental grass, and more recently as a biomass crop for ethanol and butanol, in phytoremediation projects, fiber, electricity, and heat production and for biosequestration of atmospheric carbon dioxide. Other common names for switchgrass include tall panic grass, Wobsqua grass, blackbent, tall prairiegrass, wild redtop, thatchgrass, and Virginia switchgrass. Description[edit] Habitat[edit]
Panicum virgatum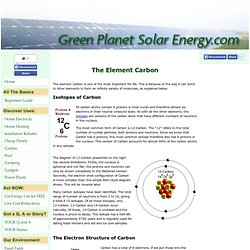 The element Carbon is one of the most important for life. This is because of the way it can bond to other elements to form an infinite variety of molecules, as explained below. Isotopes of Carbon All carbon atoms contain 6 protons in their nuclei and therefore attract six electrons in their neutral unbound state.
The Element Carbon
Carbon sequestration
Carbon sequestration is the process of capture and long-term storage of atmospheric carbon dioxide (CO 2)[1] and may refer specifically to: "The process of removing carbon from the atmosphere and depositing it in a reservoir.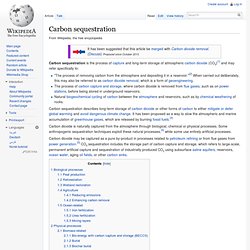 New Power Plant Aims to Help Coal Clean Up
Technology::News::December 19, 2007:: ::Email::Print A "clean coal" power plant is set to be built in Illinois in 2009; if it works, it could help avoid catastrophic global warming By David Biello CLEAN COAL: By gasifying coal, stripping it of pollution, such as globe-warming carbon dioxide, and then burying that pollution, the FutureGen power plant would make coal clean.Image: ©ISTOCKPHOTO.COM/ZSOLT BICZO
DOE - Fossil Energy: Carbon Capture and Separation
Key Programs and Initiatives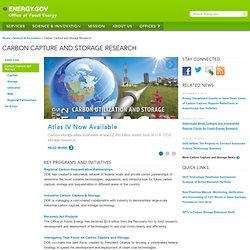 Carbon Sequestration: Fed pulls plug on FutureGen's "clean coal" project | Earthanet
Carbon sequestration technology in the United States was dealt a setback at the end of January 2008 when federal energy secretary Samuel Bodman announced that the Department of Energy will radically restructure its FutureGen "clean coal" R&D program. Bodman's announcement pulled the plug on the Bush administration's showpiece FutureGen facility in Mattoon, Illinois, operated by the FutureGen Alliance. The Alliance is a nonprofit organization of private investors and utility companies who pledged 25 percent of funding for the project, with the other 75 percent coming from U.S. taxpayers. Funding for the Mattoon plant had been projected at $1.8 billion, with hopes of recovering about $300 million of that amount by selling electrical power generated by the site. Bodman cited cost overruns and the need to secure more funding from private sources and less from taxpayers.