Soup/Appetizer
Baked Polenta Triangles | High Heels To Hot Wheels
www.food.com/recipe/panera-bread-broccoli-cheddar-soup-406219?scaleto=4&mode=null&st=true
www.food.com/recipe/panera-breads-creamy-potato-soup-445219
I first discovered panko bread crumbs back in 1999. Please don't ask me how I know that; I just do. I remember vividly reading a recipe that contained panko bread crumbs, and I remember vividly that I was nursing my second baby, and I remember vividly that I was hormonal and desperate, and the next thing I knew I was ordering panko bread crumbs from some market in Chelsea that the magazine recommended. On the phone, of course, because although I had a computer at the time, I certainly wouldn't have been cool enough to use it to order panko bread crumbs.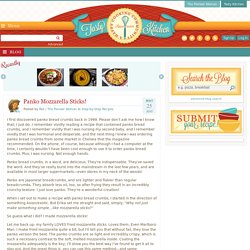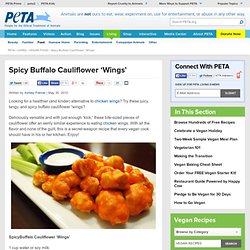 The following article was written by Ashley Palmer. Looking for a healthier (and kinder) alternative to chicken wings ? Try these juicy, tangy, and spicy buffalo cauliflower "wings"! Deliciously versatile and with just enough "kick," these bite-sized pieces of cauliflower offer an eerily similar experience to eating chicken wings. With all the flavor and none of the guilt, this is a secret-weapon recipe that every vegan cook should have in his or her kitchen. Enjoy!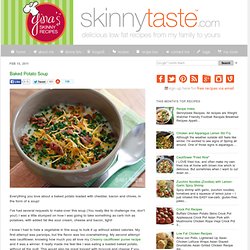 Everything you love about a baked potato loaded with cheddar, bacon and chives, in the form of a soup! I've had several requests to make-over this soup (You really like to challenge me, don't you!) I was a little stumped on how I was going to take something as carb rich as potatoes, with added fat like sour cream, cheese and bacon, light! I knew I had to hide a vegetable in this soup to bulk it up without added calories. My first attempt was parsnips, but the flavor was too overwhelming. My second attempt was cauliflower, knowing how much you all love my Creamy cauliflower puree recipe and it was a winner.
Something about spring makes us want to set out fresh linens, bake up something dainty and sweet and sit down for afternoon tea. What better way to commemorate springtime celebrations like Mother's Day and wedding showers than with tea and stacks of delicate scones? Well-made scones are a wonderful thing, moist and tender, with buttery crumbs that cling to your chin. "They are fattening, indigestible and quite glorious," writes Jane Garmey in "Great British Cooking" (Random House, 1981). Like biscuits, their American counterpart, scones are as easy as pie for experienced cooks, but can be intimidating to everyone else.
SCRUMPTIOUS SCONES / Bakers share tips for creating a no-fail batch | Full Page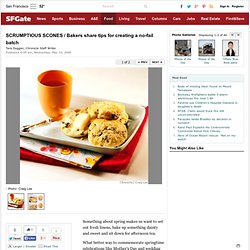 Why there is no need to purchase pre-made fries in the freezer aisle – in pictures and rhyme: One potato (find a potato) Two potato (cut the ends off) Three potato (cut slices) Four (cut fries from slices)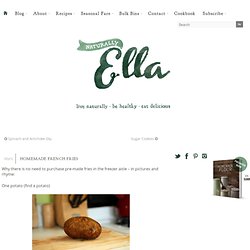 Almost-Famous Breadsticks Recipe : Food Network Kitchens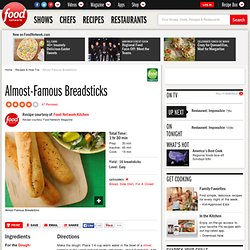 Ingredients For the Dough: 1 package active dry yeast 4 1/4 cups all-purpose flour ,plus more for dusting 2 tablespoons unsalted butter,softened 2 tablespoons sugar 1 tablespoon fine salt For the Topping: 3 tablespoons unsalted butter ,melted 1/2 teaspoon kosher salt 1/8 to 1/4 teaspoon garlic powder Pinch of dried oregano Directions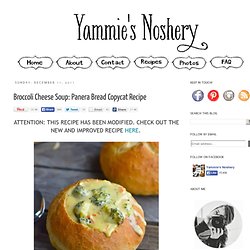 On Wednesday my sister and I volunteered to make the soup supper to go with the Advent service at church. Before you go thinking I'm some kind of charitable, goodhearted soul, I must tell you that the only reason that I do it is because I LOVE COOKING. In case you're really dumb and haven't figured that out yet. Okay, so I was like, "Whadaya think, Nemo?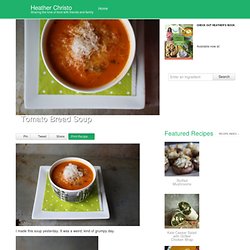 January 5th, 2012 I made this soup yesterday. It was a weird, kind of grumpy day. I had to make two batches of this banana sweet potato bread I am going to share in the next couple days, (because I forgot like half the ingredients the first time.) While I was looking for my lost camera card, I found an unpaid parking ticket from like 6 months ago. That can't be good.
Tomato Bread Soup
Lunch Recipes: Grilled Sandwich and Panini Recipes | Martha Stewart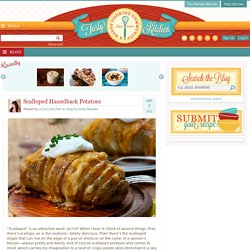 "Scalloped" is an attractive word, isn't it? When I hear it I think of several things: first, there's scallops, as in the seafood—totally delicious. Then there's the scalloped shape that can live on the edge of a pair of shorts or on the collar of a woman's blouse—always pretty and dainty. And of course scalloped potatoes also comes to mind, which carries my imagination to a land of crispy potato skins drenched in a sea of cheese and cream. I can think of no better place to exist, actually. So when I came across TK member Shelbi Keith's recipe for Scalloped Hasselback Potatoes , I knew we were going to become fast friends.
Pupusa & Exequy's Blog
i Rate This A pupusa is a traditional Salvadoran dish made of thick, hand-made corn tortilla (made using masa de maíz, a maize flour dough used in Latin American cuisine) that is usually filled with a blend of the following: cheese ( queso ) (usually a soft cheese called Quesillo found in all Central America), cooked pork meat ground to a paste consistency ( called chicharrón, not to be confused with fried pork rind, which is also known as chicharrón in some other countries ), refried beans ( frijoles refritos ), or queso con loroco (loroco is a vine flower bud from Central America). The two most common pupusas are the pupusa de queso (cheese) and more popular pupusa revuelta with mixed ingredients of queso (cheese), frijoles (beans), and chicharrón. Pupusas are typically served with curtido (lightly fermented cabbage slaw with red chilies and vinegar) and a watery tomato salsa. Pupusas are similar to the South American arepa.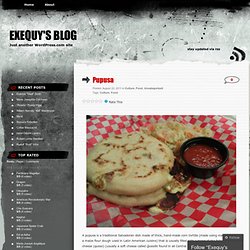 Tea Etiquette In order for one not to spill the hot liquid onto oneself, the proper way to hold the vessel of a cup with no handle is to place one's thumb at the six o'clock position and one's index and middle fingers at the twelve o'clock position, while gently raising one's pinkie up for balance. Tea cups with a handle are held by placing one's fingers to the front and back of the handle with one's pinkie up again allows balance.
Gingerbread cookies are perfect for later on in the day, but what about for breakfast? Howsabout these delicious Gingerbread Crepes, the recipe of the month from Macrina Bakery ? Here's the intro and recipe from their newsletter:
Gingerbread in the House: Gingerbread Crepes Recipe from Macrina Bakery
Paprika Potato Frittata - iVillage
This has been at the top of my list for nearly a year, a barely legible scratch of pencil on a half-sheet of printer paper: make onion dip. In my mind the task was straight-forward - do an onion dip make-over, a version that doesn't require ripping open a packet of soup mix. As a kid my grandma would often whip up bowl of onion dip before we would visit her house. She would serve it alongside a bowl of corn chips, and I suppose this is where my taste for it developed. I decided to do a grown-up version here by using lots of deeply caramelized onions along with a Greek yogurt and sour cream base. I used dehydrated onions to give my dip that signature onion dip flavor, and to counter-balance the sweetness of the caramelized onions.
Caramelized Onion Dip Recipe
How to Make a Blooming Onion
Did you know that popcorn has more protein than any other cereal grain, more iron than spinach, more phosphorous than pretzels, and almost as much fiber as bran flakes? Yeah, me neither. I already knew that popcorn was a healthy snack choice to make because it so low in calories, but wow! With impressive credentials like that, I am beginning to think I should eat popcorn more often. Like, every single day.
The Pastry Affair - Home - Italian Breadstick Popcorn
When I'm online looking for dinner inspiration, I often search for recipes that take something my family loves and make it into something new. Since pizza is one of my family's favorite treat, I try to find new ways to incorporate it into our menu – kinda like I did with the Fried Pizza Bites . When I stumbled onto a recipe from the Noble Pig , I knew I had to try it out on my family! They absolutely loved it! The recipe was simple , only required a few ingredients and didn't take long at all to prepare!
PARMESAN GARLIC ROASTED POTATOES
Pierogi with Potato & Cheese Filling
Turkey Pot Stickers
100 Awesome Ramen Recipes for Starving College Students | Online Colleges
Deep South Dish
Bruschetta
Soft Garlic Knots (but wait... it's Tuesday!)
rainy day gal » tortilla soup