QUIZZES
Testmoz is a test generator that sports 4 question types, automatic grading, a really simple interface and detailed reports. Testmoz is free, and does not require you (or your students) to register. You can build a fully functional test in about a minute, so why don't you give it a try and generate a test? I forgot my test password. Can you retrieve it for me, please?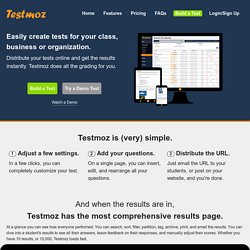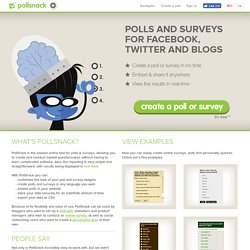 PollSnack is the easiest online tool for polls & surveys, allowing you to create and conduct market questionnaires without having to learn complicated software. Also, the reporting is very simple and straightforward, with results being displayed in real-time. With PollSnack you can: - customize the look of your poll and survey widgets - create polls and surveys in any language you wish - embed polls in your website - store your data securely for an indefinite amount of time - export your data as CSV Because of its flexibility and ease of use, PollSnack can be used by bloggers who want to set up a web poll, marketers and product managers who wish to conduct an online survey, as well as social networking users who want to create a personality quiz of their own.
Free Quiz Maker - Create a Quiz
Teaching Degree! Get a teaching degree online for only $595! Hadley Avenue College I realize teachers usually operate with limited funds, but if this site is truly help- ful to you, please consider contributing a small dona- tion. Thank You. Do you have young students or students with challenged motor skills?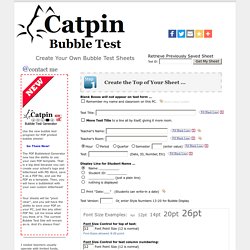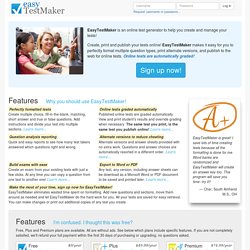 Perfectly formatted tests Create multiple choice, fill-in-the-blank, matching, short answer and true or false questions. Add instructions and divide your test into multiple sections. Learn more...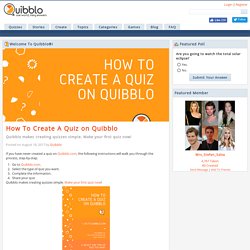 Quibblo Quiz Contest #37 It's Grammy time! The Grammy Awards are this weekend! Take a look at this year's list of nominees and create a cool survey, scored quiz, or personality quiz on any musicians or categories from this list... or heck, anything related to music at all!
Make A Quiz - Free Online Quiz Maker | Quizzes | Create a Quiz