Ad Mag - Mad Ag
Identifiez-vous Mémoriser Identifiants oubliés Créer ses identifiants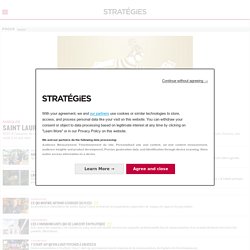 Featured Video April 18, 2014 (3:01) Mad Men, a One-Legged Soccer Star and an Airplane in Our Wins, Fails and WTFs [Video] (3:01) Win Fail WTF Mad Men, a One-Legged Soccer Star and an Airplane in Our Wins, Fails and WTFs [Video] http://www.adweek.com/video/press/mad-men-one-legged-soccer-star-and-airplane-our-wins-fails-and-wtfs-video-157104April 18, 2014 (1:29) Mad Men Minute Your Mad Men Minute Is Back and It's About Time [Video] http://www.adweek.com/video/advertising-branding/your-mad-men-minute-back-and-its-about-time-video-157023April 14, 2014 (2:22) The Adweek 6 6 Movies Don Draper Probably Watched [Video] http://www.adweek.com/video/television/6-movies-don-draper-probably-watched-video-156981April 14, 2014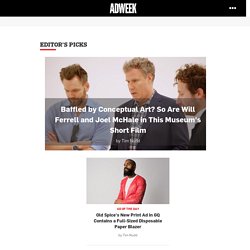 Gregory Ferembach // Directeur Artistique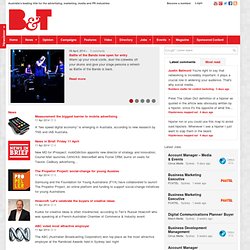 B&T : Australia's highest-circulating advertising, marketing and
Thank you, you are now logged in. x • 0 comments Battle of the Bands now open for entry Warm up your vocal cords, dust the cobwebs off your drums and give your stage persona a refresh as Battle of the Bands is back.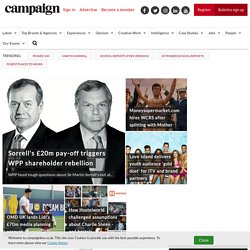 Social photos of the week WCRS should be walking tall after its recent B Q win, but the creative director Ross Neil appeared to lose a few inches after he and the chief executive, Matt Edwards, popped on the overalls to "unleash" some DIY skills. Stephen Miron (@s... If you want to earn a crust, join Maxus
E/B/T/B - everything but the blog
Beau partenariat entre Dodge, célèbre marque automobile américaine, et le deuxième volet de Anchor Man (Paramount). Will Ferrel revêt ses habits de Ron Burgundy pour nous présenter, au travers de saynètes vidéos humoristiques et décalées, le SUV Durango. On y voit par exemple Will Ferrel mettre en avant la puissance du SUV, au côté d'un cheval.. oui, un cheval à mettre en face des 360 chevaux du Durango. Amusant.