Brain Games & Tests
Personality Test Site
Brain training works: Study finds 10-year benefit from 10-hour training By: SharpBrains Brain train­ing helped older adults stay sharp for years –study (Reuters): "A brief course of brain exer­cises helped older adults hold on to improve­ments in rea­son­ing skills and pro­cess­ing speed for 10 years after the course ended, accord­ing to results from the largest study ever done on cog­ni­tive train­ing. Read the rest of this entry » Ask your Questions about Cognitive Enhancement across the Lifespan
Brain Fitness and Cognitive Health Authority: Market Research and Advisory Services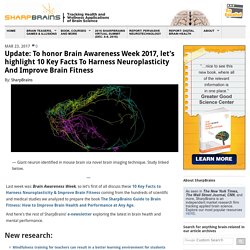 Geekologie - Gadgets, Gizmos, and Awesome
Mario Bros. Themes Performed On 48 Wine Glasses This is a video of Youtuber Dan Newbie performing Super Mario Bros. themes using 48 wine glasses, two pencils and a frying pan. It sounded very pretty. Kinda reminded me of visiting the Caribbean.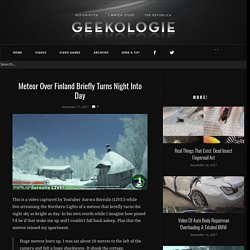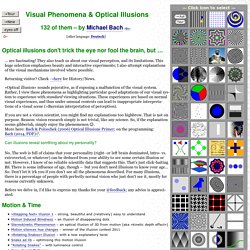 Optical Illusions and Visual Phenomena
Op­ti­cal il­lu­sion are fas­ci­nat­ing while teach­ing us about our vi­sual per­cep­tion, and lim­its thereof. My em­pha­sis here is on the beauty of per­cep­tual phe­nom­ena, on in­ter­ac­tive ex­per­i­ments, and ex­pla­na­tion of the vi­sual mech­a­nisms in­volved – to the de­gree that they are un­der­stood Be­friend­ing mo­bile de­vices: >50 in­ter­ac­tive demos now with­out Flash, but re­quire up-to-date browser ver­sions.
Brain Fitness and Cognitive Health Authority: Market Research and Advisory Services
Brain Teasers, Riddles, Trivia, Brain Exercises, Games, Forums and more... With over 20,000 brain teasers, riddles, logic problems, quizzes and mind puzzles submitted and ranked by users like you, Braingle has the largest collection anywhere on the internet. Our large array of unique online multiplayer games will keep you entertained for hours, and if you want to improve your brain, check out the Mentalrobics section.
Brain Teasers, Puzzles, Riddles, Trivia and Games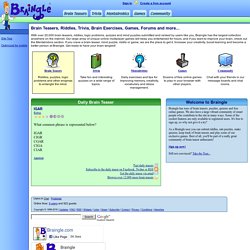 Games for the Brain
Brain Fitness and Cognitive Health Authority: Market Research and Advisory Services
Perception puzzles, Visual Perception, Optical illusions and Paradoxes
This page illustrates that our visual perception cannot always be trusted. The components of an object can distort the perception of the complete object. Our mind is the final arbiter of truth. Most optical illusions are the result of 1) incongruent design elements at opposite ends of parallel lines, 2) influence of background patterns on the overall design, 3) adjustment of our perception at the boundaries of areas of high contrast, 4) afterimages resulting from eye movements or from kinetic displays, or 5) inability to interpret the spatial structure of an object from the context provided by the picture. Optical illusions have been studied for millenia. The ancient Greeks used a technique known as entasis which incorporates a slight convexity in the columns of the Parthenon to compensate for the illusion of concavity created by parallel lines.