Programming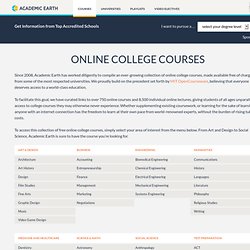 Since 2008, Academic Earth has worked diligently to compile an ever-growing collection of online college courses, made available free of charge, from some of the most respected universities. We proudly build on the precedent set forth by MIT OpenCourseware, believing that everyone deserves access to a world-class education.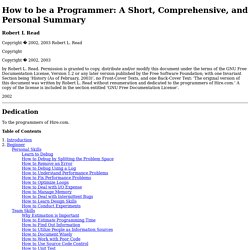 Debugging is the cornerstone of being a programmer.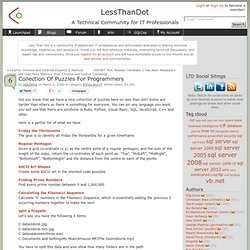 Less Than Dot - Blog - Collection Of Puzzles For Programmers
comments Collection Of Puzzles For Programmers
jspp - StumbleUpon
The Haskell Programming Language
I spent most of yesterday afternoon working on a paper I'm co-writing.
Unity is a game development ecosystem: a powerful rendering engine fully integrated with a complete set of intuitive tools and rapid workflows to create interactive 3D and 2D content; easy multiplatform publishing; thousands of quality, ready-made assets in the Asset Store and a knowledge-sharing community.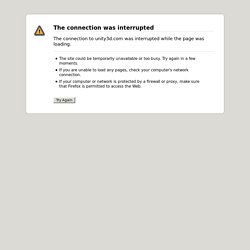 Below, you can see the preview of the Computer Languages History (move on the white zone to get a bigger image): If you want to print this timeline, you can freely download one of the following PDF files: There is only 50 languages listed in my chart, if you don't find "your" language, see The Language List of Bill Kinnersley (he has listed more than 2500 languages).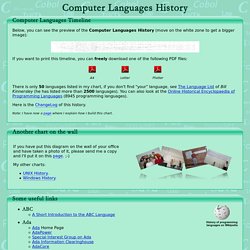 This book has been taken out of print by W. H. Freeman.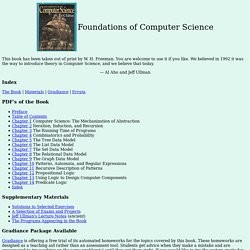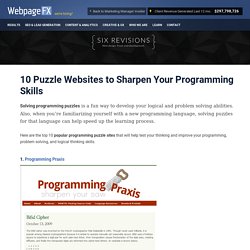 Solving programming puzzles is a fun way to develop your logical and problem solving abilities. Also, when you're familiarizing yourself with a new programming language, solving puzzles for that language can help speed up the learning process.
Create your own MMORPG in just 10 EASY steps!!! The Torque MMO Kit IDE features integrated file management, Python/TorqueScript editing, and automation for common tasks. In just 10 easy steps, you can create your very own MMORPG for both the Torque Game Engine and Torque Game Engine Advanced *wink* *wink* *nudge* *nudge* ;)
Create your own MMORPG in just 10 EASY steps!!! | Prairie Games | Blogs |...