Programming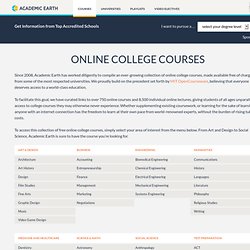 Since 2008, Academic Earth has worked diligently to compile an ever-growing collection of online college courses, made available free of charge, from some of the most respected universities. We proudly build on the precedent set forth by MIT OpenCourseware, believing that everyone deserves access to a world-class education. To facilitate this goal, we have curated links to over 750 online courses and 8,500 individual online lectures, giving students of all ages unparalleled access to college courses they may otherwise never experience. Whether supplementing existing coursework, or learning for the sake of learning, anyone with an internet connection has the freedom to learn at their own pace from world-renowned experts, without the burden of rising tuition costs. To access this collection of free online college courses, simply select your area of interest from the menu below. From Art and Design to Social Science, Academic Earth is sure to have the course you're looking for.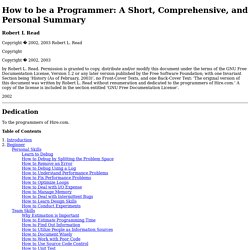 Debugging is the cornerstone of being a programmer. The first meaning of the verb to debug is to remove errors, but the meaning that really matters is to see into the execution of a program by examining it. A programmer that cannot debug effectively is blind. Idealists that think design, or analysis, or complexity theory, or whatnot, are more fundamental are not working programmers.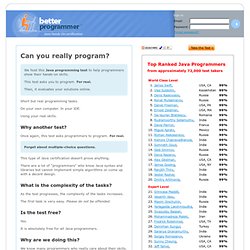 We host this Java programming test to help programmers show their hands-on skills. This test asks you to program. For real. Then, it evaluates your solutions online. Short but real programming tasks.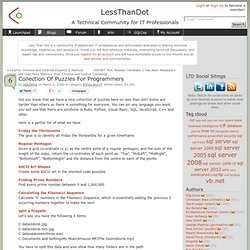 Less Than Dot - Blog - Collection Of Puzzles For Programmers
comments Collection Of Puzzles For Programmers by SQLDenis on Mar 02, 2009 in categories Ethics & IT Instapaper Did you know that we have a nice collection of puzzles here on less than dot? Some are harder than others so there is something for everyone.
Oracle Oracle Oracle Technology Network > Java Challenge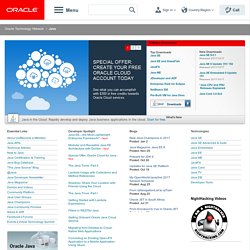 jspp - StumbleUpon
Now create an index.html and fill it with content. You can embed server side processing in When you're in an html file you get most of the normal browser environments. window, document, and other objects are available.
The Haskell Programming Language Haskell is an advanced purely-functional programming language. An open-source product of more than twenty years of cutting-edge research, it allows rapid development of robust, concise, correct software. With strong support for integration with other languages, built-in concurrency and parallelism, debuggers, profilers, rich libraries and an active community, Haskell makes it easier to produce flexible, maintainable, high-quality software. News
I spent most of yesterday afternoon working on a paper I'm co-writing. It was one of those days when the writing came easy. I was moving from topic to topic, but then I realized that I was reaching too far backward – I was explaining things which I shouldn't have had to explain to the audience I was trying to reach. When I first started writing, one of the pieces of advice that I heard was that you should always imagine that you are writing to a particular person.
Unity is a game development ecosystem: a powerful rendering engine fully integrated with a complete set of intuitive tools and rapid workflows to create interactive 3D and 2D content; easy multiplatform publishing; thousands of quality, ready-made assets in the Asset Store and a knowledge-sharing community. For independent developers and studios, Unity's democratizing ecosystem smashes the time and cost barriers to creating uniquely beautiful games. They are using Unity to build a livelihood doing what they love: creating games that hook and delight players on any platform. What's new in Unity 4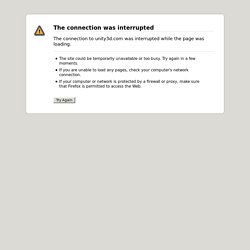 Below, you can see the preview of the Computer Languages History (move on the white zone to get a bigger image): If you want to print this timeline, you can freely download one of the following PDF files: There is only 50 languages listed in my chart, if you don't find "your" language, see The Language List of Bill Kinnersley (he has listed more than 2500 languages).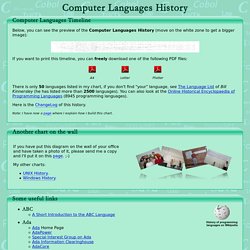 This book has been taken out of print by W. H. Freeman.
Solving programming puzzles is a fun way to develop your logical and problem solving abilities. Also, when you're familiarizing yourself with a new programming language, solving puzzles for that language can help speed up the learning process. Here are the top 10 popular programming puzzle sites that will help test your thinking and improve your programming, problem solving, and logical thinking skills. 1. Programming Praxis Programming Praxis is a blog that includes a range of interesting problems with solutions usually available in several different programming languages.
Create your own MMORPG in just 10 EASY steps!!! The Torque MMO Kit IDE features integrated file management, Python/TorqueScript editing, and automation for common tasks. In just 10 easy steps, you can create your very own MMORPG for both the Torque Game Engine and Torque Game Engine Advanced *wink* *wink* *nudge* *nudge* ;)
Create your own MMORPG in just 10 EASY steps!!! | Prairie Games | Blogs |...