Phrases and Clauses
The Prepositional Phrase. Printer Fabulous!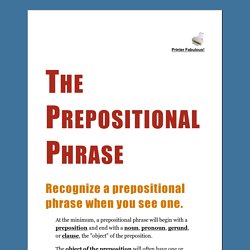 Recognize a prepositional phrase when you see one. At the minimum, a prepositional phrase will begin with a preposition and end with a noun, pronoun, gerund, or clause, the "object" of the preposition. The object of the preposition will often have one or more modifiers to describe it. These are the patterns for a prepositional phrase: preposition + noun, pronoun, gerund, or clause preposition + modifier(s) + noun, pronoun, gerund, or clause. Introduction to English Phrases and Clauses. Introduction to Phrases Phrases are considered as the second level of classification as they tend to be larger than individual words, but are smaller than sentences.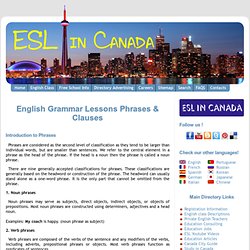 We refer to the central element in a phrase as the head of the phrase. If the head is a noun then the phrase is called a noun phrase. There are nine generally accepted classifications for phrases. The Structure of a Sentence. Remember that every clause is, in a sense, a miniature sentence.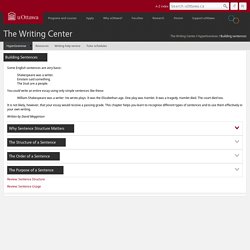 A simple sentences contains only a single clause, while a compound sentence, a complex sentence, or a compound-complex sentence contains at least two clauses. The Simple Sentence The most basic type of sentence is the simple sentence, which contains only one clause. English grammar - clauses in sentences. - Waylink English. Look at the sentences below.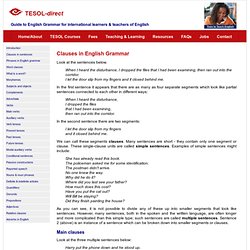 When I heard the disturbance, I dropped the files that I had been examining, then ran out into the corridor. I let the door slip from my fingers and it closed behind me. In the first sentence it appears that there are as many as four separate segments which look like partial sentences connected to each other in different ways: When I heard the disturbance, I dropped the files that I had been examining, then ran out into the corridor. In the second sentence there are two segments:
---