Photos
Giraffe.jpg (640×427) Sts126ferry1-788582.jpg (1600×1280) Stars_2.jpg (1280×854) 386509.jpg (800×533) 20110615TLEKotsiopoulos.jpg (1296×864) Stillness by Norbert Maier. Coke-evolution.jpg (600×444) Aurora_kuenzli.jpg (1527×600) Atmospheric. Fullmoonhike.swf. 1 день осени - #...madagaskar stone forest. CF01_Richards_F6_03_SM_1267828237_1047.jpg (1200×800)
Ghost ants becoming the color of the food they're eating. Scott Stulberg Photography. 0411wallpaper-week-1-6_1600.jpg (1600×1200) Atomic Cloud by Hendrik Tio. Large_owl_in_a_hat_97131.jpeg (488×595) The 40 Best Selected Wallpapers from National Geographic Magazine. No doubt National Geographic features unbelievable photography.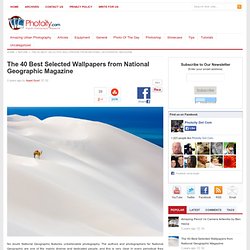 The authors and photographers for National Geographic are one of the mainly diverse and dedicated people, and this is very clear in every periodical they discharge. From city to country areas, from the cultured to the most foreign to the most deserted of locations, from happy proceedings to catastrophic ones, from home to the expert life, and spiritual and beyond, these people cover almost every bit of in sequence of every feature of this world. The photographic as well as journalistic excellence of National Geographic is truly undeniable. 40 photos. Tumblr_l1rft5Czyn1qbtmjxo1_1280.jpg (500×696) Netherlands_water_H1.jpg (1606×1706) Город, рассвет, девушка. (30 минут спустя...) - Раздел город.
231717.jpg (1202×802) 00tx6f3y-1024x719.jpg (1024×719) High_res_3d_holiday_scenery_and_travel_landscape_of_phang_nga_bay_phuket_thailand-1600x1200.jpg (1600×1200) Mt Roraima, Brasil, Guyana and Venezuela (pic) Kusama.jpg (2000×1333) All sizes | Minister's Treehouse, Crossville, TN. LowerCathredalLake_Pano_resize.jpg (2671×593) Double Exposure Portraits. Online | Mostly Carved Away Eggshell. Night by Mikko Lagerstedt. n02_sean-heavey.jpg (990×567) Shuttle-Endeavour-sts130-nuit.jpg (JPEG Image, 1920x1277 pixels) - Scaled (47%) 077.jpg (950×632) TYPOE_CONFETTI-DEATH_1_900px.jpg (900×603) Chewbacca Dog. Ac130u_20080829.jpg (2000×1123) Famous Films Compressed into Barcodes. Mystical, Magical & Magnificent Monasteries in Meteora (20 Pics) The caves in Meteora, Greece, had inhabitants for fifty millennia, but due to raids, "hermit monks" moved to the safety of sandstone rock pinnacles in the 9th century and began building monasteries.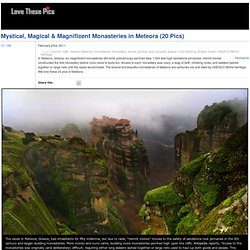 More monks and nuns came, building more monasteries perched high upon the cliffs. Wikipedia reports, "Access to the monasteries was originally (and deliberately) difficult, requiring either long ladders lashed together or large nets used to haul up both goods and people. This required quite a leap of faith — the ropes were replaced, so the story goes, only 'when the Lord let them break.'" UNESCO World Heritage says, "The net in which intrepid pilgrims were hoisted up vertically alongside the 1,224 ft. cliff where the Varlaam monastery dominates the valley symbolizes the fragility of a traditional way of life that is threatened with extinction." 2971800383_d677f44c94_o.jpg (1200×800)
---