Shopping
Review: Logitech UE Mobile Boombox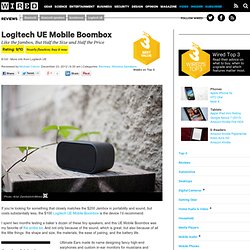 Photo: Ariel Zambelich/Wired If you're looking for something that closely matches the $200 Jambox in portability and sound, but costs substantially less, the $100 Logitech UE Mobile Boombox is the device I'd recommend. I spent two months testing a baker's dozen of these tiny speakers, and this UE Mobile Boombox was my favorite of the entire lot.
Quand on reçoit le colis, on ne peut qu'être étonné par la petite taille de l'appareil, sa légèreté. Du coup, les premières craintes se font sentir... Encore un gadget avec un son tout gras, brouillon et métallique? Je déballe, j'allume, je lance l'appairage avec mon tel, je lance la musique... Waou... j'ai l'impression d'avoir mis ma sono de bureau en route, c'est pas possible qu'un tel son sorte de ce petit truc!!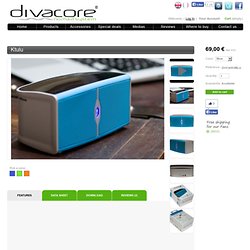 Ktulu - Divacore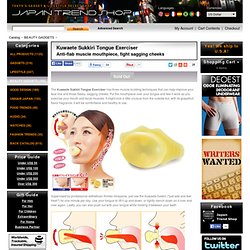 Kuwaete Sukkiri Tongue Exerciser
The Kuwaete Sukkiri Tongue Exerciser has three muscle-building techniques that can help improve your face line and those flabby, sagging cheeks. Put the mouthpiece over your tongue and feel it work as you exercise your mouth and facial muscles. It might look a little unusual from the outside but, with its grapefruit flavor fragrance, it will be comfortable and healthy to use. Supervised by professional esthetician Kimiko Hirayama, just use the Kuwaete Sukkiri ("just add and feel fresh") for one minute per day. Use your tongue to lift it up and down, or lightly clench down on it over and over again.
Photo: Courtesy NuForce NuForce is known for producing high-end digital amps, and the company has somehow squeezed its audiophile know-how into a great-sounding, comfortable and attractive set of earbuds. These machined aluminum bullets are only $70, and at that price, they're a steal. They earn our highest recommendation. Sound quality on the NE-700Ms is excellent.
NuForce NE-700M/X Earphones | Product Reviews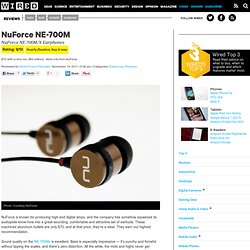 Always wished you knew more about wine, coffee, or fashion but not sure where to start without buying overpriced junk? You're not alone. Hobbies like coffee, wine, and tea are often associated with steep learning curves, difficult to understand jargon, high price tags, and worst of all, annoying people.
How to Break Into Hobbies with an Intimidating Learning Curve
FYLM - Foldable Speaker by designaffairs
Quirky Stem Lightning Review: Stab a Fruit and Spray its Juice
Unleash Your Headphones' Full Potential with a USB DAC and Amplifier
For many people, using the right headphones will make a bigger difference. I'm still using a pair of inexpensive (for the time — $100) 20-25-year-old Sony MDR V7's (I think it's the V7 as opposed to the V6 — it's at work, and I'm currently at home). This is a closed, over-the-ear headphone. The low-end-bass, crispness, and dynamic range are amazing (yes, I know that the frequency response isn't flat, but I like the colored sound of the Sony).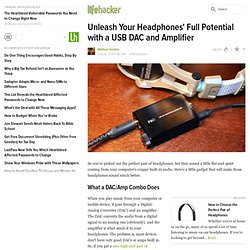 Cheap Solar Charger Tops Off One Battery At a Time
Slim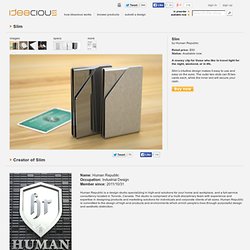 Creator of Slim Name: Human Republic Occupation: Industrial DesignMember since: 2011/10/31 Human Republic is a design studio specializing in high-end solutions for your home and workplace, and a full-service consultancy located in Toronto, Canada. The studio is comprised of a multi-disciplinary team with experience and expertise in designing products and marketing solutions for individuals and corporate clients of all sizes.
Average Customer Review: ( 93 customer reviews ) Write an online review and share your thoughts with other customers. Most Helpful Customer Reviews 39 of 45 found the following review helpful: Comfortable HeadphonesFeb 24, 2012 By Inna Tysoe "Inna Tysoe" I have had quite a few headphones over the last few years and these are the first $100 ones I have owned. They are also are the first I have had with the powered noise canceling feature.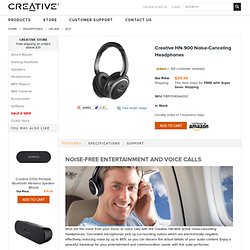 HN-900 Noise-Canceling Headphones (Black) | Creative Labs Online Store
Round-The-Clock - Wristwatch by Kőrös Benedek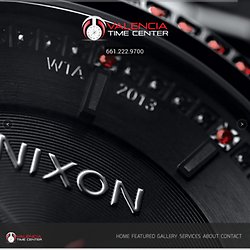 Valencia Time Center is a watch specialty store located in the Westfield Valencia Town Center mall in Valencia, California. We carry a wide variety of popular watch brands from: MICHAEL KORS, Luminox, NIXON, VESTAL, GSHOCK, Casio, Casio Edifice, Citizen, Bulova, Caravelle, Torgoen, Jorg Gray, Mondia, Laco, Zeppelin, Junkers, and Meister. We also carry watch cases that hold up to 15 watches, made by Wolf Designs.
Junkers BAUHAUS Automatic with power reserve 6060-5 | Valencia Time Center
AquaNotes - Waterproof Paper Notepad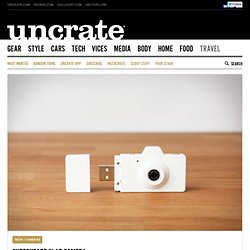 Superheadz Clap Camera
It's a memory card reader! It's a camera! Actually, it's both. The Superheadz Clap Camera ($50) is a super small, super simple camera that shoots two megapixel photos or 720x480 movies, which it stores on a MicroSD card that you slide into one end. Pop off the other, and you'll find a USB connector that you can stick directly into your computer for offloading. Or, as the website says, "Take a photo like you applause for being touched from the beauty of the sceneries".
UT Wire | Q Knot Original - The Multipurpose Reusable Cable Tie
Glass Keyboard and Mouse Shrug Off Crumbs and Spills
Unit 01—04
Unit 01 is our very first Unit, a smart, reliable bag developed for one of your most precious possessions: your computer. Unit 01 is delivered in a package together with the two smaller pouches, Unit 02 and 03, the ultimate stuff pouches designed to carry your phone, wallet or charger. Unit 02 and 03 are attachable on the inside or outside of Unit 01 making it possible to design your bag according to your own needs - that's the beauty of Unit Portables! Unit 01
Yeah, I saw that. Compared with a lot of the other keychain cams out there this one is horrible. The video is jittery, oversaturated, blown out in areas without shade and so poorly compressed that it appears pixelated.
Fingertip Sized Camera Does HD Video On the Cheap
EDC Kit
Quirky's 'Ray,' a Solar-Charging Suction Cup | Gadget Lab
Insert Coin: Ray solar charger adheres to your window, basks in the sunlight
WiFi Hotspot & Flash Drive Cufflinks Connect More Than Your Cuffs
Handy Meter Measures Water Straight From the Faucet | Gadget Lab