Around pearltrees
9 content curation tools that better organise the web. Content curation is a huge deal on the web today.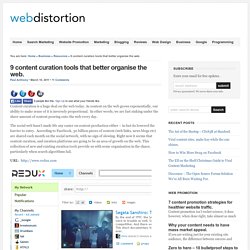 As content on the web grows exponentially, our ability to make sense of it is inversely proportional. In other words, we are fast sinking under the sheer amount of content pouring onto the web every day. The social web hasn't made life any easier on content production either – in fact its lowered the barrier to entry.
Flipboard for iPad. Paper.li – read Twitter as a daily newspaper. Storify -- make stories. Qwiki. Pinterest / Home. Get Glue. Delicious. Diigo - Web Highlighter and Sticky Notes, Social Bookmarking and.
Stumble. Digg. Mind Mapping : l'essentiel en moins de 4 minutes. TheBrain. Evernote. Curatology.
---
pauljacobson Nov 22 2010

When we go into production next year with Moodle online for thousands of students doing 100 courses in Business, you will see Pearltrees at the core of each course. We can provide all the resources for each course in a Pearltree without going anywhere outside Moodle. It's beautiful design where activities for the Course are positioned in a series below the Pearltree as an integrated unit. Pearltrees is a curatorial masterpiece for our educational content.

Patrice Apr 20 2009

While Pearltrees ideas relates to many other projects -either successfull or not- it still does not have direct competition yet
---