Social & Sharing
System Status Shown below are gauges displaying the system's current status, based on observing the behavioural patterns. Please note that The Listening Machine is no longer operational. These gauges display the system's last known status. The average level of emotional polarity: positive, negative or neutral.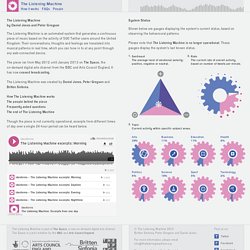 Loading... 8 minutes ago Video unofficial - fan made editing - I'm not the filmaker. Douglas J.
FrankenMelena's channel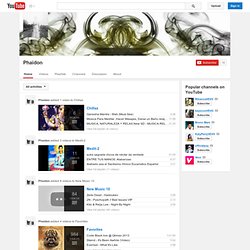 From the Author: BallDroppings has already been implemented in other languages, you can download it for Mac or Windows here: http://www.balldroppings.com .. it's a musical playtoy that looks like abstract pong. My hope is that i will be able to port enough of it to Javascript, and then use a bit of Flash to manage the sound. The result will be a limited version of BallDroppings that works in the browser.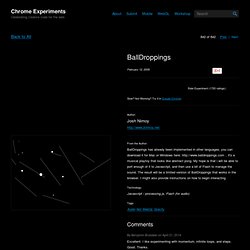 BallDroppings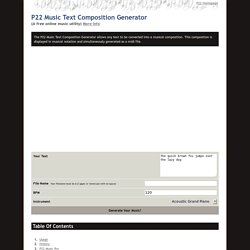 The P22 Music Text Composition Generator allows any text to be converted into a musical composition. This composition is displayed in musical notation and simultaneously generated as a midi file. 1. Usage Type or copy any text into the Text Field. Give the file a unique name.
The Sound Matrix was a clever bit of flash that was mailed to me some time back. I later discovered that the file was originally composed by Andre Michelle. As per original instructions "Press SPACE key to clear. Right-Click for Copy & Paste to your blog, happy days, good time, comment if you LIKE!".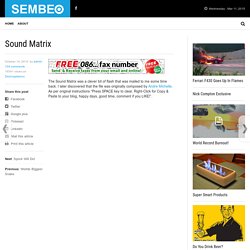 Eye4u modular websynth
3D Cube Delounge Flower Isometric Lego Bricks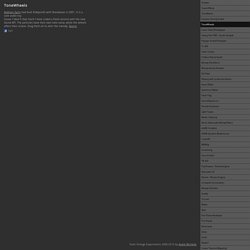 Select 1 of 8 different Sound Patterns from the small Matrixes icons on the right. Use your mouse to draw notes on each 16 Step Matrix. Adjust the volume of the iNudge. Click MORE for advanced adjustment abilities.
Example 01 - Ambient sounds with analog and FM synthesizers by audiosauna.com on SoundCloud
Recent Blog Posts New Twitter Profile Update: Lets Get Visual Sick of us talking about the importance of cover art yet?