Film Making
Index of motion picture terminology
Index of motion picture terminology From Wikipedia, the free encyclopedia Jump to: navigation, search The film industry is built upon a large number of technologies and techniques, drawing upon photography, stagecraft, music, and many other disciplines. Following is an index of specific terminology applicable thereto.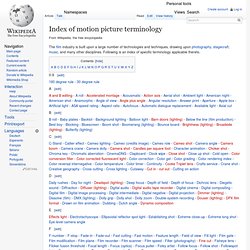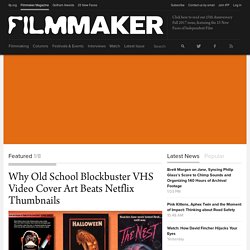 Filmmaker Magazine | The Magazine of Independent Film
Hidden Horror: An Interview with Dr. AC Possession "An epic pot-luck movie party where everyone has brought a favorite dish and wants you to give it a try" is how Dr. AC (Aaron Christensen) describes his latest horror-movie anthology, Hidden Horror: A Celebration of 101 Underrated and Overlooked Fright Flicks. And, indeed, anyone looking to scratch past the Rosemary's Baby's and Paranormal Activity's to uncover more idiosyncratic, personal and sometimes more terrifying work will find their needs met by the book, which couples great film recommendations with astute commentary by passionate critics.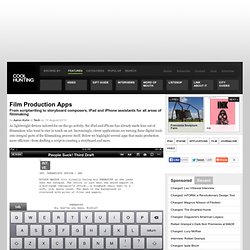 As lightweight devices tailored for on-the-go activity, the iPad and iPhone has already made fans out of filmmakers who want to stay in touch on set. Increasingly, clever applications are turning these digital tools into integral parts of the filmmaking process itself. Below we highlight several apps that make production more efficient—from drafting a script to creating a storyboard and more. Scripts Pro The functionally sleek Scripts Pro screenwriting software allows you to create and edit new scripts, as well as open files created in Celtx (a free scriptwriting program) and the industry standard Final Draft on iPhones or iPads.
Film Production Apps
The DIY Filmmaker's Toolkit
Comstock Films presents the Real People, Real Life, Real Sex series: Award-winning documentary portraits of real life committed couples.
Film Making and Cinematography (including Photography)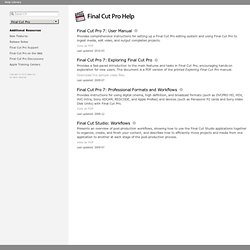 Final Cut Pro Help
Provides comprehensive instructions for setting up a Final Cut Pro editing system and using Final Cut Pro to ingest media, edit video, and output completed projects. Last updated: 2010-03 Provides a fast‑paced introduction to the main features and tasks in Final Cut Pro, encouraging hands‑on exploration for new users. This document is a PDF version of the printed Exploring Final Cut Pro manual. Download the sample video files
How to Make it As a Comedian Video
Action Cam and Camcorder Accessories | BH inDepth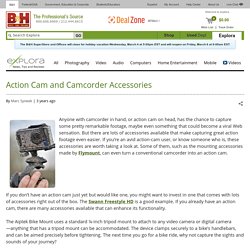 Anyone with camcorder in hand, or action cam on head, has the chance to capture some pretty remarkable footage, maybe even something that could become a viral Web sensation. But there are lots of accessories available that make capturing great action footage even easier. If you're an avid action-cam user, or know someone who is, these accessories are worth taking a look at.
Ressources cinéma, images
Wecoop
Series.ly | La hacemos entre todos
Reimagined Miyazaki Films
Visiones femeninas: Claudia Llosa y la representación de la mujer en el cine La directora peruana nos brinda la posibilidad de conocer su punto de vista sobre el papel que juega la mujer en la cinematografía actual. También nos contará las experiencias más relevantes de su última película "La teta asustada", doblemente galardonada en Berlín La teta asustada Fotograma de la película
Visiones femeninas: Claudia Llosa y la representación de la mujer en el cine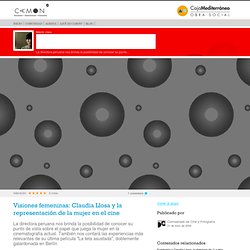 Martin Scorsese Editing Techniques
Videos et images libres de droit
The Frugal Filmmaker
There's been an interesting development in the past year or so that bears commenting on, especially if you are into building your own camera rigs. In the recent past, the material of choice has always been PVC pipe. It's cheap, it's pretty sturdy, and you can make all kinds of configurations with it. It has been likened to Legos and Tinkertoys for adults. I have used it to build a hand-held rig, light stands and camera dollies (among other things) with it.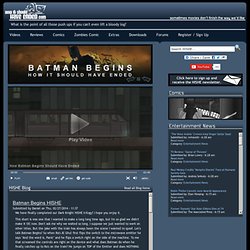 When MoS hit theaters, I knew there would be a wave of requests for us to parody it, but I did not think it would be as many requests as we actually received. Not only were people demanding it, they were getting mad for having to wait. Even when the movie wasn't even 2 weeks old. People were acting like why have you not made this cartoon yet?!? and they were serious. 3 weeks in theaters, WHERE IS MAN OF STEEL?!?! I'm gonna unsub if you don't hurry up!
How It Should Have Ended | sometimes movies don't finish the way we'd like
Stock Footage Archival Video Clips and Historic Photo Images from CriticalPast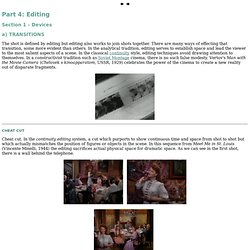 Part 4: Editing
Section 1 - Devices a) TRANSITIONS The shot is defined by editing but editing also works to join shots together. There are many ways of effecting that transition, some more evident than others.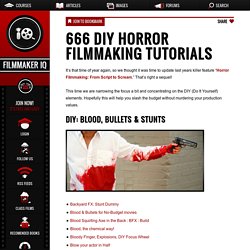 It's that time of year again, so we thought it was time to update last years killer feature "Horror Filmmaking: From Script to Scream." That's right a sequel! This time we are narrowing the focus a bit and concentrating on the DIY (Do It Yourself) elements. Hopefully this will help you slash the budget without murdering your production values. DIY: Blood, Bullets & Stunts DIY: Stage Effects/Green Screen
666 DIY Horror Filmmaking Tutorials
The Path To The New Model: Join The Community > Hope for Film
It is easy to speak and to write of community, but how do we actually work together to make it better? We are dispersed across the globe, some professional, some amateur, but all driven by passion for a more diverse and ambitious film culture. We have the tools.
1.6.Z Ressources Audiovisuelles "Friend" Pearls
A self portrait of Stanley Kubrick with his daughter, Jack Nicholson and the crew @ the set of The Shining. A selection of some of the most awesome Behind-the-scenes shots I've seen from some famous movies found at aintitcool.com. Back when set designs were huge and hand made, when special effects where mechanic and photographic and film stars were risking their lives on the set.
BEST of BTS | photography by Angus R Shamal
Freemake video
Final Cut Pro X Tutorial
This Final Cut Pro X tutorial will get you started with editing. It contains 2 hours and 39 minutes of video training.This tutorial is totally free to watch on this site!(Optional) You can purchase the downloadable version of this tutorial which includes practice media you can use to follow along. (Scroll down past the table of contents for details.) Please note that the version I use in the videos is 10.0. You might notice differences if you're using a newer version.
In this exclusive SoundWorks Collection sound profile we visit Park Road Post Studios in Wellington, New Zealand to talk with the sound team of Director Peter Jackson's The Hobbit: The Desolation of Smaug. Featured interviews include Re-recording Mixer Michael Hedges, Re-recording Mixer Chris Boyes, Re-recording Mixer Michael Semanick, Re-recording Mixer Gary Summers, Composer Howard Shore, and Producer & Co-Screenplay Writer Philippa Boyens.
FilmmakerIQ.com
Collaboration Filmmakers Challenge
Make Your Own Damn Movie With Collaboration Filmmakers Challenge
15 Film Production Credits Explained
Legal content sites | MOTION PICTURE ASSOCIATION - CANADA
ACAP Cinéma - ressources • Accueil
The DIY Filmmaker's Toolkit
| TELL US! YOUR WAY OF FILMMAKING | filmmakers share their thoughts @ www.thenewfilmmaker.com |
588 Free Film Contracts and Forms
The 7-Step Film Directing Formula
Zoetrope: All-Story
HD Video Production Indie Filmmaking Screenwriting Canada Toronto
Film Techniques of Alfred Hitchcock - suspense, camera angles, style, editing, basics
Film Making and Cinematography (including Photography)
The 7-Step Film Directing Formula