Lesson Plan Resources ELT
Film English | by Kieran Donaghy
Teachers on Pinterest (teachers) on Pinterest
Have you checked out ArtsEdge? You'll find more nearly 200 free arts-based lesson plans and projects for the classroom. While Visual Arts, Music or Theater are the primary focus, most of the lessons incorporate other subjects like Geography, History and even Math and Science.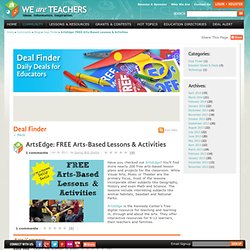 ArtsEdge: FREE Arts-Based Lessons & Activities
MobyMax: Complete K-8 Curriculum
For this one day event I will be giving away 20 copies of the collected worksheets and lesson plans I've developed that utilize the creative thinking techniques. You can download them all here: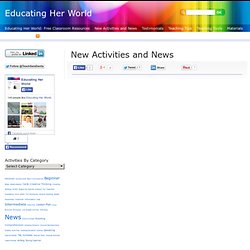 New Activities and News – Educating Her World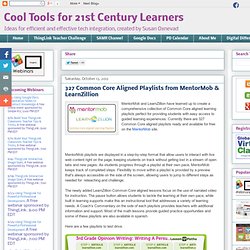 MentorMob and LearnZillion have teamed up to create a comprehensive collection of Common Core aligned learning playlists perfect for providing students with easy access to guided learning experiences.
327 Common Core Aligned Playlists from MentorMob & LearnZillion
Lesson Plan Resources ELT
Lesson Plans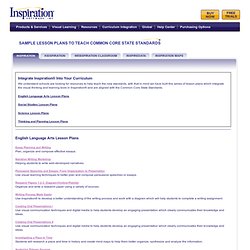 English Language Arts Lesson Plans
Sample Lesson Plans to Teach Common Core State Standards
Ania Kozicka's Blog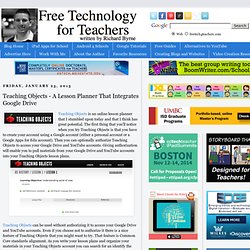 Teaching Objects is an online lesson planner that I stumbled upon today and that I think has great potential.
Teaching Objects - A Lesson Planner That Integrates Google Drive
The 5 Minute Lesson Plan
i 27 Votes Jo Baker (@Jobaker9) September 19, 2013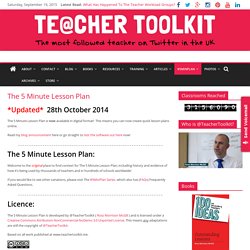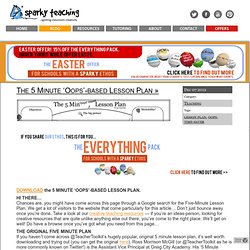 The 5 Minute 'Oops'-based Lesson Plan | Classroom creativity! | Sparky Teaching
DOWNLOAD the 5 MINUTE 'OOPS'-BASED LESSON PLAN. HI THERE… Chances are, you might have come across this page through a Google search for the Five-Minute Lesson Plan. We get a lot of visitors to the website that come particularly for this article… Don't just bounce away once you're done.
The 5 Minute Lesson Plan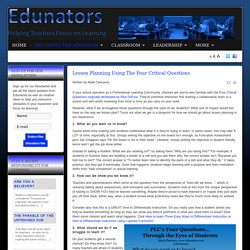 Details
Edunators - Helping Teachers Overcome Obstacles and Focus on Learning - Lesson Planning Using The Four Critical Questions
UDL Exchange: Home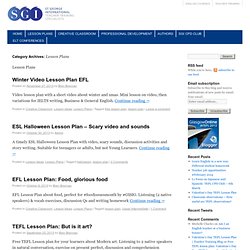 Lesson Plans | Teacher Training Blog
Winter Video Lesson Plan EFL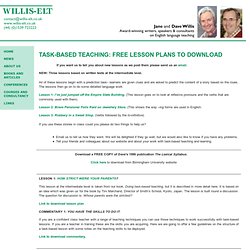 Jane Willis and Dave Willis – Willis-ELT
If you want us to tell you about new lessons as we post them please send us an email.
Brief Description: Young learners explore the world of art.
www.voki.com/lesson_plans.php
TechyEnglish
Welcome to Share My Lesson, the space for educators to share free K-12 learning materials, including activities, worksheets and lesson plans.
Teacher Resources, Lesson Plans & Educational Worksheets Aligned to Common Core State Standards - Share My Lesson
Lesson Plan Resources ELT
Paper.li as a PLN
BERTENU'S DAILY
EDUCATION / 50 Google+ Circles Teachers Should Know About
Planboard — Lesson planning made easy for teachers and educators
Lesson plans
ASSURE Model (written by Jennifer Nelson) Overview Developed by Sharon E.
Lesson Plan Models
English for Critical Thinkers | Free EFL lesson plans based on topics not covered by the coursebooks. May cause irritation when applied to Sheeple.
Lesson Plans – Google Apps for Education
Results on ReadWriteThink
M that learning!
Anthony Gaughan - What makes a lesson GREAT?_0
giveitawaydotcom - Welcome
Great Video Lessons from Great Teachers | LearnZillion
Debate and discussion
Never say it can't be done!
50 Teaching and Lesson Plans that Rock 8/7
Resources for short courses
Lesson Design Tips & Resources for ELT
Search
Lesson plans
Randall's Video Snapshots: For ESL/EFL Students
ESL Teacher Resources, Job Boards, and Worksheets
English as a Second Language (ESL) Lesson plans & ideas for teachers: eslflow index & home page
English Raven EFL/ESL Resources
ESL Lesson Plans & Worksheets for Teachers
TEFL Lesson Plan Template
CELTA Lesson Plan Procedures Template
Celta Lesson Plans & Assignments
Digital Play
by Jamie Keddie » Search Results »
How to plan an ESL/EFL (English as a Second Language) Lesson Plan - Indianapolis Living Abroad
Elessons | Global
TESOL Lesson Plans for Children - TESOL - Yahoo! News Search Results
Search Results webinar
designer lessons
Lesson Skeletons « languagemoments
(58) TeachingEnglish | British Council
Movie Segments to Assess Grammar Goals
19Pencils - Quick and Easy Tools for Learning. Quizzes, Games, Websites and More!
Breaking News English Lesson Plans - Business English Lessons
Breaking News English Lessons: ESL Plans Teaching Current Events
Free ESL Materials.com | Sean Banville's Websites, Lesson Plans, Handouts, Worksheets
Can you teach a Dogme Lesson on your Cambridge DELTA?
ICT Lesson Repository
mLearning Lesson Plans
You're invited to join Dropbox! - Dropbox
Labs | The Round