Lesson Plan Resources ELT
Film English | by Kieran Donaghy. Teachers on Pinterest (teachers) on Pinterest. ArtsEdge: FREE Arts-Based Lessons & Activities. Have you checked out ArtsEdge?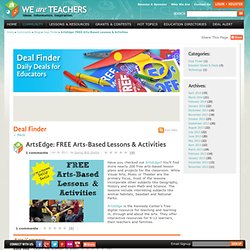 You'll find more nearly 200 free arts-based lesson plans and projects for the classroom. While Visual Arts, Music or Theater are the primary focus, most of the lessons incorporate other subjects like Geography, History and even Math and Science. MobyMax: Complete K-8 Curriculum. New Activities and News. 327 Common Core Aligned Playlists from MentorMob & LearnZillion. MentorMob and LearnZillion have teamed up to create a comprehensive collection of Common Core aligned learning playlists perfect for providing students with easy access to guided learning experiences.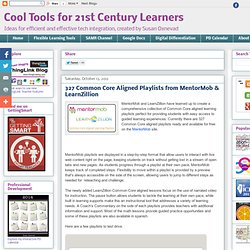 Currently there are 327 Common Core aligned playlists ready and available for free on the MentorMob site.MentorMob playlists are displayed in a step-by-step format that allow users to interact with live web content right on the page, keeping students on track without getting lost in a stream of open tabs and new pages. As students progress through a playlist at their own pace, MentorMob keeps track of completed steps. Flexibility to move within a playlist is provided by a preview that's always accessible on the side of the screen, allowing users to jump to different steps as needed for reteaching and challenge. The newly added LearnZillion Common Core aligned lessons focus on the use of narrated video for instruction.
Innovation Lesson Ideas
Lesson Plans. Sample Lesson Plans to Teach Common Core State Standards. English Language Arts Lesson Plans Essay Planning and Writing Plan, organize and compose effective essays.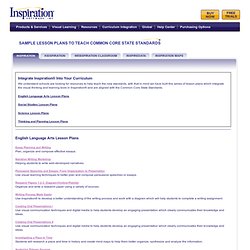 Narrative Writing Workshop Helping students to write well-developed narratives. Persuasive Speeches and Essays: From Organization to Presentation Use visual learning techniques to better plan and compose persuasive speeches or essays. Ania Kozicka's Blog. Teaching Objects - A Lesson Planner That Integrates Google Drive. Teaching Objects is an online lesson planner that I stumbled upon today and that I think has great potential.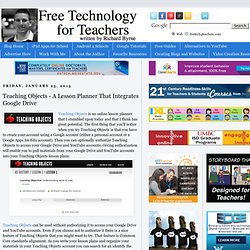 The first thing that you'll notice when you try Teaching Objects is that you have to create your account using a Google account (either a personal account or a Google Apps for Edu account). Then you can optionally authorize Teaching Objects to access your Google Drive and YouTube accounts. Giving authorization will enable you to pull materials from your Google Drive and YouTube accounts into your Teaching Objects lesson plans. Teaching Objects can be used without authorizing it to access your Google Drive and YouTube accounts. Even if you choose not to authorize it there is a nice feature of Teaching Objects that you might want to try.
The 5 Minute Lesson Plan. Here you will find original content for The 5 Minute Lesson Plan; history and evidence of how it is being used.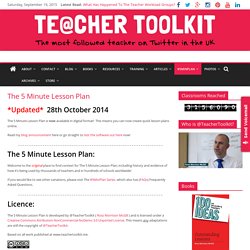 It you would like to see other variations, please visit The #5MinPlan Series. Licence: The 5 Minute 'Oops'-based Lesson Plan | Classroom creativity! | Sparky Teaching. DOWNLOAD the 5 MINUTE 'OOPS'-BASED LESSON PLAN.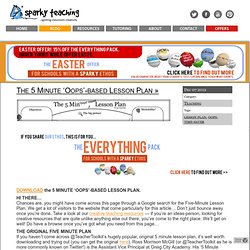 HI THERE… Chances are, you might have come across this page through a Google search for the Five-Minute Lesson Plan. We get a lot of visitors to the website that come particularly for this article… Don't just bounce away once you're done. The 5 Minute Lesson Plan. Edunators - Helping Teachers Overcome Obstacles and Focus on Learning - Lesson Planning Using The Four Critical Questions. Details Written by Mark Clements If your school operates as a Professional Learning Community, chances are you're very familiar with the Four Critical Questions originally developed by Rick DuFour.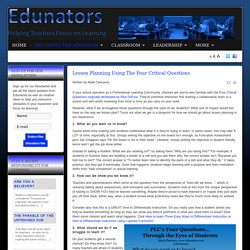 They're essential whenever first starting a collaborative team in a school and well worth reviewing from time to time as you carry on your work. UDL Exchange: Home. Lesson Plans | Teacher Training Blog. Winter Video Lesson Plan EFL Video lesson plan with a short video about winter and xmas.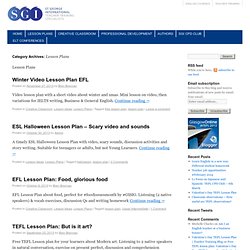 Mini lesson on video, then variations for IELTS writing, Business & General English. Continue reading. Jane Willis and Dave Willis – Willis-ELT. If you want us to tell you about new lessons as we post them please send us an email.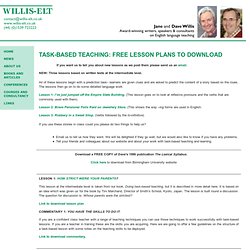 NEW: Three lessons based on written texts at the intermediate level. All of these lessons begin with a prediction task– learners are given clues and are asked to predict the content of a story based on the clues. The lessons then go on to do some detailed language work. Lesson 1: I've just jumped off the Empire State Building. Www.voki.com/lesson_plans.php. Brief Description: Young learners explore the world of art.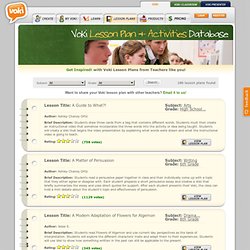 By looking at paintings by DaVinci, Monet, and Picasso, students begin to learn how art can represent a painter's world. First, children look and analyze direct representations with DaVinci, then move on to indirect representation with Monet, and, finally, exploring Picasso's distorted representations. Along with the lesson, students get to make their own portraits on paper plates using construction paper. TechyEnglish. Lesson Plan Resources ELT. Paper.li as a PLN. BERTENU'S DAILY. EDUCATION / 50 Google+ Circles Teachers Should Know About. Planboard — Lesson planning made easy for teachers and educators. Lesson plans. Lesson Plan Models. ASSURE Model (written by Jennifer Nelson) Overview Developed by Sharon E. English for Critical Thinkers | Free EFL lesson plans based on topics not covered by the coursebooks. May cause irritation when applied to Sheeple.
Lesson Plans – Google Apps for Education. Results on ReadWriteThink. M that learning! Anthony Gaughan - What makes a lesson GREAT?_0. Giveitawaydotcom - Welcome. Great Video Lessons from Great Teachers | LearnZillion. Debate and discussion. 50 Teaching and Lesson Plans that Rock 8/7. Never say it can't be done! You can be exceptional and use standards. You can be interesting and exciting and rigorous. Here are some places you can go and ideas you can use right now in your classroom or getting started.
Feel free to share your own in the comments. Resources for short courses. Onestopenglish is packed with hundreds of bright ideas for your short course, holiday or summer school programme. Take the stress out of preparing for each new set of students with this list of resources that's guaranteed to keep things fun, active and interesting! We've picked out a selection of resources that we think are perfect for engaging students over a short or intensive English programme. If you're not already a Staff Room member, we've included a sneak preview of our subscription resources.
Lesson Design Tips & Resources for ELT. Search. Lesson plans. A set of lesson plans and worksheets for use in first lessons in business English. As you look at the lesson plan and worksheets, use the wish list grid to tick off the points on the 'Wish list' you think they achieve. Does the number of ticks really denote a good lesson? Further suggestions. Randall's Video Snapshots: For ESL/EFL Students. ESL Teacher Resources, Job Boards, and Worksheets.
English as a Second Language (ESL) Lesson plans & ideas for teachers: eslflow index & home page. English Raven EFL/ESL Resources. ESL Lesson Plans & Worksheets for Teachers. TEFL Lesson Plan Template. CELTA Lesson Plan Procedures Template. Celta Lesson Plans & Assignments. Digital Play. By Jamie Keddie » Search Results » How to plan an ESL/EFL (English as a Second Language) Lesson Plan - Indianapolis Living Abroad. Elessons | Global. TESOL Lesson Plans for Children - TESOL - Yahoo! News Search Results. Search Results webinar. Designer lessons. Lesson Skeletons « languagemoments. (58) TeachingEnglish | British Council. Movie Segments to Assess Grammar Goals. 19Pencils - Quick and Easy Tools for Learning. Quizzes, Games, Websites and More! Breaking News English Lesson Plans - Business English Lessons. Breaking News English Lessons: ESL Plans Teaching Current Events. Free ESL Materials.com | Sean Banville's Websites, Lesson Plans, Handouts, Worksheets.
Can you teach a Dogme Lesson on your Cambridge DELTA? ICT Lesson Repository. mLearning Lesson Plans. You're invited to join Dropbox! - Dropbox. Labs | The Round.
---
tupperware Mar 27 2013

thank you :) you aredoing a great job

shellyterrell Aug 20 2012

Thanks so much for the message! I hadn't realized that you could comment on these! Thanks for showing me something new today :-)

datenglish Aug 20 2012

Simply Extraordinary!Thanks Shelly, every Friday at 5 I am there and eventually if unavailable, your resources are awesome. Thanks so much gem! I am happy to see you happy - Debbie
---