Stuff
Kinect_calibration/technical. This tutorial assumes that you have completed the previous tutorials: Stereo calibration.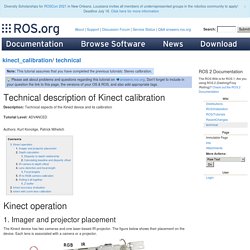 Technical description of Kinect calibration Technical aspects of the Kinect device and its calibration Authors: Kurt Konolige, Patrick Mihelich Imager and projector placement. Leap Motion. RGBDToolkit. Kinect Dubstep. An open source implementation of KinectFusion - Point Cloud Library. The recent ICRA (International Conference on Robotics and Automation) research conference hosted another successful PCL tutorial on Friday, May 10.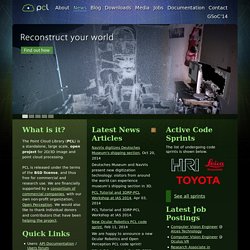 Given the fact that some of the PCL luminaries were present at the event, this was the perfect opportunity to use the day prior to the event and hold a meeting for a generic "PCL roadmap" discussion. Taken almost as a scene from a Cosa Nostra movie, the group talked about PCL 1.7, interoperability issues regarding the PointCloud2 format, but also the way to push forward agendas using pcl-developers@ as a forum for discussions. Kinect Voxel Hands Demo. Gesture Controlled Pin Code Interface. Christian "Mio" Loclair Media::Dance::Interface. Kinect Projector Dance. Vergleich verschiedener Maus-Emulatoren für Microsoft Kinect | Soziotechnische Integration. Mit dem Er­schei­nen von Mi­cro­soft Kinect als Zu­be­hör für die Spie­le­kon­so­le Xbox 360 im No­vem­ber 2010 wur­de erst­mal ein kos­ten­güns­ti­ger In­fra­rot-Tie­fen­sen­sor für ei­ne brei­te Nut­zer­schaft ver­füg­bar und schuf so­mit die Mög­lich­keit zur Ent­wick­lung von An­wen­dun­gen, die durch ei­ne ges­ten­ba­sier­te Nut­zer­inter­ak­ti­on oh­ne zu­sätz­li­che Ein­ga­be­ge­rä­te das Po­ten­ti­al zur Re­vo­lu­ti­on der Ge­stal­tung der Hu­man-Com­pu­ter­rec In­ter­ac­tion ver­spre­chen.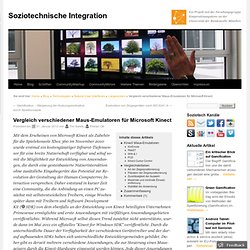 Da­her ent­stand in kur­zer Zeit ei­ne Com­mu­ni­ty, die die An­bin­dung an ei­nen PC zu­nächst mit selbst­ent­wi­ckel­ten Trei­bern, ei­ni­ge Wo­chen spä­ter dann mit Trei­bern und Soft­ware De­ve­lop­ment Kit (SDK) von dem eben­falls an der Ent­wick­lung von Kinect be­tei­lig­ten Un­ter­neh­men Pri­me­sen­se er­mög­lich­te und ers­te An­wen­dun­gen mit viel­fäl­ti­gen An­wen­dungs­ge­bie­ten ver­öf­fent­lich­te. Delicode NI mate Tutorials: Controlling Traktor Pro. Microsoft LightSpace from MSR. A Handle Bar Metaphor for Virtual Object Manipulation with Mid-Air Interaction (CHI-2012) Berkeley 3-D Object Dataset. HoloDesk - Direct 3D Interactions with a Situated See-Through Display.
The Kinect effect: how Harmonix mastered Dance Central's menus. Dance Central has quickly emerged as one of the best-received titles for Microsoft's Kinect.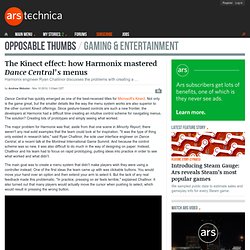 Not only is the game great, but the smaller details like the way the menu system works are also superior to the other current Kinect offerings. Since gesture-based controls are such a new frontier, the developers at Harmonix had a difficult time creating an intuitive control scheme for navigating menus. The solution? Creating lots of prototypes and simply seeing what worked. The awesomeness of the Dance Central UI. I don't know if you guys have tried it yet, but last night I started playing the demo of Dance Central (which came with Kinect Adventures) and was -immediately- impressed with the game, and I didn't even start to dance yet… The Dance Central UI rocks!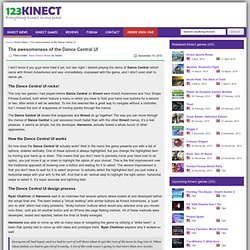 The only two games I had played before Dance Central on Kinect were Kinect Adventures and Your Shape Fitness Evolved, both which feature a menu in which you have to hold your hand over buttons for a second or two, after which it will be selected. Synapse for Kinect Introduction. Full Body 3D Scanning with 16 Kinect Sensors in an Automated Booth. Fitnect - Interactive Virtual Fitting / Dressing Room application. 3D Facial Performance Capture using Kinect. Home 3D Body Scanning using the Kinect. OpenNI - OpenNI > Home. Flexible Action and Articulated Skeleton Toolkit (FAAST)
Contributors Evan A.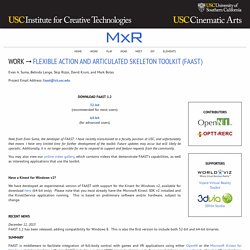 Suma, Belinda Lange, Skip Rizzo, David Krum, and Mark Bolas Project Email Address: faast@ict.usc.edu 32-bit(recommended for most users) Here Are Some Crazy Things People Are Doing With Kinect. Kinect, the motion-controlled sensor for Xbox 360, contains some startling technology for a $150 consumer gadget.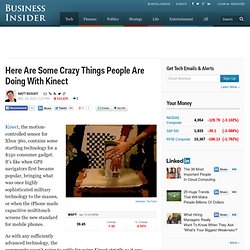 It's like when GPS navigators first became popular, bringing what was once highly sophisticated military technology to the masses, or when the iPhone made capacitive multitouch screens the new standard for mobile phones. As with any sufficiently advanced technology, the community wasn't going to settle for using Kinect strictly as it was intended. This Kinect Hack Is Actually Useful. Asus WAVI Xtion to Hit the Market in October. Motion control features have become immensely popular among different types of users.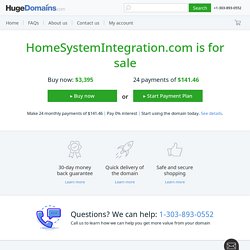 The success of motion based user control technology has led other companies to take the initiative to develop their own motion sensing systems. One such company is , which demonstrated their own version of a motion sensing system for the PC early this year called . Xbox Kinect Licht-Gestensteuerung über Crestron Smart-Home. Gira und Apple perfekt integriert.
---