Ipad-Iphone
Guys, this Team is just Pearling anything and everything that is of value to know about the Ipad and Iphone. Stuff that the is useful to know.
This is where alot of Mobile Tech will be focused and founded on so I thought it would be cool to have a place we can all go that gives us the best and most researched info the quickest. Hopefully this PearlTree will be better than trying to do a google search because all pearls linked will be the top ones anyway. Working together is a powerful thing when it's done right. iPhone 4 S - Tips and Tricks. All things iPod, iPhone, iPad and Beyond. iPad 2 as a serious writing machine (how-to) I knew when I bought the iPad 2 a while back that it would provide a number of uses for me, but I quickly discovered it fills more important roles in my work than I believed it would.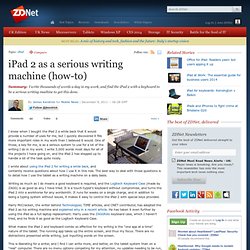 One of those, a key for me, is as a serious system to use for a lot of the writing I do in my work. I write 3,000 words most days for all of the projects I have going on, and the iPad 2 has stepped up to handle a lot of the task quite nicely. I wrote about using the iPad 2 for writing a while back, and contantly receive questions about how I use it in this role. 25 (Most Wanted) Tips For iPhone 3G | How-To.
We all know that the handy user experience of iPhone is one of the selling point.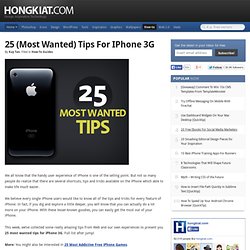 But not so many people do realize that there are several shortcuts, tips and tricks available on the iPhone which able to make life much easier. We believe every single iPhone users would like to know all of the tips and tricks for every feature of iPhone. In fact, if you dig and explore a little deeper, you will know that you can actually do a lot more on your iPhone. With these lesser-known goodies, you can easily get the most out of your iPhone. This week, we've collected some really amazing tips from Web and our own experiences to present you 25 most wanted tips for iPhone 3G. The Ultimate Guide To Using iPads In The Classroom | Education Technology and Teacher Tools – Edudemic.
How Students Benefit From Using Social Media 14.60K Views 0 Likes A lot of criticism has been leveled at social media and the effect it has on the way students process and retain information, as well as how distracting it can be.
However, social media offers plenty of opportunities for learning and interactivity, and if you take a moment to think about it, it's not too hard to see how students benefit from using social media. 100 Web 2.0 Tools Every Teacher Should Know About 44.24K Views 0 Likes. 30 Useful iPad Apps for Business & Presentation. Apple sold more than 1 million copies of iPads in the first 3 months.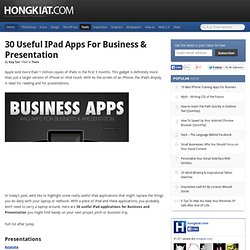 This gadget is definitely more than just a larger version of iPhone or iPod touch. With 4x the screen of an iPhone, the iPad's display is ideal for reading and for presentations. In today's post, we'd like to highlight some really useful iPad applications that might replace the things you do daily with your laptop or netbook. With a piece of iPad and these applications, you probably don't need to carry a laptop around. Here are 30 useful iPad applications for Business and Presentation you might find handy on your next project pitch or business trip. Best iPad Apps for Kids | Best Kids Apps.
So you've got a brand new iPad and kids who are clamoring to play on it.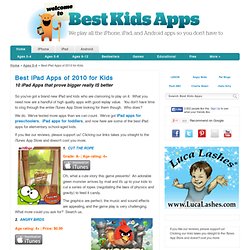 What you need now are a handful of high quality apps with good replay value. You don't have time to slog through the entire iTunes App Store looking for them though. Who does? The Ultimate Guide To Using iPads In The Classroom. 40 Most Awesome iPad Apps for Science Students | Best Colleges Online. Posted on Wednesday June 15, 2011 by Staff Writers The iPad has found its way into hospitals, retail stores and homes across the nation, but it's also making a big splash in the classroom, even with some of the best online colleges.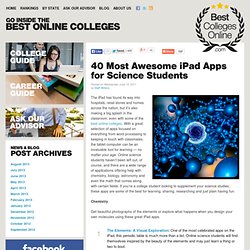 With a great selection of apps focused on everything from word processing to keeping in touch with classmates, the tablet computer can be an invaluable tool for learning — no matter your age. How to Get a Siri-Like Personal Assistant on Your Android Phone for Free. UserVoice - Customer Feedback 2.0 - Mettez en valeur les idées d.
Vooices controls web apps with voice - and could verify celebs o. Why if you miss Siri you'll miss the future of the Web. Siri is the most useful thing I've seen so far this year.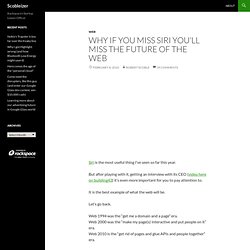 But after playing with it, getting an interview with its CEO (video here on building43) it's even more important for you to pay attention to. It is the best example of what the web will be. Let's go back. Web 1994 was the "get me a domain and a page" era. Siri, Seriously: 10 Ways We're Really Using Apple's Voice Assistant [POLL] By now it seems we're all well aware of the many Easter eggs Apple has left for us in Siri, the intelligent assistant baked into the iPhone 4S.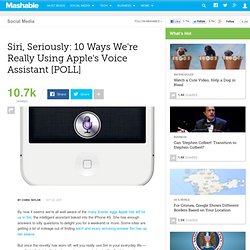 She has enough answers to silly questions to delight you for a weekend or more. Some sites are getting a lot of mileage out of finding each and every amusing answer Siri has up her sleeve. But once the novelty has worn off, will you really use Siri in your everyday life — or will she fade into the background, an unwanted extra like Apple's previous iPhone voice control feature? After using the 4S for more than a week, I think Siri will enter our lives in small but vital ways. Most of these are things you could do before, but that required too many cumbersome steps that Siri can easily overcome.
Ultimate jailbreak and unlock wizard. Ipad. For iPad is here! Two months ago, we sat glued to our browsers as details of the iPad started streaming out of Apple's launch event.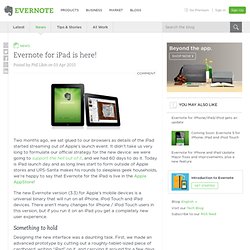 It didn't take us very long to formulate our official strategy for the new device: we were going to support the hell out of it, and we had 60 days to do it. Today is iPad launch day and as long lines start to form outside of Apple stores and UPS-Santa makes his rounds to sleepless geek households, we're happy to say that Evernote for the iPad is live in the Apple AppStore! The new Evernote version (3.3) for Apple's mobile devices is a universal binary that will run on all iPhone, iPod Touch and iPad devices. There aren't many changes for iPhone / iPod Touch users in this version, but if you run it on an iPad you get a completely new user experience. Buddies Facebook Browser for iPad. iPad 2 - is it True. 55 Beautiful Apple iPad Wallpapers - Noupe Design Blog. May 31 2010 This is the age of iPhones, iPods and iPads, people simply love to have these amazing inventions of information technology.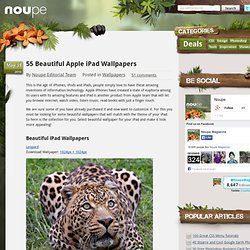 Apple iPhones have created a state of euphoria among its users with its amazing features and iPad is another product from Apple team that will let you browse internet, watch video, listen music, read books with just a finger touch. We are sure some of you have already purchased it and now want to customize it. The Must-Have App Review Rubric.
Added by Jeff Dunn on 2011-11-22 So you just downloaded a few educational apps that you think might be useful in your classroom. How do you accurately compare and contrast them? Thanks to a new app review rubric from by eMobilize , it's easier than ever to understand just how useful an app may be in the classroom. On a related note, the Edudemic Directory features many educational apps and lets you quickly compare them to see how they stack up.
Best iPad games for gamers. So you've got an iPad, and now you want to play some games on it because your PSP and Nintendo DSi are so, well yesterday. Don't panic, we are talking gamer's games here, none of those casual iPad games like Scrabble or Air Hockey that your mum and dad would be interested in. We've scoured the 3500 dedicated iPad apps to bring you what we think are the best iPad games available at the moment (early May) to get you started if you want to drive fast, kill people and generally challenge yourself to more than just coming up with the best triple word score. We've tried, tested and reviewed all the iPad games below ourselves, rather than just guessing whether they are good or not. 250 best iPad apps: education.
How to Get the Most Out of Your Jailbroken iOS Device. Cydia. iPhoneHeat. iPHONiX. Vaja - Leather Products. Multiple phone web-based application framework. A multiple phone web-based application framework is a software framework that is designed to support the development of phone applications that are written as embedded dynamic websites and may leverage native phone capabilities, like geo data or contact lists. For more general frameworks see List of rich internet application frameworks. Current frameworks[edit] History[edit] AppMobi.com- Create Mobile and Web Apps with HTML5 and JavaScript |
Transferring your iTunes Library. For most users, iTunes does a great job of handling all of the details of managing your media library for you, allowing you to manage your content through iTunes itself and not having to worry too much about the underlying files and folders that make up your iTunes library. Unfortunately, this user-friendly approach has one serious limitation: When it comes time to move your iTunes library, it can often be a bit of a challenge to figure out exactly what pieces you need to move and how to go about doing this. Many iTunes users start out with a basic iTunes library and use the default settings to store all of their media content on their primary internal hard drive.
However, as you add new content over time, particularly with the additional video content now supported by iTunes, you may soon find that your library threatens to take over your computer. Another common scenario many users find themselves in is what to do when they upgrade to a new computer. Send a web site to iPhone (Easy) How To Use Google Voice On iPhone. How to restore iPhone app data from backup | iPhone Atlas. The iTunes App Store has been around for eight months and now lists more than 25,000 apps.
If you're like me, you've probably purchased a dozen or more of these apps and hopefully, you're backing up your computer regularly to protect your purchases. But backups only work if you know how to use them to restore lost data. Frequently, the iPhone and iPod Touch require complicated restores and multiple layers of backup; this how-to will show you how to conquer the restore beast. Step 1: Reinstall your apps in iTunes. iPads In Education- Part 1. iPhone Tips & Tricks. Prezi for iPad.
iA » Designing for iPad: Reality Check. Holograms On iPad Demoed On Video Using Sixth Sense Technology. Interactive projector that turns any flat surface into a touch screen wins UK design award - Image 8 of 8. Create your own iPad keyboard for less than $10!
---